Halloween Word Search
: Trick Is To Find The Treats!
Use this search box to find the info you're looking for!
Custom Search
Chocolate and sugar!
This halloween word search puzzle contains all those delicious treats made from your favorite ingredients.

Dozens of the candy names you hope to find in your trick or treat bag.
You know, the good ones given out by your neighbors with superior taste. 
The neighbors who feed the beasties right.   So the beasties don't return later that night!  :0

Now you can print or play online!

To get your own printable word search puzzle you will need a pdf reader. On the open pdf page click on the printer icon to make a copy.
Need a pdf reader?  Get a free one by clicking the Adobe Icon below.



Print Your Own Halloween Word Search Puzzle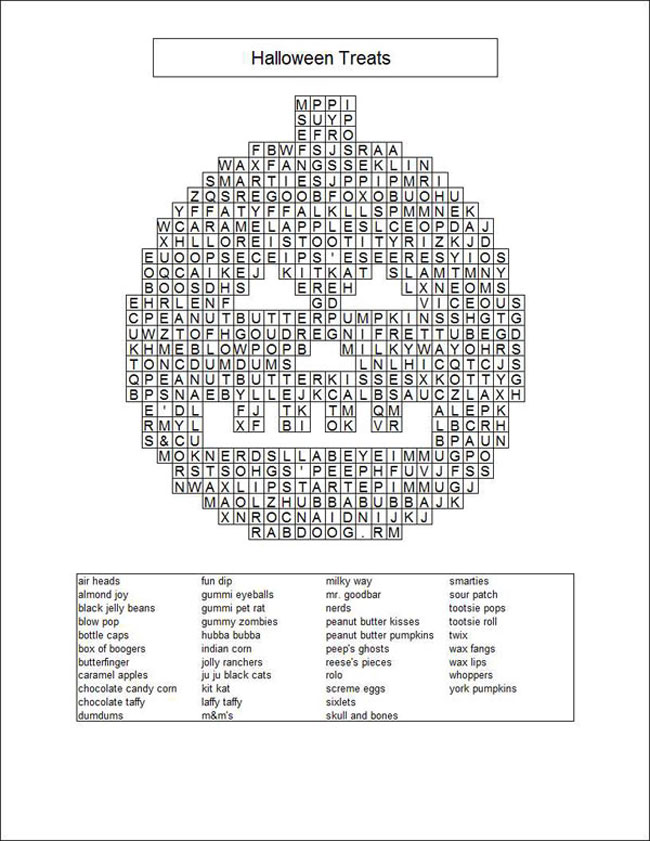 Not into Jack o' Lanterns??  Maybe a bat is more to your liking?
Find the names of things you may see or do on the night we love to say BOO!
Check out the chocolate bat below.  The very dark chocolate bat is where all those names is at!
Prefer an uncolored bat puzzle?






Online Halloween Word Search!
No need to use up your expensive ink or paper!
Challenge yourself to a quick game.  It's easy (maybe medium difficulty) to complete.
Just find the chocolate and candy words in the list on the left.  They're all there...somewhere!  But beware the the clock will be ticking.

So give it a go.  And let your word hunting talent show!!

Your first try not as good as you hoped...try again, my friend.  No one's watching.  Well...except that shadowy figure over your right shoulder!




Word Search for the Beasties

Here's a Halloween puzzle packed with the names of scary beasties.  Watch out for these candy stealing creeps!
Don't let them trick you out of your hard earned treats.  Find their names in this game and they'll never be the same.
Get them before they get you!!!
Hope you enjoy your puzzle.  And should you not get all the goodies you seek, remember not to bite the hand that treats you!  Don't go all Prankenstein on 'em.  There's always next year.
Return to  Puzzles Page
How about some Halloween Pictures to Color?
Or back Home?