Best Baking Chocolate Brands?
Use this search box to find the info you're looking for!
Custom Search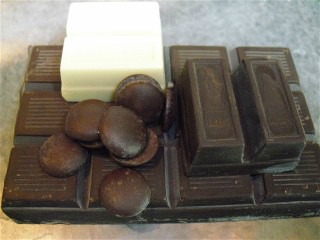 Lots of cocoa butter makes baking chocolate perfect. Perfect for richer, creamier chocolate desserts. And a perfectly easy way to cover anything in chocolate, in any flavor you like.
So many brands to choose from.
So many different percentages of cacao!
Each with it's own unique flavor profile.
You can spend a little in the baking aisle.
Or spend a lot on gourmet baking bars.
Or maybe you want the best of both worlds?
Baking Chocolate
What is baking chocolate? It's just liquefied cocoa beans solidified into bars, squares or chips. Other common ingredients like ...
sugar
cocoa butter
soy lecithin
milk solids
vanilla extract
These are added to turn unsweetened chocolate into bittersweet, semisweet, sweet, milk and white chocolate.
Many companies make chocolate for baking. But no two brands taste exactly alike.
Why? Because each company uses its own blend of beans and ingredients. So which brand of baking chocolate should you choose?
Well, it depends upon how picky you are and how much you have to spend. The brands below are listed from least expensive to most expensive.
There's bound to be one right for you!
And yes, you can eat baking chocolate.  It's not raw.  But it can be hard.  So it's safe to eat it but it may be hard to bite!
Don't eat the unsweetened baking chocolate though!  It's very bitter.

Baker's Chocolate
Baking on a tight budget? Go for good ol' Baker's Chocolate squares and bars. They can be found in almost every grocery store in the United States.
These inexpensive but tasty squares are made by Kraft Inc., using bulk cocoa beans. No fancy flavor profiles, just good chocolate for baking, dipping, and decorating.
Baker's Chocolate squares are available in...
unsweetened-100% cacao
bittersweet-67% cacao
semi-sweet-54% cacao
german sweet chocolate-48% cacao
white chocolate-made with cocoa butter 0% cacao solids
These are lower-priced squares but they definitely don't taste cheap. I use them frequently to make all types of delicious chocolate desserts.
But if you're looking for a little finer flavor, you may want to try Ghirardelli.
Ghirardelli
Go for Ghirardelli when you want to take your baking up a notch. Their gourmet baking bars may be a little harder to find. But they're worth the effort and the added expense.
These bars are made by the Ghirardelli Chocolate Company in San Francisco. They're a bean to bar company.
According to the company web site, "Ghirardelli accepts only the highest-quality beans. We reject as many as 40% of the beans that are offered to us."
They use a unique combination of cocoa beans and a special roasting technique to guarantee the uniformity of their trademark chocolate flavor.
Ghirardelli's baking chocolate bars are available in...
unsweetened-100% cacao
extra bittersweet-70% cacao
bittersweet-60% cacao
semisweet
milk chocolate
white chocolate
You'll notice a subtle flavor difference if you compare them to Baker's. I've baked with these bars. They're quite tasty.
They'll deliver gourmet flavor for slightly less dough than those below.
Green & Black's
Prefer organic baking chocolate? Choose Green & Black's bar with 72% cacao. But be prepared to pay more.
This bean to bar company uses fine cocoa beans, Criollo and Trinitaro. They do chocolate organically from start to finish to "bring out the signature intensity and flavor in our cocoa beans."
So you'll have to pay more for your bar. Why? Fine cocoa beans make up a small percentage of the cocoa crop and are in great demand. Plus organic products always cost more.
Is the bar worth it? Can't say. Never tried one but their candy bars are very good so...probably.
If Green & Black's don't satisfy, you might please your palate with Scharffen Berger.
Scharffen Berger
Do you have a discriminating palate?
Then Scharffen Berger bars are for you. This bean to bar company claims to use the best cocoa beans, adding only whole vanilla beans and cane sugar.
They blend beans from different origins to accentuate the flavor of cocoa.
So if you're concerned with acidity, complexity, and finish try their baking bars.
Scharffen Berger baking chocolate bars are available in...
semisweet-62% cacao
bittersweet-70% cacao
unsweetened-99% cacao
Haven't tried these baking bars either but their candy bars are delicious. So I imagine these are too.
Update: Tried them and they are unbelievably intense and tasty.

If their offerings aren't up to par, the following company takes things to the next level.
Valrhona
Do you take your chocolate as seriously as your wine? Are you really into flavor profiles?
Valrhona is.
This company employs more than 170 people just to taste test their products on a weekly basis. Experts are sent into the field to work intimately with growers, to do research, to source cocoa, etc.
So it's no surprise then that Valrhona can offer 2 types of chocolate for baking. One type made with a blend of beans sourced from various locations...
dark cooking chocolate-68% cacao
dark chocolate-61% cacao
milk chocolate-39% cacao
white cooking chocolate-35% cacao (cocoa butter)
And then there's the Gran Crus for the really discriminating bakers. These are made with a blend of beans only from premium plantations known to produce interesting flavor profiles...
Grand Cru Caraibe-dark chocolate 66% cacao
Grand Cru Jivara-milk chocolate 40% cacao
Top quality, extra special chocolate for baking a masterpiece!
Fortunately, there are chocolate choices for every budget and palate. If you're new to baking, practice with the Baker's bars! Save the more expensive bars and squares till you're a pro. It'd be a shame to burn up such delicious, not to mention, expensive chocolate.
Home
›
What is Dark Chocolate
› Baking Chocolate