Dreaming of Grandma's Chocolate Pie Recipe?
Use this search box to find the info you're looking for!
Custom Search
Stop! Face it. Even if you had Grandma's chocolate pie recipe, you can't reproduce it.
It'll never taste the same. You can't buy her secret ingredient...love.
So move on. Pick a new favorite comfort food recipe. Try one of these simple but tasty pies.
Make it with love for your kids or grandkids. Start your own tradition.
Maybe one day your kid's kids will dream about your chocolate desserts.


Chocolate Desserts: Pies a Plenty!
Grandmothers are the world's best bakers. No doubt about it! 
She's gone to her well deserved rest.  So now it's up to you to do the baking.  Carry on her legacy!

Chocolate Pecan Pie Recipe -try this tasty chocolate version of a southern favorite. It's like eating a slice of fudge with a crunchy pecan topping. You can even pretend it's healthy because it's made with two great antioxidant foods!
Fudge Chocolate Pie -very easy dark chocolate pie recipe. Tastes like fudge without all the work. When you want fudge without the drudge. Serve it warm with a scoop of ice cream on top!
Chocolate Chess Pie Recipe -surprise! This pie isn't dark. It's sweet and mild like milk chocolate. So it's a great choice for milk chocolate fans. As well as a change of pace for dark chocolate lovers. It's really creamy and delicious!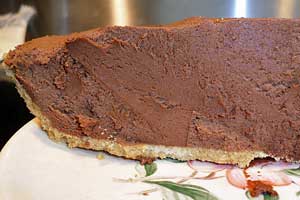 French Silk Pie Recipe -give this chocolate dessert a try. Light texture and rich flavor. It's a cool treat to help you beat the summer heat. No baking!
German Chocolate Pie Recipe -love coconut and pecans? Then try this rich and gooey pie recipe. Very easy to make. Velvety filling with a crunchy pecan and coconut topping. NOT dark, it's made with sweet chocolate!
Bake a pie with chocolate and relive a memory. Get the kids involved and make new ones. Pass on the tradition of home baking. Grandma would be proud!




Do you sell healthy dark chocolate? Promote it for free. Join my Healthy Chocolate Directory.

Return to Health Benefits of Dark Chocolate