Choose Your Chocolate Brownie Recipe
Use this search box to find the info you're looking for!
Custom Search
Want to learn how to make brownies? You have to decide which chocolate brownie recipe to make. Do you want to use cocoa powder or baking chocolate?
So many delicious chocolate brownie recipes. Should you bake a batch of caramel brownies or cheesecake brownies? Or maybe sweet german chocolate brownies with pecans and coconut? Don't look at me.
You decide. The easy brownie recipes don't bake themselves.
Ok, the first step is the toughest.
Chocolate Brownie Recipes
Each recipe is easy. So if you haven't baked homemade before, don't worry. You will succeed.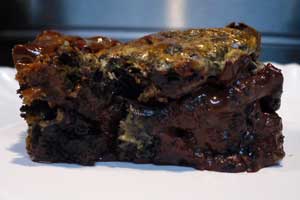 Oreo Brownie Recipe -lots of tasty Oreos mixed with chocolate chips, margarine and sweetened condensed milk. Gooey goodness. Simple to make even if you've never baked.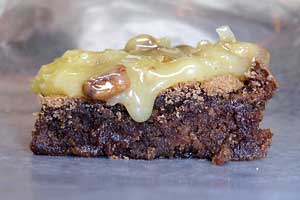 German Chocolate Brownies -easy recipe made with sweet chocolate like the cake. Bake a batch. Slather them with creamy german chocolate icing. Simple, showy and scrumptious chocolate dessert. Hello, milk chocolate fans!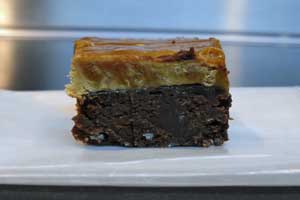 Chocolate Caramel Brownies -dense fudge brownie with a creamy caramel topping. Sounds delicious, right? Easy to make too. Try it today. Candy coated brownie, oh yeah! Or leave off the caramel. Enjoy an awesome fudge brownie experience.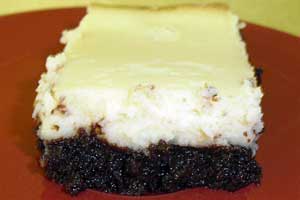 Cheesecake Brownies -sink your teeth into a thick, rich chocolate brownie topped with creamy cheesecake. Or make marble brownies. Simple recipe for a sinful dessert made with lots of healthy cocoa.
All you have to do now is pick a recipe. Follow the step-by-step directions. Enjoy a delicious pan of homemade brownies.
Don't forget to read the baking tips below. So you can avoid a botched batch!
Now you can make homemade. Say bye to Betty. Take a pass on Pillsbury's powder. Ban the Box! Bake a batch from scratch.
Baking Tips
Before you bake brownies memorize these two tips! Fail to follow these and your brownies won't please.
Do not burn the chocolate. Be very careful when melting the baking chocolate. Too much time in the micro means try again. Never use burned chocolate. It tastes awful.
Do not over bake. Unless dried out brownies are what you seek. Always set your timer for the minimum. You can always bake them longer.
Yes, I have learned these things the hard way! Please keep them in mind. A batch of brownies is a terrible thing to waste.
Do you sell healthy dark chocolate? Promote it for free. Join my Healthy Chocolate Directory.

Return to Health Benefits of Dark Chocolate Home Page.