Easy Homemade Chocolate Cheesecake Brownies
Use this search box to find the info you're looking for!
Custom Search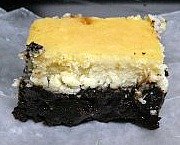 Inhale the aroma of cheesecake brownies. Cocoa brownies topped with a decadent cream cheese filling.
Fresh from your oven!
Go ahead, it's ok to drool while they cool.
This easy chocolate brownie recipe is two desserts in one.
One extremely decadent dessert made with lots of healthy cocoa powder.
It'll satisfy your chocolate craving.
And the cheesecake will have you raving.
Try it. It's simply irresistible.
Get the double dose of dessert you deserve!










Cheesecake Brownies Recipe

1 cup (236 ml) of oil
1 cup (111 g) of natural cocoa powder
2 cups (383 g) of granulated sugar
4 large eggs
1 cup (99 g) of all-purpose flour
1/2 teaspoon (2.5 g) of salt
1/2 teaspoon (1.9 g) of baking powder
Preheat oven to 350°F or 180c/gas 4.
Prepare your pan. Grease or spray an 8" x 8" (20 x 20 x 5 cm) or 9" x 9" (23 x 23 x 5 cm) pan*.
Into a large bowl pour the oil, cocoa, sugar, eggs, flour, salt and baking powder. Mix together very well.
Make sure to thoroughly scrape the sides and bottom of the bowl.
Pour the brownie batter into the pan, spread evenly. Top with the cheesecake filling (recipe below). Gently spread the cream cheese topping over the brownie batter.
OR make marble brownies. Place dollops of cheesecake batter onto the brownie batter. With a knife or your finger (my personal favorite) swirl the cream cheese into the brownie.
Bake for approximately 1 hour, if you use the the 8-inch pan.
Bake for about 45 minutes, if you chose the 9-inch pan.
Remember ovens vary. Start testing about five minutes before time is up.
Test the cheesecake brownies for doneness by inserting a knife into the center. The knife will come out nearly clean when brownies are ready. If knife comes out gooey, bake five or ten minutes longer and then retest.
Let cool. Then refrigerate for several hours before serving. Tastes best and serves easier when cold. Patience! They're worth the wait.
*I used the 8" x 8" pan. Makes for a nice thick brownie. But it takes longer to bake and the cream cheese browns. The cheesecake still tasted great.
Use the 9" x 9" pan for a slightly thinner brownie with a thinner layer of cheesecake.
Cheesecake Recipe
8 ounce package (227g) of cream cheese, softened
1/4 cup (48g) of granulated sugar
1 large egg
1 teaspoon of (4g) vanilla extract
1 tablespoon (6g) of all-purpose flour
Beat cream cheese with sugar until fluffy. Add egg, vanilla and flour, mix well. Scrape the beaters and bowl, mix for another 30 seconds.
Spread onto or swirl into the chocolate brownies. Bake as directed above.
Want more cheesecake and less brownie? Try my brownie cheesecake.
See how easy it to make a batch of homemade cheesecake brownies? Or will it be marble brownies? Who can resist a terrific brownie topped with luscious cheesecake?
Your family and friends can't. So bake them a batch today. Then get out of the way!




Return to Chocolate Brownie Recipe Page

Return to Health Benefits of Dark Chocolate Home Page