How to Make Brownie Cheesecake
Use this search box to find the info you're looking for!
Custom Search
Anyone can make brownie cheesecake. Really! Don't let that luscious taste and silky texture fool you. It's not as difficult as it may seem. And you don't need a spring-form pan.
What do you need? An 8-inch (20 x 20 x 5 cm) square pan. The ingredients listed below.
And the willingness to make a little mess.
What will you get in return? An extremely rich dessert. Chocolate brownie bottom cheesecake.
If you've got what it takes, get ready to bake!
Chocolate Brownie Recipe
How do you achieve chocolate dessert nirvana? You must start at the bottom, grasshopper.
Here's how you make the brownie bottom of the cheesecake...
1/2  cup (105g) vegetable oil
1/2  cup (56g) natural cocoa powder
1/2 teaspoon (2g) vanilla extract
1/4 teaspoon (1g) baking powder
1/4 teaspoon (1.25g) salt
1 cup (192g) granulated sugar
1/2 cup (50g) all-purpose flour
2 large eggs
Preheat oven to 350°F (gas 4 or 180c). Grease or spray an 8" x 8" (20 x 20 x 5 cm) pan. Or line the pan with foil so that you can remove the entire cheesecake from the pan in one piece. Set aside.
In a medium bowl mix together the oil, cocoa, vanilla, baking powder, salt, sugar, flour and eggs. Stir till well blended.
Pour into prepared pan. Spread evenly. Set aside.
At this point I lick the bowl and spoon. Baker's prerogative. Plus I can't stand to waste any of my precious chocolate.
But if you choose to eat raw batter, do so at your own risk!
Brownie Cheesecake Recipe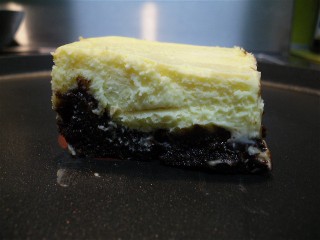 Now you need to make the incredibly creamy part of the dreamy dessert. It's very easy to do. Here's how...
Cheesecake Recipe
2  8 ounce blocks (454g) of your favorite cream cheese, softened
1/2 cup (96g) of granulated sugar
1/4 teaspoon (1g) vanilla extract

2 eggs
2 level tablespoons (12g) of all-purpose flour
In a large mixing bowl beat the cream cheese and sugar together till fluffy.
Then add eggs and mix well.
Add the vanilla and flour, mix. Scrape the bowl and beaters and mix thoroughly.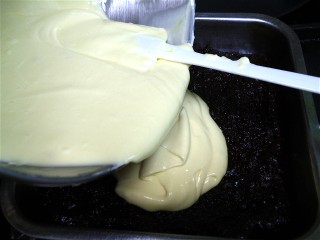 Pour on top of the brownie batter, spread evenly.
Bake for about 40 minutes or till done.   If cheesecake is nearly set(looks dry, except in the very center), it should be done.  
Or you can insert a knife in the center of the dessert.  If it comes out nearly clean, then they're ready.

Cool.
Best served chilled. Refrigerate for several hours before serving.
This crowd pleaser will serve more people than you think. It's so rich that a small piece should easily satisfy.
Would you prefer a thicker brownie? Try my cheesecake brownies. More chocolate brownie, less cheesecake!
Did Your Cheesecake Crack?
Don't worry. It's happened to me too.
It's just superficial. Underneath that ugly duckling outside waits a golden goose of goodness.
It may not be picture perfect but it'll taste great. Unless, of course, you baked it waaay too long.
Brownie cheesecake is so simple to make but tastes like you toiled. This chocolate dessert will take your baking to a new level. So little effort for such a sweet reward. Velvety cheesecake with a brownie bottom, what a treat!
Return to Cocoa Powder Recipes

Return to Health Benefits of Dark Chocolate Home Page