Father's Day Gift Ideas for Those Low on Dough
Use this search box to find the info you're looking for!
Custom Search
Need father's day gift ideas that won't bust your budget? Here's a few I came up with that are cheap and easy to make.
And of course they include some dark chocolate.
Most of the items can be found at a Dollar Tree™ store.
So even the kids can afford to buy dad a gift. Or make one.
Don't give him another tie (unless it's made of chocolate). Give him something he can use and enjoy.
You don't have to spend a lot to show dad how much you love him.
Cheers Dad!
Does dad have a favorite beverage? Buy him a glass or mug for his ...
coffee
tea
soda
beer
martini
wine
cocktail
margarita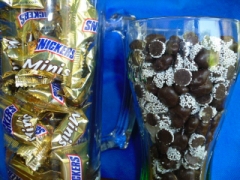 Fill it with his preferred chocolate candy pieces or bite-size bars. It's two gifts in one.
Once the candy is gone, he can use the glass to enjoy his favorite liquid refreshment.
Buckets of Fun
Is dad a do it yourselfer? Give him some help.
Buy him a pail and fill it up with car care items like...
tire shine
wipes
upholstery cleaner
a duster
a bottle of car wash
microfiber mitts, sponges or towels
air fresheners
brake or power steering fluid
gas treatment
fuel injector cleaner
Or pack it with handy man items like...
electrical, duct or masking tape
screwdriver set
super glue
tape measure
flash light
gloves
sandpaper
safety goggles
filter mask
drop cloth
Put in whatever you think he needs and your budget will allow. Don't forget to throw in some dark chocolate candy or energy bars.
He's going to need them!
You could even include a list of things that need to be done around the house. You know, just a few helpful hints.

Father's Day Crafts
Get the kids involved in these father's day gift ideas. Let them decorate the glass or pail.

Or bake dad some chocolate brownies, chocolate chunk cookies or chocolate chip cookies.

Get a box, plastic container or desk organizer and let the kids decorate it. They could...
use stickers
cut out pictures from magazines
photos of themselves
funny photos of dad
pictures from a favorite vacation
color or paint pictures of things they like to do with dad
Put the homemade chocolate goodies in the one-of-a-kind container. Add a homemade card and there you have it! A great gift made with love.



Tell dad you love him with one of these father's day gift ideas. Throw in some 70% cocoa dark chocolate for the health benefits. After all you want him around and healthy, don't you? Show how you feel without spending a great deal!

Have a little more to spend?  Rather buy than craft a Father's Day gift?


Return to Health Benefits of Dark Chocolate Home Page