New Chocolate Products
Use this search box to find the info you're looking for!
Custom Search
There's a constant parade of new chocolate products out there. You don't want them to pass you by.
But they just might because you're so busy!

Not to worry. I'm here to help. I'll keep an eye out for the newest bittersweet, milk, or white chocolate treats.

I'll shop, sample then review. You stop by and see what's new.

What's New In Chocolate!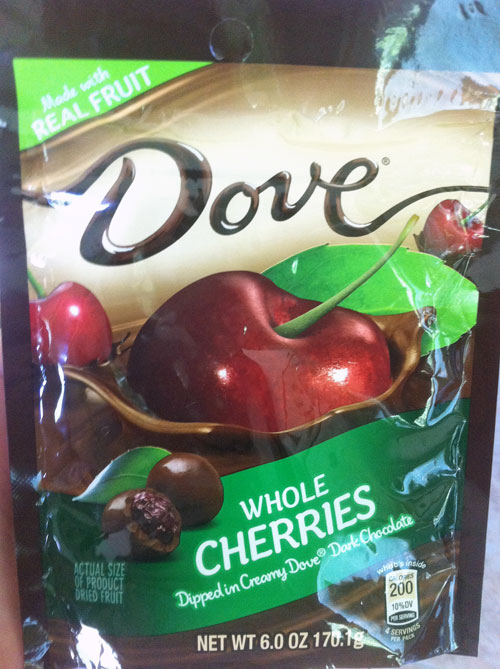 Dove Dark Chocolate Covered Cherries
Dove has finally dipped into the chocolate covered fruit market!  Tasty real cherries covered in Dove dark.
If you're a Dove lover (and who isn't?) you have to try these.  They're very good.  One taste was all it took to hook.

And I must not be the only one!  I've found it quite difficult to snag a bag.  So I buy two when I do. 
They come in a resealable pouch, so it's easy (maybe a little too easy!) to grab a piece or two when they come into view.  So maybe you should hide them as I sometimes do.
A couple of pieces makes a nice snack when you crave some chocolate. Remember they're more candy than fruit, so don't fool yourself into thinking they're healthy!
But they're not complete junk either.  The nutrition facts prove there's a bit of nutritious mixed in with the delicious!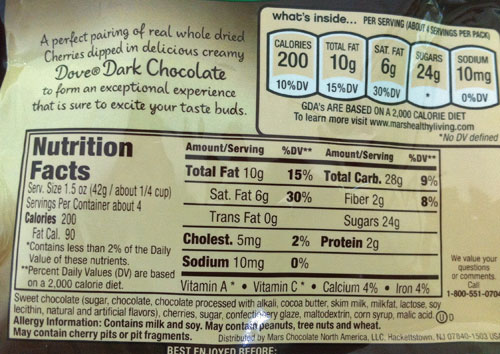 Dove also makes chocolate covered cranberries and blueberries.  FYI much easier to find where I shop.
Don't forget to check the allergens/warnings on the pouch.  Milk, soy, nuts, wheat and pits may cause you problems.





Chocolate Breakfast!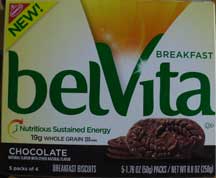 Yes!!!! BelVita Breakfast Cookies (Biscuits)
Chocolate cookies for breakfast? Yes, you heard(read) right. Who can say no to new chocolate products like this?
Probably not you after you taste them.
Large, thin, oval chocolate cookies that are reasonably healthy and tasty.
These BelVita cookies are formulated to be nutritious. Plus help energize you throughout your busy morning.
1 serving is 5 biscuits weighing in at 1.75 oz (50g). Wow, a helping packs 230 calories and 8g of fat(only 1.5g is saturated).
The good news? The serving of cookies comes with 3g dietary fiber, 4g protein. Plus 10% PDV of iron, thiamine, vitamin B6, riboflavin, and niacin. And 19g of whole grain.
I liked them. They tasted similar to chocolate Teddy Grahams. Very plain but tasty.
Try this. Snack on the cookies throughout the day. Eat one after every meal.
The box says B vitamins help to turn food to energy!

New Chocolate Products With 100 Calories Or Less Per Serving
On a reduced calorie diet? Sorry to hear that. I know how rough that can be.  But you'll be glad to hear about these new chocolate products!
Why?
Because they were formulated with you in mind. Now you can add some chocolate and still lose those pounds and inches! Provided you stick to your plan, of course.
These new chocolate products should make your diet a little less difficult.
Kudos to you. I know you'll reach your goal!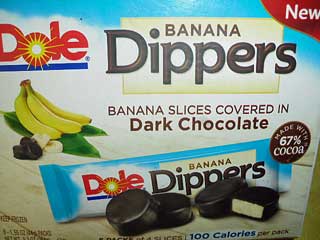 Banana Dippers by Dole
Attention banana lovers!  Dole has created a new chocolate product just for you.
Chunks of banana dipped in dark chocolate. The chocolate is an impressive 67% cocoa.
Possible health benefits in this snack! 
The nutrition facts confirm there's some good stuff in there for you. 
The dippers are low in fat, high in vitamin C, manganese and fiber. 
Plus there's a bit of iron, niacin, phosphorous, thiamin and potassium.
Wow! A chocolate dessert with all those important nutrients. Only 100 calories per serving (4 dippers). 

Sounds great, right?  Wish you had some right now, I bet.  But...

The taste!  It was hate at first bite!  Not at all like what I was expecting.
The combination made the banana taste sour.  Yuck, that first bite was terrible!  Couldn't let it go to waste though. 
So I ate the rest of that dipper.  Three more to go, ugh. 
Then strangely, after the second one they began to taste good.  Really good.
Guess my taste buds adapted.  Who knows? 
Four of us sampled the dippers and only 2 of us liked them.  The chocolate was too dark for those 2.
But not for me!  The chocolate's the best part.
Taste them and see if you agree.  You'll find them in the frozen fruit section of the store freezer.

The banana dippers are also available with almonds.
Maybe there will be more new chocolate products like these soon?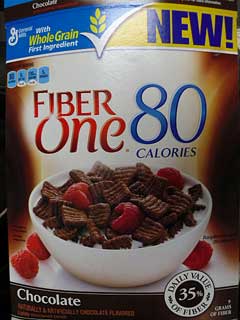 Fiber One 80 Calories

Fiber One just keeps churning out more new chocolate products. Now a breakfast cereal with only 80 calories per serving!
Crispy, crunchy slightly bitter squares with natural and artificial chocolate flavoring.
It tastes ok but nothing special.  But you can consume 3/4 of a cup (30g) and not bust your calorie budget!  Something to chew on!

Plus you'll get a big dose of fiber, lots of vitamins and minerals, and only 1 gram of fiber.
Sacrifice a little flavor but save some calories.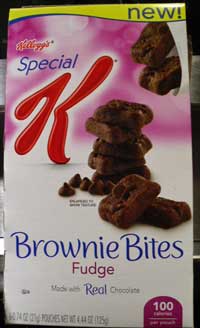 Special K Brownie Bites
New from Kellogg's! Tasty little squares of fudge brownie with tiny chocolate chips.  Very tiny chocolate chips.
These bits of brownie are made with genuine chocolate, according to the box. 
If you're looking for a way to fit a bit of brownie into your battle against the bulge, sample these.
A .74oz (21g) serving has only 100 calories! The box contains 6 pouches.  Each pouch holds about 10 brownie bites.
No cholesterol or trans fat in these babies.  But there's 4g of fat (1.5g saturated fat), 60 mg of sodium, 14g of carbs, and less than 1 gram of protein.  Plus there's 2% iron (PDV).

Some high fructose corn syrup shows up in the ingredients list.  Just pointing that out in case you wish to avoid that substance.
These little portable pouches do make portion control a breeze.  And that 's key.
So if you want to nibble on some chocolate without breaking the calorie bank, they may be for you.
Kellogg's also makes blonde brownie bites with white and chocolate chips.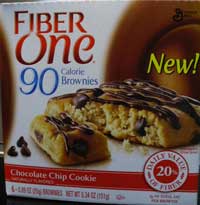 Chocolate Chip Cookie Fiber One 90 Calorie Brownies
What's new in the Fiber One brownies family? A chocolate chip bar cookie.
It weighs in at a whopping 0.89 oz or 25g just like its siblings.

A soft and moist rectangle with tiny chips and stripes of chocolate.
1 brownie/cookie per serving. Each serving is 90 calories, 3g fat, 1g protein, 2% iron(PDV) and 5g of dietary fiber.

Taste? It's ok. I found the chocolate fudge version much tastier.

It's handy for throwing in your tote or lunch bag.

Took it out on the boat for a snack. Glad to have it after a fun day of fishing. But hold on tight. It's so light it nearly blew away!
There's also a chocolate peanut butter brownie you might want to try.

Fiber One Chewy Chocolate Bar
Another Fiber One entry packing 100 calories per serving! A chewy bar made with whole grain oats and whole grain barely flakes. Topped with chocolate drizzle and a bittersweet bottom.
A one bar serving weighs one ounce (28g) and contains...
3g of fat (2g saturated fat)
no cholesterol
21g carbohydrate
5g dietary fiber
95mg sodium
10% calcium(PDV)
2% iron(PDV)
When you crave a chew, give this bar a try. It's aptly named. Plus it brings a whopping 20%(PDV) of fiber.
But I found the aftertaste unappealing.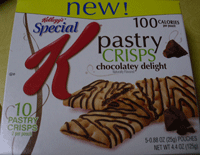 Kellogg's Special K Pastry Crisps Chocolatey Delight
Rectangular, crispy, chocolate filled pastries. Two pastries per pouch. Each one about 4-inches long and 1 3/4 inches wide.
100 calories and 2g fat per pouch (serving)! 5 pouches to a box.


Interesting little cracker-like pastries. Taste wasn't bad.
But mine didn't have as much chocolate filling as the one on the box!
More new chocolate products from Kellogg's  Special K branch.  Now they make Chocolatey Caramel and Cookies and Creme.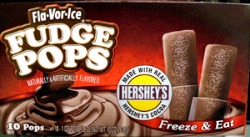 Fla-Vor-Ice Fudge Pops
Frozen confections made with Hershey's Cocoa. These dark
chocolate ice pops are small. About 7 inches long but only 1 inch wide. 10 to a box.
A serving is 3 freezer pops and 90 calories with 0g fat.

These were a pleasant surprise! Pretty tasty. Good dark chocolate flavor. Refreshing on a hot day.
New Chocolate Products: Dark Chocolate Cookies
Pillsbury Dessert Melts Molten Fudge Cake Cookies
Omg!  With a name like that they have to be tasted.  So I sampled them.

They were easy to bake and tasty. 
You just pop the pillows of cookie dough into the oven.  When done, you squeeze a bit of chocolate sauce over them.  Yummy.
Tasted a bit like a brownie to me.  Slightly crispy, fudgy with a liquid chocolate center.
When cold, the center solidifies.  That makes them dense and moist inside.
That's the good news.  Bad news, 150 calories per cookie and there's only 9 in a package.
But there's smore!  They also have a S'more Dessert Melt with a marshmallowy center.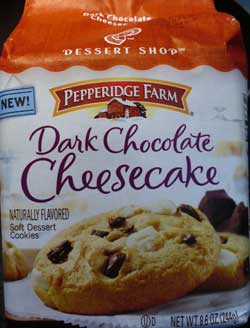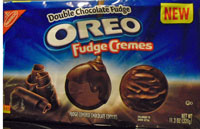 Oreo Fudge Cremes
More new chocolate products from Oreo! Double chocolate fudge cookies.
Half a crispy Oreo cookie topped with creamy fudge then enrobed in more chocolate. Totally chocolate.
Serving size: 3 cookies. 180 calories , 9g fat, 1g fiber, 1g protein, 6% iron(PDV).
These are good but I'm still love the original Oreo.
Hey coconut lovers! Try the other new fudge covered Oreo with a coconut center.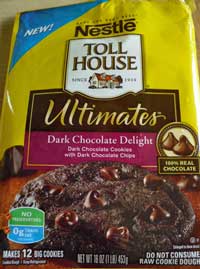 Ultimates Dark Chocolate Delight Cookies by Nestle
Very dark chocolate ready-to-bake cookie dough squares with real semisweet chips. One dozen large cookies per bag.
1 cookie per serving. Each serving has 160 calories, 8g of fat, 1g of fiber, some iron and tiny bit of vitamin A and calcium.
Dark chocolate lovers these are for you. Dark through and through!

Convenient. Taste is ok.
Doesn't beat a homemade dark chocolate recipe with added semisweet or dark chocolate chips!
Here they are. Don't be left out! Try these new chocolate products. You may just discover a new favorite.
You should find some of them at your usual store. Unfortunately, like me, you'll probably have to go to several stores to find all of them.

Or shop the easy way from your comfortable chair. Save time and gas. Head over to Amazon where you're always first in line.
More awesome new chocolate foods on the next page!

Return to Health Benefits of Dark Chocolate Home Page