More New Chocolate Products
Use this search box to find the info you're looking for!
Custom Search
Here's an assortment of new chocolate products that just wouldn't fit on the first page!  Cakes, pies, ice cream and baking mixes.
Why not take a look and see what chocolate I have tried for thee?
Yep, I take a bite (ok, lots of bites!) before I write. 
Then I convey my impressions of the products. 
No input from the makers!

There are many potentially awesome new chocolate treats to try. 
So this page (and me) is likely to fill up too. 
But have no fear, I'll keep buying and trying.

I love this job!  And, of course, I do it all for you (you believe me ,don't you? ;).

Gluten Free New Chocolate Products
Gluten Free Double Chocolate Cookie Mix from Immaculate Baking
Dark chocolate cookie with lots of chocolate but no gluten.  Nice for those that need to avoid wheat flour but still crave cookies!

Easy to make mix bakes up nicely.  The dough is a little grainy but the cookie is tasty.
Don't care for...

No worries, this cookie mix has none of those according to the box!
Mix made according to directions results in...

140 calories per cookie
6g of fat
20g of carbs
6% iron (PDV  based on 2,000 calorie diet)

about 20 cookies

Overall not a bad cookie.  A little pricey but that's too be expected for gluten free.
Your purchase helps the Folk Artist's Foundation.  You can ease some of your chocolate guilt!  ;)
Unfortunately, the mix is made with dutch cocoa.  The alkali used to treat the cocoa destroys some of its precious antioxidants!

Gluten Free Chocolate Chip Cookie Dough from Pillsbury

Excellent news for chocolate lover's who want or need to avoid gluten!  Pillsbury now offers gluten free cookie dough.
Celiac suffers can once again enjoy America's favorite cookie.  Heck, these cookies are quite good without the wheat.

The refrigerated dough makes a soft cookie almost identical to Pillsbury's other chocolate chip cookies.  I didn't really notice any difference in the taste (didn't do a side by side taste though).
But how do they compare nutritionally?  Compared to the traditional slice and bake version...one serving of the gluten free (is slightly smaller, 5g less) has 110 calories (20 less), 5g of fat (1g less), 10mg cholesterol (5g more), 95mg sodium (5g more), and 9g sugars (2 less).
The gluten free have no dietary fiber or iron unlike the traditional dough.
All in all, quite a good cookie. 
The down side?  Price!  Expect to pay more but...worth it for our chocolate chip loving friends with Celiac Disease.
Maybe there will be some more new chocolate products like these in the near future.

FYI: Pillsbury also offers gluten free pizza and pastry dough.

Assorted New Chocolate Products
More delicious new treats to please your demanding or maybe not so demanding palate. 
Some are awesome.  Some not quite so.  But hey, that's just me talking.
You need to decide for yourself!
Double Chocolate Cake from Marie Callender
Squirrel away a box of this delicious chocolate cake for emergency craving relief. 
You'll have two tiny tubs of moist cake ready when you are!
This super moist cake is topped with creamy chocolate frosting  Yum!  It's really good and so handy.
No baking just enjoying! 
But don't enjoy too often because...each cake is 280 calories, 9g of fat and 220mg of sodium.
On the positive side...each dessert has 2g dietary fiber, 3g protein and 25% iron (DVA).
Marie Callender's new chocolate products (see Satin Mini Pies below) are tasty but not low fat or low calorie.   So don't over do it!
Stash 'em away for a special chocolate day.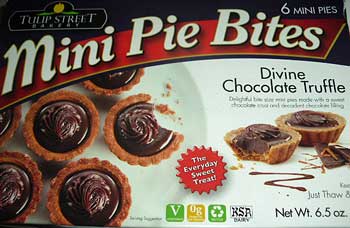 Divine Chocolate Truffle Mini Pie Bites by Tulip Street Bakery
Please don't hate me for introducing you to these dangerously delicious pies! 
Just doing my job.
The mini pies are truly divine.  Bakery quality from the store freezer.

But beware!  These diminutive dessert demons will ensnare you.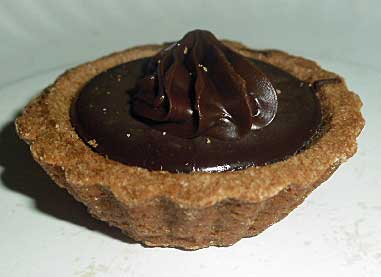 The tiny treats, maybe two inches across, weigh in at slightly over an ounce each.  But pack a lot of flavor.
That rich dark chocolate taste may be too intense for some.  But dark chocolate lovers will adore it.

The worst part is that with just a couple of bites your done!  But your craving will likely continue. You will want more.
Well, until you read the nutrition facts. 

A serving consists of 2 pies (60g).  Calories-220, total fat 12g, 60 mg of cholesterol, 2g of fiber, 4g of protein, 4% vitamin A, and 8% iron-PDV.
Your brain will say no.  Your taste buds will scream YES!
They also make Caramel Pecan Delight and Perfect Raspberry Crumble.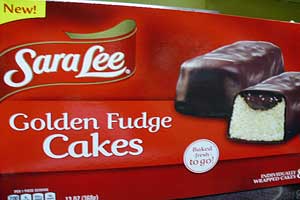 Sara Lee Golden Fudge Cakes
Here's one of the new chocolate products from Sara Lee's kitchen!   Looks like a chocolate covered twinkie on the outside. 
But inside there's a chocolate fudge filling.
The cake and the filling are good!  The chocolate coating is not so good.  It's waxy.
But to be fair, the coating has to be that way or it would melt off.  I think the snack cake is much better tasting without it. 
So I peel it off.
Now for the Nutrition Facts: a serving is 1 cake (46g) with 200 calories, 8g of fat, 120mg of sodium, 20mg cholesterol and 1g dietary fiber.

Iron 8%    Calcium 4%   Riboflavin 4%  Thiamin 4%  Vitamin A 2%
Niacin 2%  Folic Acid 2%

Not so sure it's worth the 200 calories, but you might think it is!
York Ice Cream Bars
New ice cream bar looks like a large York Peppermint Patty. Good Humor took peppermint flavored ice cream and covered it in a dark chocolate flavored coating.
This frozen novelty, per 3 oz(89ml) serving, has 170 calories and 10g of fat. The upside is 2g of protein, 4% vitamin A and 6% calcium (PDV).
My son, world's biggest fan of York peppermint patties, tells me this bar tastes as close to the candy as you can possibly get.
So patty fans think about it!
They make Mounds and Reeses bars too.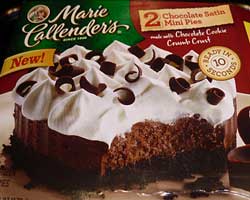 Marie Calender's Chocolate Satin Mini Pies
Two little frozen pies in each box. Creamy chocolate filling perched on a chocolate cookie crust. The little pie has a whipped-cream-like topping sprinkled with chocolate shavings.
It's an attractive little thing nestled in its protective bowl.

1 pie equals a serving. The pie really isn't that mini weighing in at almost 3 ounces or 85g.
But the calories are many! 380 calories per serving, 24g of fat (11g sat. and 2g trans.)
Plus 25mg of cholesterol, 210mg sodium and 21g of sugars.
Now for the better news...3g of dietary fiber and 5g of protein.
Vitamins and minerals...4% vitamin A, 2% calcium, and 25% iron.
These little pies are pretty good tasting but not so good for you or your waistline!
But new chocolate products like these can be a quick and tasty way to satisfy your chocolate craving!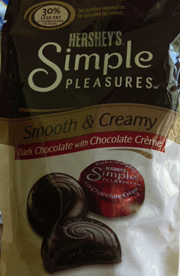 Hershey's Simple Pleasures Dark Chocolate with Chocolate Creme
Individually wrapped chocolate candies with a creamy chocolate center. Each candy is about 1 1/2 inches across.
This is a reduced fat candy! About 30% less than the "average of the leading milk chocolates."
A serving is 6 pieces and contains 180 calories and 4g fat. Also available in milk chocolate.

Pretty tasty and reduced fat. Nice combo.  Let's hope for more new chocolate products that can deliver that!
New Chocolate Baking Mixes
Here are some of the latest baking mixes.  These new chocolate products may be just what you need to satisfy your craving.
Or maybe a simple way to make a fresh baked treat to share!
Take a look at these new chocolate products.

Duncan Hines Chocolate Lover's Cupcake
Devil's food cake mix with frosting.  This is nearly a complete cupcake kit. 
Only thing missing is the cupcake papers.
The delish chocolate flavor sure isn't missing!  Way to go, Duncan!
Heck, there's even a pastry bag in the box.  It's not just for decorating, though. 
It's also for pumping some frosting into your freshly baked chocolate cupcakes.
Chocolate frosting, cake and filling!  Now that's a chocolate lover's dream come true.
About that frosting...it was way better than canned!  But you have to whip it up yourself so it should be.
I think it's just as easy to make homemade frosting. 
The frosting mix only requires a stick of margarine and water.  So it is more convenient.
Moist cupcakes filled and topped with chocolate.  Would any sane person say no to that? 
I think you're going to want to try this one.
Pillsbury Red Velvet Cake Mix Supreme Collection

That Pillsbury Dough Boy just keeps coming up with new chocolate products. Now he brings us a red velvet cake mix with cream cheese filling.
And red it is.  My mother ate a slice, wiped her mouth with a napkin, and thought her mouth was bleeding.   She looked shocked then began laughing!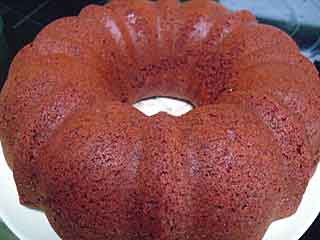 Sure didn't stop her from enjoying the cake.
I thought it was tasty too.  But the filling wasn't too thrilling.
Followed the directions but it came out thick and a bit gritty.  I think a little more water would have corrected that. 

Oh, well next time.  No reason not to make another one.
Then another thought occurred.  More chocolate would make this cake so much better. 
Not Pillsbury's problem, it's just that a red velvet cake recipe only calls for a little cocoa.
So I corrected that!  I topped a slice with my homemade fudge frosting! I covered it in cocoa.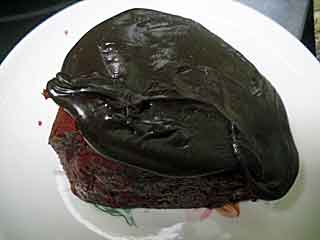 Ohhhh, yeah!  Problem solved! 
Just a little serving suggestion for my fellow dark chocoholics. 
All others just enjoy it the way Poppin' Fresh intended!

Fudge Truffle Cake Mix by Pillsbury

Now this is more like it! Chocolate cake with a fudgy filling.

Way more chocolatey than the red velvet mix, of course.
It's good but sadly it's not great.  The fudge filling is a little gritty.
Did add more liquid but that didn't solve the problem. 
The grittiness detracts but fortunately doesn't ruin the cake.  But...
The calorie count might.
A slice (1/12 of the cake) has 290 calories!  That's without the glaze shown (no glaze included in the mix).
On the plus side, 2g fiber, 2g protein, 6% calcium and 10% iron. (PDV based on a 2000 calorie diet)
These mixes aren't to die for.  But they're much easier to make than the homemade version. 
Also they make a nice change from ordinary cake mixes.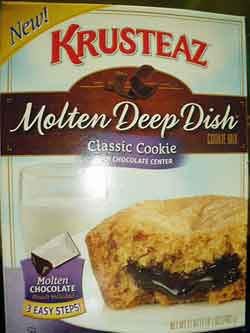 Molten Deep Dish Cookie Mix from Krusteaz
This mix turns out a crunchy cookie on the outside that's moist and chewy on the inside.  But best of all it has a molten chocolate middle!
Yes, now you can make this great dessert at home.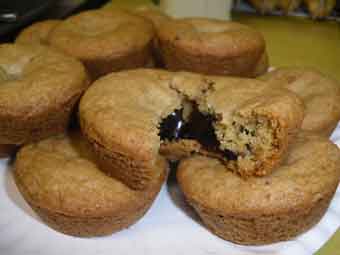 All you need is a regular size muffin tin (greased), some butter (softened) and egg.  There's a pouch of chocolate filling included. 
The hardest part is trying to divide the dough into 24 equal (more or less) balls. 

Just carefully follow the instructions. And you'll soon be enjoying a buttery cookie with a liquid chocolate center.
Pretty tasty too.  Serving size is  1 cookie (approximately). Each serving provides 200 calories and 8g of fat (?).  But there's also 1g of protein, 2% vitamin A and calcium and 6% iron (PDV).
Not healthy but out of the ordinary.
Other Krusteaz Molten Deep Dish cookie mixes available in chocolate with caramel middle and sugar with chocolate middle.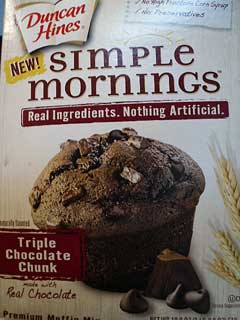 Duncan Hines Simple Mornings Triple Chocolate Chunk Muffin Mix
No high fructose corn syrup in this mix.  These chocolate muffins are made with natural ingredients. 

Makes a dozen moist muffins with lots of chunks and chips of chocolate.

Unfortunately, each of those mouthwatering pastries packs about 240 calories and 13g of fat.
On the positive side, those rich and filling breakfast breads contain 10% (dva) of calcium, 8% (dva) of iron, whole wheat flour and 3g of dietary fiber.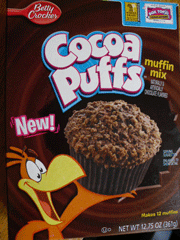 Cocoa Puffs Muffin Mix by Betty Crocker

Makes 1 dozen muffins. If you're crazy for Cocoa Puffs, these might
be for you! Or you might like the Reese's Puffs Muffin Mix.
170 calories and 1.5g fat per muffin.

Not a lover of Cocoa Puffs. But that might change! Haven't tried these yet.
Update: Tried them! They're good. Made a great after-swim snack. Kids gobbled them up, even the kids who don't like Cocoa Puffs cereal.

More new chocolate products from Betty! Are you a Reese's Puffs cereal fan? Try that muffin mix for a little peanut butter in your chocolate.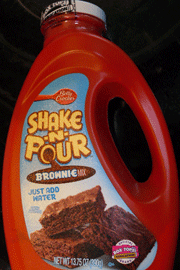 Shake-N-Pour Brownie Mix by Betty Crocker
Wow, brownies in a bottle! New chocolate products like this are a bit out of the ordinary.

Actually, the mix is in the bottle. All you have to do is add water, shake and bake.
A serving is one ninth of the jug and has 180 calories and 4g fat.

Now that's got to be the easiest way to make brownies! Points to Betty for that. But...taste wise? Haven't sampled them yet. But will very soon!
Update: Tasted like a brownie mix. But I'm rethinking the whole points to Betty thing!
Easy to mix, yes. But I had to battle the bottle for the batter. Impossible to use a spatula effectively.
So I had to rig a way to suspend the bottle over the bowl to drain the batter.
Not quite as easy to make as I first thought. But you don't have to have an egg or oil. Just patience.
Once you've tried these new chocolate products check back for more!  The list continues to grow (as does my waistline). 
I'm sampling as fast as I can! 

But I do have to take time out to ride my bike or else my clothes won't fit!
So stay tuned for more.
Have you checked out the other page full of new chocolate foods?
Return to Health Benefits of Dark Chocolate Home Page