Chocolate Fudge Frosting Family Favorite
Use this search box to find the info you're looking for!
Custom Search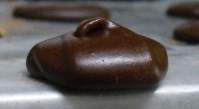 This versatile chocolate fudge frosting recipe should become one of your family's favorite. My mother passed it down to us. Maybe you should do the same for your kids?
It's incredibly easy and extremely adaptable. Makes a great icing, sure, but it can also be made into candy. Heck, I even drink it.
It's like drinking a melted chocolate bar!!  Regular hot chocolate can't compare.
Learn this one recipe, made with lots of healthy cocoa powder, and your chocolate needs will be covered.
You can make it extra dark, semisweet or mild like milk chocolate.
Family Favorite
No family get together is complete without a batch of brownies or two slathered with this awesome icing. Everyone loves my mother's brownies so leftovers are very carefully doled out.
I cut my chocholic teeth on this chocolate fudge frosting recipe. I shudder to think how many pounds of it I've put away!
Now it's your turn to fall in love with it. Oh, it could happen. Rich, delicious and practically irresistible!
It's the easiest way to satisfy your chocolate craving and get your family raving.
Careful. Fights over pot licking privileges have been know to break out!
I hope you enjoy this recipe as much as we do. Here you go...
Chocolate Fudge Frosting Recipe
1 stick (113g) of margarine
1/2 cup (57g) of natural cocoa powder (Hershey's works fine)
1 pound (454g) of powdered sugar/confectioner's sugar
3 to 4 tablespoons (46 to 61g) of milk
1/2 teaspoon (2g) of vanilla


Use large saucepan with a 2 or 3 quart (2 or 3L) capacity.
First, melt the margarine over low heat.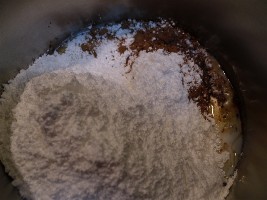 Second, remove from heat and stir in the cocoa powder, sugar, and milk. Stir well.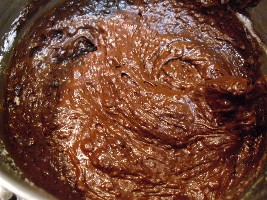 Yes, the mixture will be quite thick and lumpy. But it will become thinner as it warms. The lumps will disappear.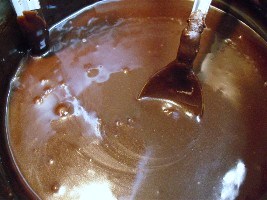 Third, return the chocolate icing to the low heat. Cook and stir for about 10 minutes or until its thoroughly warmed. Do not bring to a boil.
Fourth, remove from heat stir in vanilla extract.
Done!
Now you can pour it onto your cake or brownies and spread evenly. It's not necessary to wait for them to cool first.
Chocolate Icing Variations
Since you're making cocoa into chocolate, you can control the flavor intensity of the chocolate icing.
Simply use more or less cocoa and adjust the milk. For...
Extra dark-use 1 cup of (111g) cocoa and 5 to 6 tablespoons (61 to 91g) of milk.
Dark-use 3/4 cup (83g) of cocoa and 4 to 5 tablespoons (61 to 76g) of milk.
Mild-use a 1/4 cup (28g) of cocoa powder and 2 to 3 tablespoon (30 to 46g)  of milk.
Go easy on the milk. You can always add more if the icing is still to thick after it warms up.
Oh, if you want to drink it, yes I really do, thin it with milk. But don't put too much! Drinking chocolate makes hot cocoa taste weak and watery by comparison.
How about some fudge instead?
Super Easy Fudge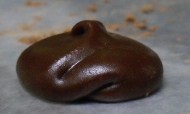 To turn the fudge frosting recipe into fudge or homemade chocolate kisses, use the instructions above.
But reduce the amount of milk by 1 tablespoon.
Then cook and stir until the mixture can be spooned onto wax paper. It just needs to warm up enough to flow off the spoon.
Takes maybe 5 minutes, you don't want it to become too thin.
If it does, it'll run and become a patty instead of a kiss. But it'll still taste good!
Place dollops of fudge onto wax paper and let cool. Then carefully remove and store in an airtight container. You don't want it to dry out!
Or you can pour it into a pan. Cut into pieces when cooled.
Or try my personal favorite. Pour it into a bowl, cover and store in the fridge. Then when a chocolate craving hits, spoon some out, microwave briefly, and eat it! By itself...mmmmmm
Granted that's for hard core dark chocoholics only. But ever so delicious and satisfying. It's so rich it doesn't take a lot to hit the spot.
Or you could use it as chocolate sauce for a hot fudge sundae. Awesome!
Isn't warm chocolate like the best?




Ok, I hope I've convinced you to try this super easy chocolate fudge frosting recipe. It really is simple and delectable, really. Thick or thin, it still tastes great. Burning it is the only way to ruin it. So cook with care and you'll have something delicious to share.





Return to Chocolate Candy Recipes

Return to Health Benefits of Dark Chocolate Home Page