Chocolate Picture Puzzles!
Use this search box to find the info you're looking for!
Custom Search
Pictures of my delicious chocolate desserts have been turned into online puzzles for you!

Now you can have fun with healthy dark chocolate without gaining an ounce. 
So prepare to pounce on these entertaining puzzles.
See how fast you can solve them. 
Then challenge a friend, co-worker or family member to beat your best!
Please don't blame me if the completed puzzle causes intense cravings.  Be strong and resist temptation!
Or be weak like me and make yourself the real dark chocolate deal.
Links to recipes included.  So you can indulge.  After all, all that solving is bound to have used a calorie or two.
So treat yourself.  Or be strong and lick another calorie-free puzzle!


Jigsaw Challenge

Puzzle over these!  Get ready to put these pieces in their places.
No way are you going to let this doohickey defeat you, right?  Dig in and do it!
Then challenge someone to attempt to beat your score.  And may the best woman win!  I think we both know who that will be.



Chocolate Chip Cookie

Unfortunately, my cookies have crumbled!  ;(  Time for you to put them  back together!

Are you suddenly hungry for chocolate chip cookies?  Try this recipe.

Caramel Brownie
Just in case you need a brownie break (recipe)!

Cacao Beans
Want to know more about the beneficial beans?
Ready for Some Sliding Puzzles
?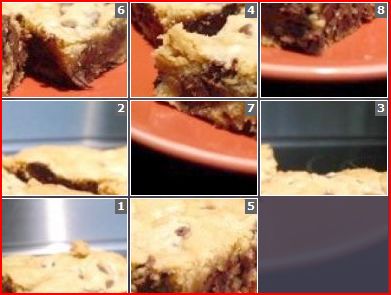 Click on the puzzle picture.
Off you'll go to a page of challenging sliding picture games. 
Be ready!  These babies are frustratingly fun. 
Not for the easily angered.  ;)

Hope you enjoy these demanding games.  ;)
Back to the Home Page pronto!