Simple Brownie Recipe? Try this Oreo Brownie Recipe
Use this search box to find the info you're looking for!
Custom Search
Attention Oreo lovers! Try my Oreo brownie recipe. Turn your favorite cookie into a homemade brownie. The recipe is incredibly easy. And so tasty too.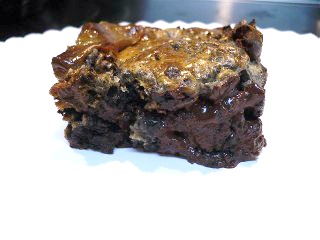 Only takes 4 ingredients. You get to break cookies, not fingernails!
No measuring needed. And only one bowl will be dirtied. Super simple.
It might not delight the eye but it's delish. Get over it's grayness.
Concentrate on the moist chocolate Oreo cookie chewy brownie it will become. Chock full of chips.
Yum!
Oreo Brownie Recipe
24 Oreos
4 tablespoons (55g) of margarine
14 ounce can (396g) of sweetened condensed milk
1 bag of dark, semisweet, or milk chocolate chips


Preheat oven to 350°F or 180 C/gas 4.
Thoroughly spray or grease sides and bottom of your 8 x 8-inch (20cm x 20cm) pan.
Put aside. If you use a larger pan, reduce baking time.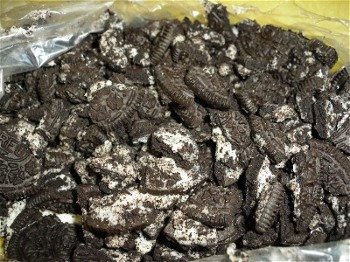 Now for the fun part!
Place 24 Oreos in a 1 gallon (27.9cm x 31.8cm) plastic bag. Secure the end of the bag with a tie.
Throw the bag on the floor. Repeat 3 or 4 times till cookies are broken but not pulverized.
Or use a rolling pin or the heel of your hand to break them.
In a 2.5 quart (2.4L) bowl place the margarine. Cover with plastic wrap, leave a small vent.
Melt the margarine in the microwave.
Then add sweetened condensed milk, broken cookies, and chocolate chips to the melted margarine.
Stir well.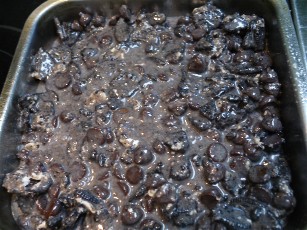 Pour the brownie batter into your prepared pan. Spread evenly.
Don't mind the grayness of the batter.  It will taste better than it looks!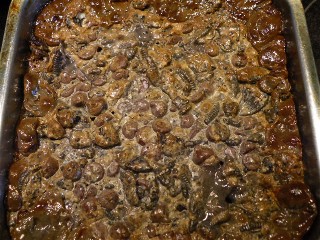 Bake 35 to 40 minutes or until brown.
Let cool.
Cut Oreo cookie brownies into squares.
Enjoy their chocolatey awesomeness!
Oreo Recipe
Originally, I intended to create a bar cookie recipe. But my first attempt was a little too moist. Turned out more like a brownie. I tasted it and loved it.
But continued experimenting. Finally got the ratio of Oreos to liquid right. Made that elusive bar cookie I was after.
Took a bite and was disappointed. Too dry and crumbly. I'd fallen for the moist Oreo cookie brownies.
I think you will too. Lots of gooey Oreo goodness dotted with dozens of dark chocolate chips.
Prefer your baked goods on the dry side? I've met a few who do. If that describes you, use 30 cookies and make a batch of bars instead.




Moist, mouthwatering, painless Oreo brownie recipe. Starts out gray, browns beautifully. Easiest homemade brownie recipe you'll ever make. If you love Oreos, who doesn't, you'll love this.





Return to Chocolate Brownie Recipe Page

Return to Health Benefits of Dark Chocolate Home Page