Easy German Chocolate Brownies Recipe
Use this search box to find the info you're looking for!
Custom Search
Crave a chocolate dessert sweet and slightly dark? German chocolate brownies will satisfy!  Bake a batch.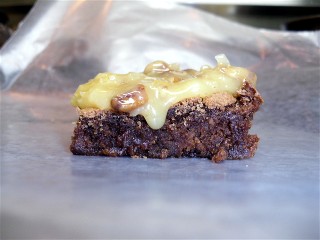 Very easy to make.
Perfect for german chocolate cake lovers or lovers of the not so dark.
Top your brownies with the same rich german chocolate icing used on the cake.
Or not, if you're not nuts about nuts and coconut.
They taste great either way.
Try this simple but showy, not so dark chocolate dessert.
Enjoy german chocolate flavor with less labor.
German Chocolate Brownies Recipe
Brownie ingredients...
2 ounces (57g) of German's sweet chocolate 
6 tablespoons (82g) of margarine
1 cup (192g) of granulated sugar
1/2 teaspoon (2g) vanilla
1/4 teaspoon (1g) baking powder
1/4 teaspoon (1g) salt
2 eggs
1/2 cup (50g) all-purpose flour
Preheat oven to at 350°F (180°C/gas 4).

In a medium bowl, place chocolate bar broken into squares or pieces. Microwave chocolate for about 45 seconds.
Stir. Add margarine, cover bowl to prevent splattering, heat for another 15 seconds. Stir, if not completely melted heat for another 15 seconds.
Add sugar, vanilla, baking powder, salt, eggs, and flour. Mix well.
Spray an 8-inch x 8-inch (20 x 20 x 5 cm) pan with cooking spray. Or grease with margarine.
Pour batter into pan and bake for about 25 minutes or until done.
Careful not to over bake them.
While the brownies are cooling prepare the decadent frosting.
Yes, it's time to kick the can. You can make homemade icing, really you can. It's very easy and tastes so much better!
German Chocolate Icing Recipe
Icing ingredients...
1/3 cup (145g) evaporated milk
1/3 cup (126g) granulated sugar
1 egg yolk
2 2/3 tablespoons (or 8 teaspoons) (37g) of margarine
1/4 teaspoon (1g) vanilla
1/4 cup (19g) coconut
1/4 cup (30g) chopped pecans
Put milk, sugar, egg yolk, margarine and vanilla in a medium saucepan.
Cook over medium heat, stirring constantly, for about 12 minutes until icing thickens.
Add coconut and pecans. Beat until cool and spreadable.
Spread evenly over top of cooled brownies.
Brownies
This not so dark recipe should satisfy milk chocolate lovers. My mother, the milk chocolate and german chocolate cake fan, loved them.
Makes a very rich and gooey chocolate dessert.
The brownies might be a little on the sweet side for dark chocolate fans. But they make a nice change.




German chocolate brownies are an easy way to savor the flavor of the cake without the work. Looks great on the plate, too. That frosting gives the brownies a festive look. Might be just right for your next party. Bake a batch from scratch.





Return to Chocolate Brownie Recipe Page

Return to Health Benefits of Dark Chocolate Home Page