French Silk Pie Recipe: Refreshing Chocolate Dessert
Use this search box to find the info you're looking for!
Custom Search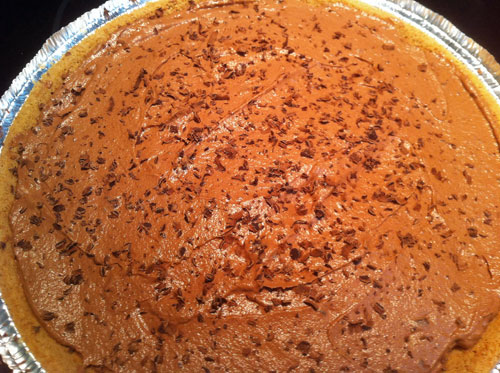 Cool and creamy!
Too hot to bake but you still crave a chocolate dessert? Try this french silk pie recipe. It's perfect for hot weather because there's no baking needed.
It's light, creamy texture will delight you. The rich chocolate taste will satisfy.
And your kitchen will stay cool with this no bake recipe.
Whip it up, cool it down and enjoy.
Take a refreshing chocolate break from the heat and eat your treat.
Recipe contains raw eggs.






French Silk Pie Recipe: Easy No Bake Dessert

5 ounces (142g) of unsweetened baking chocolate
4 ounces (113g) of butter, softened
2 1/2 cups (325g) of powdered sugar
2 teaspoons (8g) of vanilla extract
2 eggs
3/4 cup (177ml) of heavy whipping cream
1 graham cracker crust
Place the deep bowl for whipping cream in the freezer to chill.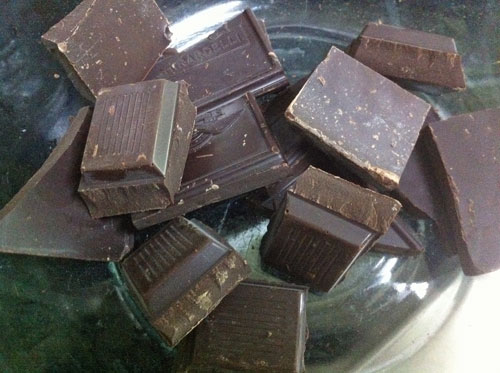 Ok, that's chilling time to get serious.  Place chocolate squares in a bowl and microwave on high for 45 seconds.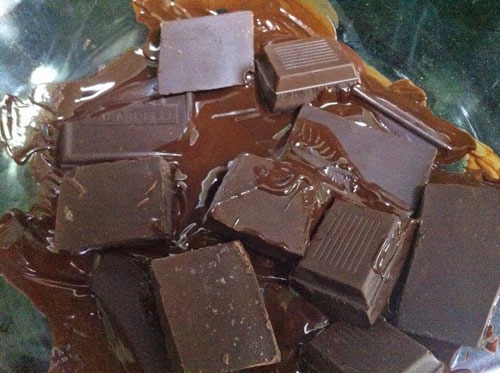 Remove the bowl from the microwave.  Stir the chocolate.  Then heat again for 20 seconds, stir.  If not completely melted, heat for about another 20 seconds, stir.  Repeat until melted.

Set your bowl of chocolate aside to cool.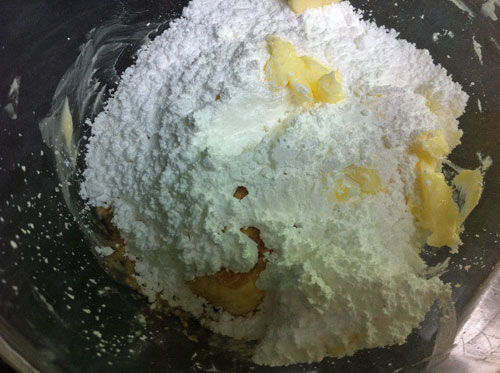 In another bowl place your butter, powdered sugar and vanilla.  You'll need to use a deep bowl if you can. 
Start beating the mixture on low/medium to avoid throwing it out of the bowl!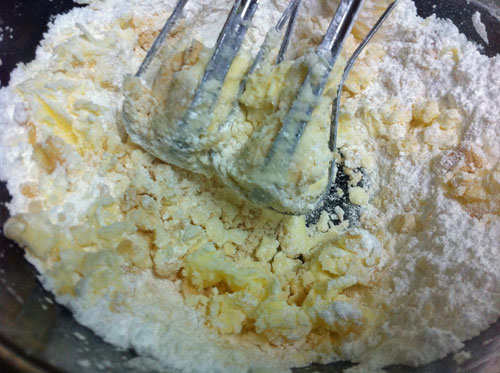 At first the mixture will be dry and crumbly.
But soon it will become creamy and smooth.  Be sure to take a moment and scrape the sides and bottom of the bowl with a nylon spatula.
Then beat again on medium/high till it's all mixed together and fluffy!
Time to put that nylon spatula back to work.  Now add the cooled chocolate and eggs to the fluffy mixture.  Make sure you get all the chocolate!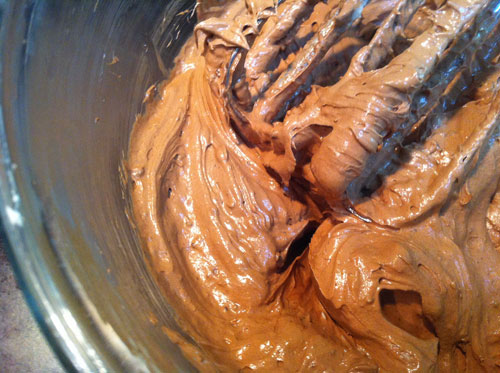 Beat on high for about 2 minutes till creamy and well blended like in the photo above.

Set aside.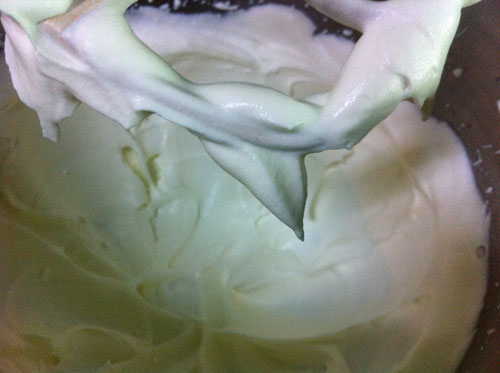 Take your bowl out of the freezer and add the whipping cream.  Beat on high till stiff.
Patience.  This step can take awhile.  But slowly the cream will begin to thicken.
When it does, stop the mixer and test.  If it holds it shape, forms a peak, it's ready.  If not beat a bit longer and retest till it does.
Next add the whipped cream to the chocolate mixture.  Yep gonna need that spatula again.

Then gently fold the cream into the chocolate until it looks like this...

Now that the french silk pie filling is all blended together...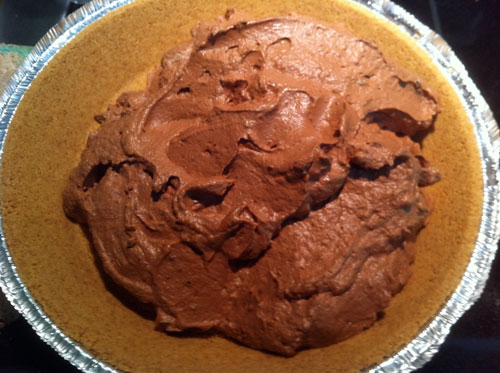 Spoon it into the prepared graham cracker crust.  Spread it evenly in the pie pan.
Smooth out the top and add grated chocolate for decoration.  Or leave it plain if you prefer.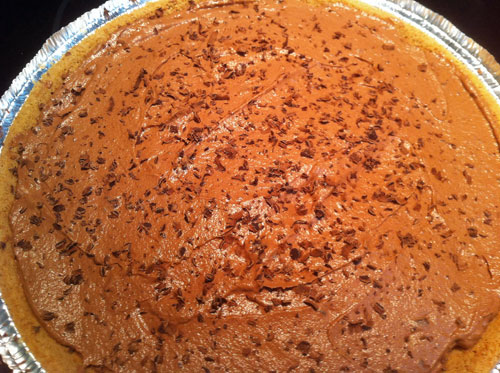 Finally, cover your masterpiece and place it in the refrigerator.  Let that baby cool for several hours before you dig in!
Take a bow and say wow.  You did it.  You created an awesome treat.

This french chocolate pie recipe is the perfect way to cool off at the end of a hot summer day!  Great for that party on the patio.
 No Bake Dessert Stretches
How? It's so rich you can serve small slices. Even a registered chocoholic like me can't eat a large slice.
The light texture fools you. It's like eating a chocolate cloud. Seems like you'll never get full.
But then the richness kicks in. And you're satisfied.
So if you need to stretch your chocolate dessert, try this recipe. You can make it go far and still satisfy all your chocoholics.




This no bake french silk pie recipe makes a cool and refreshing treat. It's a great way to beat the summer heat. And its rich flavor will please a small crowd.




Return to Chocolate Pie Recipe Page

Return to Health Benefits of Dark Chocolate Home Page