German Chocolate Frosting Fan? Try This German Chocolate Pie Recipe
Use this search box to find the info you're looking for!
Custom Search
Try this simple german chocolate pie recipe. Forget the cake, go straight for the frosting!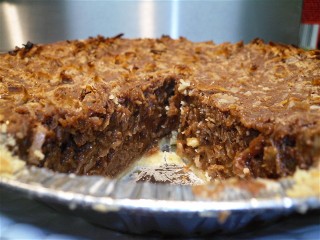 It furnishes the frosting flavor you crave without all the hassle.
Imagine a mouthwatering pie with a velvety filling. Topped with crunchy pecans and coconut.
It's a lot like that famous topping. But there's no cake!
And not much work either.
You can quickly whip up this wonder. Pop it into a prepared pie crust. Bake.

Be patient. It'll be worth it!
German Chocolate Pie Recipe
Here's what you'll need...
1  deep dish prepared pie crust, raw
1  4oz. bar (113g) of German sweet chocolate
1/4 cup (57g) of butter
1 1/2  teaspoons (6g) vanilla extract
1 1/2 cups (288g) of granulated sugar
12oz. (366ml) of evaporated milk (not condensed)
3 slightly beaten eggs
1/2 cup (60g) of pecans
3/4 cup (57g) of coconut


Preheat your oven to 375°F (190°C/gas 5).
Break the chocolate bar into pieces and place in a medium sized microwavable bowl. Microwave on high for about 45 seconds.
Add butter and cover so butter doesn't splatter. Heat for about 30 seconds. Stir. If not completely melted, microwave for about 20 more seconds.
Stir.
Add vanilla, sugar, and canned milk to the chocolate mixture. Stir well, scrapping the sides and bottom of the bowl frequently.
You don't want to waste any of that precious chocolate!
In a separate bowl beat the eggs slightly. Then add the eggs to the chocolate. Mix thoroughly.
Place the pie crust on a baking sheet. Pour in the pecans. Then pour the chocolate mixture on top. Sprinkle the coconut on top of the pie filling.
Bake for about 45 minutes or until done. You'll notice that the filling has lost almost all it's wiggle when done.
To test, carefully insert a table knife into the center of the pie. If it comes out nearly clean, it's done.
Refrigerate. Give it at least 5 hours to cool completely before eating. Tastes best that way!

Recipe for German Chocolate Pie: More Or Less?
My mother taste tested it for me (I can't stand nuts or coconut!).  Thanks, mom.

She loved the velvety smooth filling. But having both pecans and coconut was too much for her. She thought it would be better with either or.
So if you wish, you can adjust the amount of pecans and coconut up or down.
But be careful! Adding too much more could spell disaster.

I tried using 3/4 of a cup (90g) of pecans and 1 cup (76g) of coconut. Big mistake! Made too much filling and it ran over.
Fortunately the baking sheet contained the mess.
Live and learn.




This rich and fudgie german chocolate pie recipe is like eating the best part of a german chocolate cake. No cake and no hassle. Just lots of velvety filling with a crunchy pecan and coconut top. Good and gooey.




Return from German Chocolate Pie Recipe to Chocolate Pie Recipe

Return to Health Benefits of Dark Chocolate Home Page