Fudgy Dark Chocolate Pie
Use this search box to find the info you're looking for!
Custom Search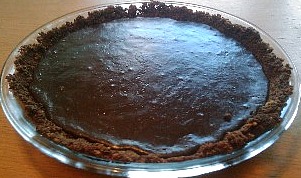 Easy dark chocolate pie recipe tastes like fudge without all the work.

If you've mastered melting, stirring and pouring, you're capable of making this rich and dreamy dessert. It's that simple.
Make it without a crust and eat it like fudge.
Use a crust and garnish it with whipped cream and chocolate shavings.
It's so delicious and chocolatey it'll taste like you made an effort. They'll never know.
Keep your secret and graciously accept their kudos.

Chocolate Fudge Pie Recipe

3 squares or 3 ounces (85g) of unsweetened chocolate
2 eggs
1/2 cup (110g) margarine
1/4 cup (25g) all-purpose flour
1 cup (192g) granulated sugar
crust-optional
Place chocolate squares and margarine in a 2-quart (2 liters)bowl. Cover and microwave until margarine is melted.
Stir until chocolate melts and mixes with the margarine. Add sugar and beat in the eggs.
Add flour and mix well. Pour into a well greased or sprayed 9-inch (23 x 3cm) pie pan or into prepared crust.
Bake at 250°F (121C or gas mark 1/2) for 30 minutes or until set.
Pie will still be liquid when done. Let it cool completely before eating. Store in refrigerator (if it lasts that long).
Serve it cold or warm a wedge in the microwave. Top with a scoop of vanilla ice cream for those that can't handle (appreciate) so much dark chocolate.
Crust Options
No crust is necessary, but this pie tastes great in any type. It's especially good in a graham cracker or shortbread crust.
Check the baking aisle for an assortment of crusts. These crusts are ready for filling. They come in a handy pan with a plastic cover. Reduced-fat graham crusts are available too.
Simply pop off the plastic cover and fill. Wash and save the cover for your finished pie. Doesn't get any easier than that!
But, with a little more effort you can take your fudge pie to the next level.
Make your own chocolate crust. Don't groan, it's really easy! You'll find the deliciously simple recipe below.
Chocolate Graham Cracker Crust Recipe
This is for true chocoholics only!
Recipe
1/3 cup (73g) margarine
1 cup (90g) graham cracker crumbs
1/3 cup (37g) natural cocoa
1/4 cup (48g) sugar


Place margarine in a medium bowl. Cover and microwave until melted. Add crumbs, cocoa, and sugar to the margarine. Stir well. Spoon crumbs into pie plate and press evenly, covering bottom and sides.
Makes one, very tasty, 9-inch (23 x 3cm) pie crust perfect for this chocolate pie!



Give this chocolate pie recipe a try when you crave fudge without the work. Keep it simple or dress it up and take it to a party. It's so delicious your friends may ask for your recipe.



Return to Chocolate Pie Recipe Page

Return to Health Benefits of Dark Chocolate Home Page