Chocolate Chess Pie Recipe: Milk Chocolate Filling
Use this search box to find the info you're looking for!
Custom Search
Milk chocolate fans this one's for you. This chocolate chess pie recipe is sweet, creamy and mild like your favorite candy.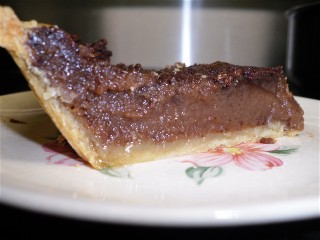 Only the crunchy top crust is dark. Below it there's a light chocolate filling.
A little too sweet for me, but my milk chocolate loving mother adored it.
So if milk chocolate is your thing, definitely give it a try.
Heck, dark chocolate lovers you might like it too. It's pretty tasty despite its lack of intense chocolate flavor.
Revealing the Filling
This chocolate chess pie recipe really does make a milky, sweet treat. Take a close look at the photo above.
The top of the pie looks dark but that's deceiving. See how much lighter the filling is?
Don't worry lovers of milk chocolate.  I promise this is most definitely not a dark chocolate pie.
Recipe for Chocolate Chess Pie
Here's what you'll need to make this delicious, light chocolate dessert...
6 tablespoons (83g) melted margarine
6 level tablespoons (42g) of natural cocoa powder
1 1/2 teaspoons (6g) of vanilla extract
1 1/2 cups (288g) of sugar
2 large eggs, beaten
6 ounces or 3/4 of a cup (165g) of evaporated milk
prepared pie crust
Warm up the oven to 350°F (180C/gas4).
Microwave the margarine for about 25 seconds or until melted. Add cocoa, vanilla, sugar, eggs, and evaporated milk. Mix well.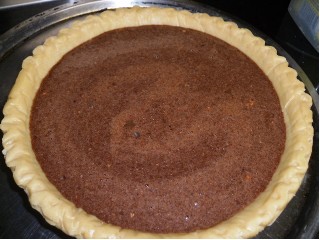 Place pie pan on a cookie sheet. Pour filling into the raw pie shell.
Put the cookie sheet in the oven.
Bake for about 40 minutes or until done.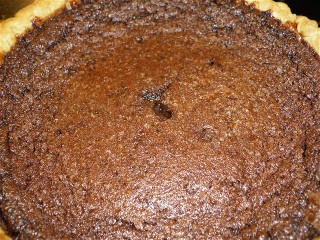 Pie will be done when center is set.
To test, carefully insert a knife blade into the center of the chocolate chess pie.
The blade should come out almost clean. If the filling on the blade looks very soft like pudding, bake a few more minutes.
See the hole in the middle? Testing does mar the beauty of the pie a little. But a runny, under baked filling is even less appealing.
Not to worry, with practice you won't need to test. You'll develop an eye for a fully baked pie.
Let cool. Refrigerate for several hours before serving.

This chocolate chess pie recipe really is perfect for milk chocolate lovers. It's a bit light on luscious cocoa for dark chocolate fans though. But that creamy filling is really appealing! Not to mention scrumptious. It's a tasty tart worth your time.




Return to Chocolate Pie Recipe

Return to Health Benefits of Dark Chocolate Home Page