Chocolate Pecan Pie Recipe Easy Steps to Perfect Pie
Use this search box to find the info you're looking for!
Custom Search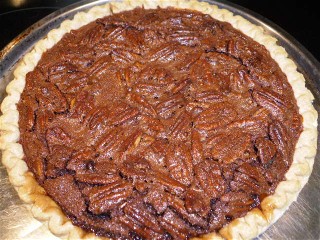 Enjoy nuts with your chocolate? Try this chocolate pecan pie recipe.
It's a rich southern dessert made with two great sources of antioxidants.
Chocolate and pecans.
Healthy? Not really. Those antioxidant foods are swimming in sugar, butter and eggs.
But they're a good excuse to give the pie a try.
Serve small slices. Wash it down with coffee or tea.
And keep telling yourself, "All these antioxidants are good for me!"
Pecan Pie Recipe with Pictures
This easy to make pie tastes like dark chocolate fudge with a crunchy pecan topping. It's dark but not bitter. The pecans that top it are native to the south.
To make this simple southern favorite you will need...
5 ounces (142g) of unsweetened baking chocolate
3 tablespoons (43g) of butter, melted
1 1/2 teaspoons (6g) of vanilla extract
pinch of salt
1 cup (350g) of light corn syrup
1 cup (192g) of granulated sugar
3 eggs
1 1/4 cups (151g) of pecan halves or pieces
1 unbaked pie crust, deep dish
Preheat the oven to 350°F (180C/gas 4).
Place baking chocolate in a bowl and microwave on high for about 1 1/2 to 2 minutes. Stir.
If not completely melted, heat for another 20 to 30 seconds. Careful, don't burn the chocolate!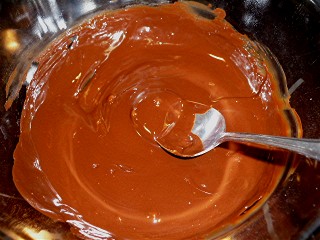 Add butter. You can melt it first in a separate bowl. Or to save cleanup time, drop it into the warm chocolate and let it melt.
Set aside and let cool a little.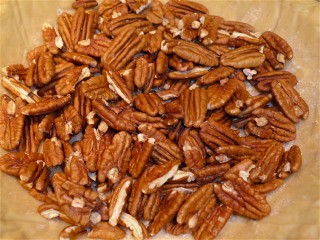 While the chocolate is cooling, pour the pecans into the unbaked pie shell.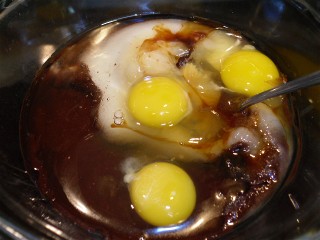 To the cooled chocolate add vanilla, salt, corn syrup, sugar, and eggs. Stir well. Make sure all the ingredients, especially the eggs, are completely mixed together.
Otherwise, blobs of cooked egg will ruin your filling.  I made that mistake once. It was like eating boiled egg with your chocolate. Yuck!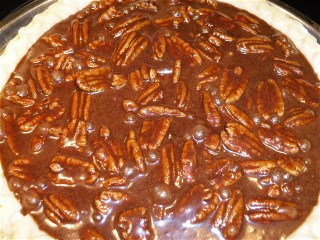 Pour batter into the pie shell. Pecans will float to the top.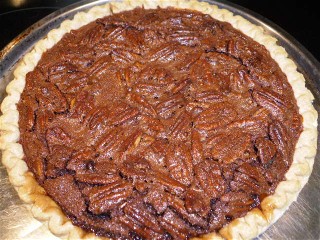 Bake for about 1 hour. Center will be firm when pie is done. Let cool.
Then refrigerate the chocolate pecan pie for several hours before serving.


Fudge Pie: Chocolate Pecan Pie Recipe Option

Make a fudge pie instead. How? Just leave out the pecans. The pie tastes great without them. You can save a few dollars too!
You still get a crunchy top crust with a fudge-like filling. That's a great alternative for people who don't like nuts.
Heck, I prefer it that way! You might too.




This super simple chocolate pecan pie recipe makes a tasty treat. A treat you're only eating because it combines two great sources of antioxidants, right? Not because of its rich fudge-like filling topped with delicious pecans.




Return to the Chocolate Pie Recipe Page

Return to Health Benefits of Dark Chocolate Home Page