Hungry for Dark Chocolate That's Good for You? Try Bittersweet Chocolate
Use this search box to find the info you're looking for!
Custom Search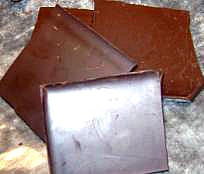 It's where chocolate meets healthy. Bittersweet chocolate can be mildly sweet to almost too dark to eat. Learn why you need to nibble your way to at least 70% cacao.
Why? Because that's where chocolate turns healthy. But don't try to jump from milk chocolate straight into extra dark. The extreme chocolate flavor will shock your taste buds.
Patiently progress to greater percentages of cacao. You do not want to deprive yourself of all that rich, gooey, delicious, extra dark, bittersweet chocolate or it's health benefits!
What is Bittersweet Chocolate?
Besides delicious? It's chocolate that must contain a minimum of 35% chocolate liquor (liquid chocolate) and less than 12% milk solids.
But it's a little more complex than that.
The flavor intensity ranges from semi-sweet with about 35-45% chocolate liquor to bittersweet which usually contains at least 50%. But the chocolate liquor content can be as high as 99%.
The extra cocoa butter gives it a rich chocolate flavor that makes it popular with bakers.
Bittersweet Dark Chocolate
Oh yeah, this stuff is way too good to be confined to the kitchen any longer. Check the candy aisle. You'll find bars with varying percentages of cacao (bean that's the source of chocolate).
Use this wide range to acquire a taste for the really dark healthy stuff. Take your time.

Start at the less intense, sweeter end. Slowly work up to the extra dark chocolate (70% cacao plus).
That's when it gets healthy. Learn more about the health benefits of dark chocolate.
Remember more cacao means a stronger chocolate taste and less sugar. A good choice for carb counters.
Seventy percent used to be my limit. Recently I sampled an 88% cocoa bar. Whew! That's intense chocolate flavor, way more bitter than sweet. But I didn't hate it.
So you can acquire a taste for the really dark stuff. I've done it, you can too! You just have to work at it. But can you really call that work?
Cooking with Bittersweet Chocolate
Chefs like bittersweet too.  It's not just for baking!
Try using it in a savory dish. 

Mexican cooks sometime use it in their mole or sauce. The dark chocolate gives it a rich brown color and adds substance. The mole is especially tasty combined with poultry.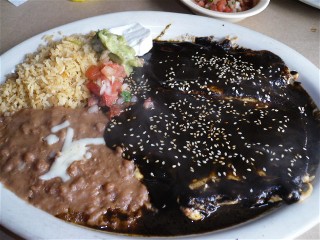 Take a look at the picture of my chicken mole lunch from the Guadalajara Grill in San Antonio.
See how dark brown the sauce is. Believe me, it tasted nothing like chocolate. It was a truly exotic taste.
A mole dish made with bittersweet is definitely a different way to enjoy chocolate!
How to Substitute Unsweetened Chocolate or Cocoa for Bittersweet
Prefer your chocolate in a cake, pie or cookie?  Fair enough.  But...

What if you're baking with it and you run short? No worries. You can replace 1oz of extra dark with...
1 square (1oz) unsweetened chocolate plus 2 teaspoons of sugar

or use



3 tablespoons of cocoa, 2 teaspoons of sugar, and 1 tablespoon of oil, shortening, butter, or margarine
Increase sugar to 1 tablespoon, if you want it to be semi-sweet.
Well, this is where we separate out the dark chocoholics from the wannabes. Many people like dark chocolate but few (relatively) reach the ranks of the over 70% cacao. But hey, keep working at it, we're waiting to welcome you!

Return to Dark Chocolate Health

Return to Health Benefits of Dark Chocolate Home Page