Chocolate Balls Easy Candy Recipe
Use this search box to find the info you're looking for!
Custom Search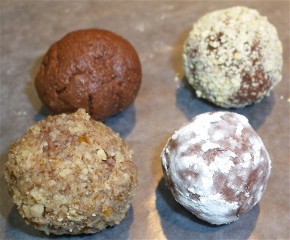 Extremely easy chocolate candy recipe. Homemade chocolate balls are perfect for the novice candy maker.
Why? Because it's practically impossible to mess this recipe up.
No cooking needed like most chocolate candy recipes. Just melting chocolate chips. Don't burn them and your success is guaranteed.
You've done the most difficult part. I told you it was easy!
Follow the recipe and you'll create rich tasty spheres of bittersweet or semisweet bliss. Give them as gifts or hoard them at home.
Chocolate Balls
This easy candy recipe makes about 1 pound of creamy chocolate candy balls. Make them large or small.
Coat them in crushed nuts, powdered sugar, cookie crumbs or whatever you choose.
Use dark chocolate chips for a rich dark flavor. Guittard 63% cacao seemed perfect to me. Or use semisweet chips for a milder, sweeter chocolate candy.
You can even add a pinch of cayenne pepper. Go easy on the pepper unless you like things spicy!
A little cayenne goes a long way. But it really enhances the chocolate.
Candy Recipe
8 ounces (227g) cream cheese, softened
1 cup (130g) powdered sugar or confectioner's sugar
1 cup (180g) dark chocolate chips or semisweet chips
pinch of cayenne? optional of course!
your favorite coating or coatings
Do not overcook the chocolate.
Microwave the chocolate chips on high for about 1 minute. Remove from the microwave, stir till smooth. Still lumpy? Heat another 15 seconds or so stir.
Place the cream cheese and powdered sugar (if using cayenne pepper sprinkle it over the cheese and sugar) in a large mixing bowl. Beat till creamy. Add melted chocolate. Beat.
Stop mixer. Scrape bottom and sides of bowl making sure to loosen any cream cheese that may stick. Beat until well mixed.
Refrigerate the candy for about an hour or until firm enough to handle.
Form the candy into balls. Or you could shape it into logs or whatever shape you prefer.
Pour your coating onto a sheet of wax paper or other clean, flat surface. Then carefully roll the chocolate balls or logs around in the cookie crumbs, nuts, etc. till completely coated. Gently press the coating onto the candy.
Or leave them plain.
You should store the candy in the refrigerator. Keeps for about a week but may disappear sooner!
Chocolate Candy Gifts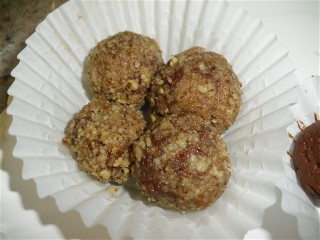 Now you can make great chocolate candy gifts at home.
This easy candy recipe won't break your budget. Or take up all your free time. But it will show how much you care.
Get creative and decorate your own container for the candy.
Or you can buy gift boxes and colorful foil cups to put your homemade candy in. They even sell seals that say homemade to place on the box.
Find these online or at your favorite craft store.
Most people really appreciate a homemade gift. They'll be impressed. You don't have to tell them how easy it was to make.
I sure didn't when I gave my mom some for Valentine's Day!


This recipe for chocolate balls has to be one of the world's easiest. With just a few ingredients and without cooking you can make a delectable batch of candy. Creamy dark or semisweet chocolate covered in your favorite coating or not. Fresh from your kitchen!

Return to Chocolate Candy Recipes

Return to Health Benefits of Dark Chocolate Home Page