Chocolate Cereal by Kellogs
by Choclady
(health-benefits-of-dark-chocolate.com)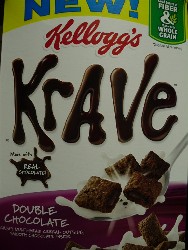 Kellogs Double Chocolate Cereal
News Flash! Here's some dark chocolate news you can sink your teeth into...Kellogs introduces Krave Double Chocolate Cereal.

Yes, it's made with real chocolate. Crispy chocolate cereal with a chocolate flavored center.

It's also made with 5 types of whole grain flour.

A serving, without milk, (3/4 of cup or 30g) has...

Calories 120

Total Fat 3.5g

Dietary Fiber 3g

Sugars 10g

Protein 2g
--------------------------------------------------
Percent of Daily Values based on 2,000 calorie diet

Calcium 2%

Vitamins A,D and Zinc 10% of DV for each

Vitamin C, Iron, Thiamine, Riboflavin, Niacin, Vitamin B6, Folic Acid, and Vitamin B12 25% of DV for each

Above information from the Nutrition Facts on
the box. See the Nutrition Facts for complete information.

__________________________________________________

Those are the facts above. And the following is my opinion!

Of course I had to try the chocolate cereal. And I probably let my hopes get a little too high.

So what did I think of the taste? It was ok. Nice and crispy but the chocolate taste was so so.

I was disappointed to find out that each piece of cereal wasn't filled with chocolate. Picture on the box fooled me or did I fool myself?

Can't really expect a lot of chocolate for the price. Or a liquid filing. Gotta be practical.

Might be a winner with the kids though.

But as always, you should consider giving it a try. Taste is such a subjective thing.

Heck you might like or even love it!

It has crunchy snack possibilities. Plus all those healthy vitamins, minerals and fiber to offer.