Moist Chocolate Chip Banana Bread Recipe
Use this search box to find the info you're looking for!
Custom Search
Don't discard those over-ripe bananas!  Use them to make chocolate chip banana bread.  Just follow this easy recipe.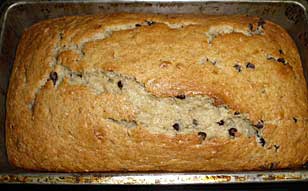 The plentiful pictures will show you how.  Turn that sweet fruit into a moist, chocolatey dessert.

Makes a large loaf.
So you'll probably have enough to share with all the banana lovers in your family.
 
My daughter, top banana (lover) in our family, treasures this treat!
Fill your home with the scent of fresh baked bread.

How to Make Banana Bread
You will need a large loaf pan.  The recipe makes about 4 cups of batter. 
So a pan 9" x 5" x 2.5" ( 23 x 13 x 6cm) or 8.5" X 4.5" X 2.5" (21 x 11 x 6cm)  is recommended. 
INGREDIENTS

1 stick or 1/2 cup (110g) margarine (softened)

1 cup (192g) granulated sugar

2 eggs

1/2 teaspoon (2g) vanilla extract

1 cup (229g) mashed bananas (about 2 or 3 medium bananas)

2 cups (199g) all-purpose flour

1 teaspoon (3.75g) baking powder

1/2 teaspoon ground cinnamon (optional)

1/4 teaspoon (1g) baking soda

1/2 to 3/4 cup (90g to 135g) of mini semisweet chocolate chips or to taste

Preheat oven to 350° F (180° C/gas 4). Grease bottom only of loaf
pan. 
There's usually enough margarine left on the wrapper to grease the pan (toss the margarine in the mixing bowl and rub the wrapper on the bottom of the pan). 
Or spray with cooking spray.
Set aside.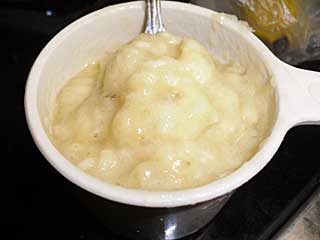 The first step is to mash the bananas till they look something like this! 
I smashed mine in the measuring cup (easier to measure). 
But a small bowl will work.
Set them aside.
Then in a large mixing bowl beat together the margarine, sugar and vanilla extract until creamy.

Next stir in eggs and mashed bananas.
Mix well.
Not the most appetizing mixture at this stage!

Then add flour, baking powder, cinnamon, and baking soda. 
Stir until combined.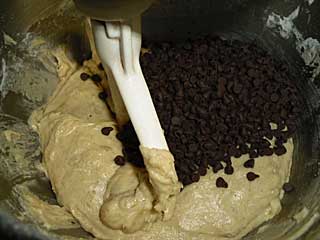 Scrape bowl well.

Last, add mini chocolate chips. 
Adjust the amount of chips to suit your taste. Fewer means less fat!

Stir well.
Your finished batter should look like this. 
Pour or spoon the batter into prepared loaf pan.  Spread evenly.


Bake about 55 minutes, if using the 9-inch pan. 
Or about 1 hour and 10 minutes, if using the 8-inch pan.


Remember oven temperatures vary so set your timer for 5 or 10 minutes less until you have a feel for it. 
Careful not to over bake it!

Test with knife or toothpick in the center of the loaf.  If it comes out clean or nearly so, it's probably done.

Let cool.

Remove from pan and slice. Or slice just prior to serving. 







Delicious and Nutritious
This yummy quick bread isn't just tasty.  It combines the benefits of bananas with the health benefits of dark chocolate.

You'll enjoy the fiber, iron, protein, and antioxidants this dessert delivers.

It's not a health food, but a comfort food with benefits.
Go for the dense and delicious chocolate chip banana bread!  Indulge in this dessert with a little less guilt.  Remember, there's good ol' fruit in this cake-like confection.

Return to Dark Chocolate Recipes
Back to the Health Benefits of Dark Chocolate Home Page