Soft Dark Chocolate Cookies Recipe
Use this search box to find the info you're looking for!
Custom Search
Soft super moist dark chocolate cookies from scratch.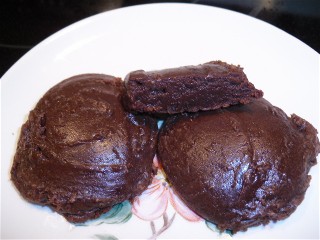 This easy recipe made with sweetened condensed milk produces a fantastic fudgie cookie.
With it's own unique flavor.
Chocolate drop cookies are a cinch to make. Only 5 ingredients needed.
Cookie dough takes about 10 minutes to make. Only 8 minutes to bake.
Make a batch when you crave something different but not difficult.
These soft cookies won't disappoint!
Cookie Recipe
How to make these chocolate cookies? Don't worry I'll walk you through the recipe.
First, find your cookie sheet(s), bowl, measuring cups and spoons. Then meet me by the oven with the following ingredients...
10 oz (238g) of Nestle dark chocolate morsels (53% cacao) or semisweet, or your favorite brand of baking chips
4 oz (113g) of margarine
1/4 cup (48g) of granulated sugar
14 oz (396g) Eagle brand sweetened condensed milk, or your favorite brand
1 1/2 teaspoons (6g) of Watkins pure vanilla extract
1 cup (120g) of all-purpose flour


Go ahead, preheat the oven to 350°F ( 180C/gas 4). Then lightly grease your favorite cookie sheet(s).
You can use margarine or Pam (or other non-stick cooking product). Set aside.
Now pour the dark chocolate chips (or semisweet) into your 2 1/2 quart (2.5 liters) bowl (large bowl).
Melt the chocolate in the microwave on high for about 1 minute 15 seconds.
Ok, now add the margarine to the warm chocolate. Stir till melted. If needed, microwave an additional 15 seconds. Stir.
Keep up the good work! Time to add the granulated sugar, sweetened condensed milk, and vanilla extract to the chocolate mixture. Mix well.
Go ahead, stir in the cup (120g) of flour. Mix, scraping the sides and bottom of the bowl, till all the ingredients are blended together. Perfect.
Good job, you've mastered the cookie dough!
Time to Bake!
Now you're ready to drop your chocolate drop cookies onto your lightly greased baking sheet.
Grab two tea spoons. No, not the measuring kind. Long handled ice tea spoons. Or a similar type.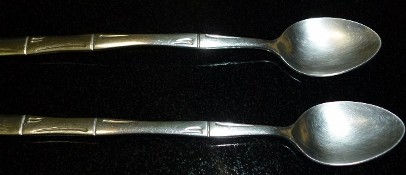 With one spoon, scoop some cookie dough from your bowl. Then use the other spoon to scrape the dough off the first spoon, dropping the dough onto your cookie sheet. Repeat. Be sure to space the cookies about 2 inches (5cm) apart.
Bake for about 8 minutes. Let the cookies cool completely before removing them from the cookie sheet.
These cookies are very soft when warm. Try to remove them too soon, like I did, and they'll fall apart. Or wrinkle up into a misshapen mass.
Makes about 3 dozen 2-inch (5cm) egg free cookies.
Baking Tips
Dark chocolate chips are recommended for a really dark and delicious cookie. But semisweet chips will work too. You know what your buds prefer!
These and most any other chocolate cookie recipe are far easier to make when you splurge on a cookie scoop. So buy yourself one, if you plan to bake frequently.

It'll save you time and effort.
Plus a cookie scoop also helps you make uniform and more professional looking cookies.
I've used one for years and it's worth every penny! Please don't buy the cheap plastic one,
My first scoop was plastic. Worked great for awhile. Then one side of the handle cracked and fell off. Spend a little more and get a sturdy metal one.
These dark chocolate cookies are really easy to make and don't take long to bake. Taste kinda like fudge. Super moist and delicious cookies from scratch. Why not go give them a try?

Done with Chocolate Cookies back to Chocolate Cookie Recipe

Return to Health Benefits of Dark Chocolate Home Page