Dark Chocolate Covered Cherries: Real Chocolate, Real Fruit, Real Tasty?
Use this search box to find the info you're looking for!
Custom Search
Ever wanted to sample dark chocolate covered cherries? So did I. Took some looking but I finally found some.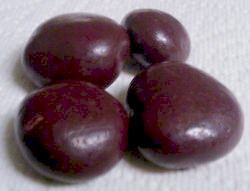 They're made by Harry and David®. Famous for chocolate and fruit, could they combine the two?
Would real chocolate and real cherries be real good?
There was only one way to find out. Come taste them with me.
Harry and David® Bing Cherry Dark Chocolates
Yeah, I found some! Been looking for some real cherries covered in dark chocolate for months.
Sure, it's easy to find milk chocolate covered anything. But even now, as more people are seeing the light and converting to dark, it can still be a little hard to find.
Maybe it's my location. Choices in these parts can be limited.
Where did I finally find them? Well, I was doing a dark chocolate scan of Target's candy aisle, when I spotted the box.
The candy was dark and the fruit was real. Perfect!
So I snatched that box of Harry and David® Bing Cherry Dark Chocolates off the shelf.
Are These the Best Chocolate Covered Cherries?
Ok, ok I hear you. You want to know how it tasted. Pretty darn good.
The chocolate was tasty. You get a burst of bittersweet just before the cherry taste takes over. The candy fades away and your left with a chewy bit of dried cherry. But not too chewy.
Overall, the cherry chocolate candy was good. Nice dried cherry taste.
Maybe a little stronger chocolate taste would be better? Or not. I guess that might overwhelm the bing cherries.
Better leave that to the professionals.
Are they the best? I can't say. But they're the best ones I've ever tried!
But a little pricey. Want some budget friendly dark chocolate cherries?
Candy Nutrition Facts
Well, let's check out the nutrition facts on the Harry and David® box. Serving size is about 4 pieces (42g). Amount per serving...
Calories 190
Total Fat 10g
Sat. Fat 6g
Trans. Fat 0g
Cholesterol 0mg
Sodium 15mg
Total Carbohydrate 27g
Dietary Fiber 3g
Sugars 21g
Protein 2g
Vitamin A 0%
Calcium 2%
Vitamin C 6%
Iron 15%
The facts aren't too bad. Obviously you can't mistake this for health food. There's all that fat, slightly more than half is saturated fat, and calories.
But the bing cherries add vitamin C, calcium, and increase the iron and fiber content. That makes it a little bit healthier chocolate choice.
It's a tasty way to boost your iron intake. A serving of these dark chocolates provides 15% (if you eat 2,000 calories a day) of your daily iron needs.



If you're hungry for real dark chocolate covered dried bing cherries, give Harry and David® chocolate covered cherries a try. They're pretty darn good...ok real good.





Return to Dark Chocolate Reviews

Return to Health Benefits of Dark Chocolate Home Page