Delicious Chocolate Covered Pretzels Pronto!
Use this search box to find the info you're looking for!
Custom Search
How to make delicious chocolate covered pretzels at home. 
Just dip your pretzels, sticks, or rods in a better quality of melted dark, semi-sweet or white chocolate.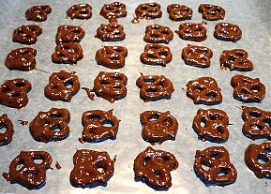 Then let them dry.  Sample them.  Done!

Make a better than store bought sweet and salty snack. 
In minutes you can dip dozens.
You can even decorate them for special occasions. Make holiday gift baskets or special party favors.
It's a fun and fast way to make a fresher, tastier snack or gift. No skill required.  You might even save a few bucks.

And you get to lick your chocolate covered fingers!

Chocolate Pretzel Choices
Before you can dip, you have to decide. Here's a couple of things you need to think about.
Which shape of pretzel should you use? Whichever. But the mini pretzels are easier to work with, I think.
Which type of chocolate?  Use your favorite as long as it melts smoothly like baking chocolate.  Or upgrade to high quality for better taste.. as long as it melts smoothly like baking chocolate. Use...

Choose 60% cocoa content or more only for a serious lover of dark chocolate. Too bitter for anyone else.
Semi-sweet, with a cocoa content of about 55%, is a good choice. That's a nice balance of sweet and salty flavor. Dark enough for most dark chocolate lovers.
Sweet chocolate, around 45% cocoa content, is the closest to milk chocolate. Good chocolate flavor but not too intense. Widest appeal.
Then there's white chocolate, with no cocoa solids, just cocoa butter. Popular with those that like things on the sweet side.
How much chocolate should you buy? Depends on the size of your pretzels and how many you want to make.
With 4 ounces I covered 36 mini pretzels and 2 fingers.
Now that you've made your decision, it's time to dip!
How to Make Chocolate Covered Pretzels
It's easy. Buy a bag of your favorite pretzels and some chocolate. Melt and dip. Well, it's slightly more complicated than that. But not by much.
First: Choose a microwave safe bowl or mug. A mug works well for the mini pretzels. For pretzel sticks or rods, use a bowl about 6 inches across. Or one just slightly larger than the sticks.
Second: Melt the chocolate. Do NOT burn. Microwave 4 ounces of chocolate for about 1 minute and 45 seconds. Stir. Not completely melted? Microwave another 30 seconds or so. Then stir.
Third: Cool chocolate for about 30 seconds.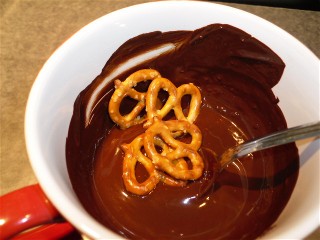 Fourth: Toss 3 or 4 mini pretzels in the chocolate. Gently stir till completely coated.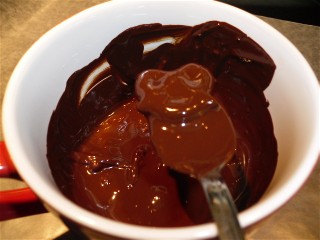 Fifth: Lift out pretzel with spoon.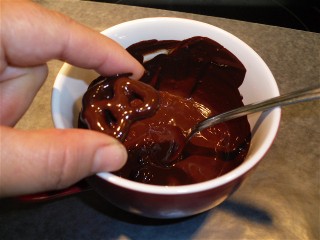 Grab with your forefinger and thumb. Hold over cup. Let excess chocolate drip back into cup.
Sixth: Place on wax paper covered cookie sheet or plate. Dab on chocolate to cover any bare spots.
Seventh: Decorate or refrigerate your chocolate covered pretzels.
Decorate Chocolate Pretzels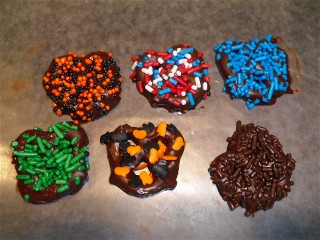 Time to pretty up your pretzels!
It's very easy to turn plain chocolate pretzels into something special. Simply cover them with sprinkles or finely crushed candy or nuts.
But you have to do it while the chocolate is still wet. Or your decorations won't stick.
For holidays, choose sprinkles, nonpariels, or jimmies in holiday colors. Use black and orange for Halloween. Red, white and blue for the Fourth of July, etc.
Or use some of the small edible decorations shaped like bats or Christmas trees. Small kids really like the dinosaur shaped ones.
Use the colors of your favorite sports team. Make some for your Super Bowl party.
Serve them at your party or make a chocolate gift basket.
Want to see tons of sprinkles? A truly amazing assortment of shapes and colors.




Give it a try. Make some homemade chocolate covered pretzels. I couldn't find any dark chocolate pretzels so I made my own. You can too.
It's fun and easy to do. And they'll taste better too! Then spruce them up with sprinkles. Give them as gifts. Or eat them all yourself!





Return to Easy Chocolate Recipes

Return to Health Benefits of Dark Chocolate Home Page