Make Chocolate Covered Strawberries for Less
Use this search box to find the info you're looking for!
Custom Search
Chocolate covered strawberries make a great gift. But they can be expensive. Dip them yourself and save. You won't believe how easy it is.
You can dip a dozen in thirty minutes or less. No special equipment or talent needed. You can even make chocolate strawberries a day or two ahead.
There's really no need to spend a lot on those berries for your baby. Spend a little time and less money.
Make them extra special. Homemade from the heart. Put them in a nice gift box or basket and surprise that special someone.
Baby don't like berries? Any chocolate dipped fruit makes a great gift. Choose what baby likes and follow these instructions.
What You Need
First you'll need to buy some ripe strawberries. But not too ripe.
Look them over carefully. Sometimes the berries on the bottom are mushy or moldy. Avoid those.
Choose smaller berries if you need to make a lot. The larger the berry, the more chocolate it takes. And that can get expensive.
Next pick some chocolate. You're going to need a high cocoa butter content for smooth melting.
Baking chocolate is a good choice. It's tasty, melts well and is reasonably priced.
The baking aisle should carry several brands like Ghirardelli and Baker's.
Choose bittersweet chocolate or semi-sweet, if the recipient is a dark chocolate lover.
Use German sweet chocolate for a chocolate lover. Or white chocolate for those who like it sweet.
But which is the best choice for benefits?
Healthy Chocolate Choice
Beef up the benefits! Bittersweet covered strawberries are the best choice for health benefits.
Both are great sources of antioxidants, potassium, and fiber. Plus the strawberries are a great source of vitamin C!
Heart healthy!
How to Make Chocolate Covered Strawberries
You can cover your strawberries up to 2 days or as little as 2 hours before serving.
Step 1: Gently wash the strawberries. Place them on paper towels to dry. Line a cookie sheet or baking pan with wax paper. Set aside.
Step 2: Put 6 chocolate squares or ounces in a large coffee mug or small, deep bowl. One about 4 1/2 inches across and 3 1/2 inches deep works well. Chocolate needs to be deep enough to cover the strawberry in a single dunk.
Step 3: Microwave on high for about 90 seconds. Stir until smooth. If needed, microwave another 15 to 30 seconds at a time. Stir after each time. The squares will soften but still hold their shape. Overheat it and it's ruined!
Step 4: Let the chocolate cool for about 30 seconds. While it's cooling, make sure your strawberries are completely dry. Water will ruin the chocolate.
Step 5: Pick the strawberry up by its stem. Or gather the leaves (green fringe?) up and hold it by that. Dip the berry into the chocolate covering it almost to the leaves. Or however much you want to cover.
Step 6: Remove it from the chocolate. Hold it over the cup and let some of the excess drip off. Then place it on your wax paper covered pan. Repeat.
Step 7: Put your pan of chocolate dipped strawberries in the refrigerator to set. Once they're set, you can remove them from the wax paper. You'll need to keep them cold till you serve.


Decorate Your Chocolate Strawberries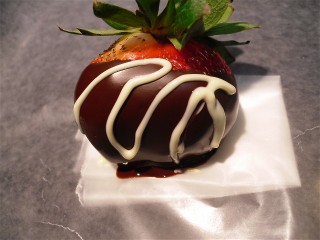 Want to make them a little more special? Decorate them! How? Use a large clean plastic bag like a 1 gallon baggie. Snip off just the very edge of one corner to make a tiny opening. Or use a decorating bag with a fine tip.
Melt a square of white chocolate, stir till smooth. Spoon it into the corner of the bag with the tiny opening. Gently work all the chocolate into the corner. Then grab the bag just above the chocolate and twist it closed.
Squeeze a little of the white chocolate out to remove the air. Practice moving and squeezing the bag to make lines. Or squeeze and release to make dots. With a little practice you can learn to do it.
Or immediately after dipping each berry, dust with sprinkles, finely crushed nuts or cookie crumbs, etc.


You can even double dip your berries. After the first coat is completely set, dunk your strawberry into white chocolate. Make tuxedo chocolate covered strawberries.
Need more decorating ideas? Visit a web site that sells fancy chocolate covered strawberries. See what they're doing and make your own version.

How to Make Chocolate Covered Strawberries Video
Here's a short video.
Daft Funk
by
tpile1
is licensed under a
Attribution (3.0)
.


Make a delicious batch of chocolate covered strawberries. Give it as a gift. Please that special someone and save some cash! Get really good at dipping and make some cash. Start your own berry business.




Return from How To Make Chocolate Covered Strawberries to Easy Chocolate Recipes

Return to Health Benefits of Dark Chocolate Home Page