Frosting or Filling in a Flash With Chocolate Ganache Recipe
Use this search box to find the info you're looking for!
Custom Search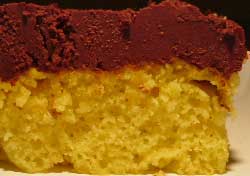 This chocolate ganache recipe is ridiculously easy to make. It really is. But it's rich and tastes divine.
You can make it in no time, with no experience. And only 2 ingredients!

It's a cinch. Just follow the recipe and pictures. You'll soon have some fabulous frosting and/or filling to dress up your cake.
Give your cake mix cake a homemade taste with little effort.



Chocolate Ganache Recipe
10 oz (283.5g) semisweet chocolate

8 oz (236ml) heavy whipping cream
Shake carton well. Then pour heavy cream into medium saucepan. Bring to a boil.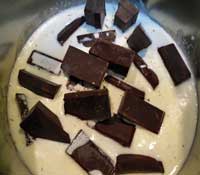 Remove the pan from the heat.

Add semisweet chocolate pieces or baking bar broken up.
Or you can use your favorite dark chocolate candy bar.
Stir(wire whip works best) until smooth.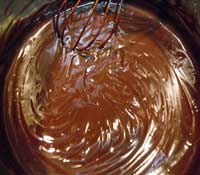 Let cool, about 5 minutes, till thickens slightly.

Makes about 2 cups (around 454g) of chocolate ganache.

Tip: Frosting will not be super sweet like most. You can add 2 (16.27g) to 8 (65.6g) tablespoons of powdered sugar to the pan along with the chocolate. Or more if you wish.

If powdered sugar is added later, say after cooling enough to taste the ganache, it may make the frosting lumpy.


Ganache Frosting and Filling Idea
Here's a simple and delicious way to use this frosting recipe for both topping and inside your cake.

Take 1 small box of yellow or white cupcake mix. Mix according to the directions. Bake in a greased 8 x 8 inch (20cm x 20cm)pan.

While it's cooling make the frosting recipe.


Take a clean wooden spoon. Repeatedly plunge the handle into the
cake to make holes. Clean off the cake crumbs frequently to prevent the holes from becoming too large.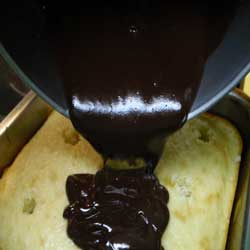 Then pour the chocolate ganache into the frosting receptacles. Use the entire pot of icing, spread it evenly over the cake.

The result? A thick layer of chocolatey goodness on top the cake (like the photo at the top of the page). Plus pockets of filling. Decadent!

It's really good that way. Just a suggestion!
You'd expect a recipe with a fancy sounding French name to be more difficult to make, wouldn't you? But it's really oh so easy. Simple, fast and delicious. This decadent chocolate ganache recipe can take your cake to new level of flavor in a flash.
Return to Dark Chocolate Recipes

Return to Health Benefits of Dark Chocolate Home Page