Warm and Gooey Chocolate Lava Cake Recipe
Use this search box to find the info you're looking for!
Custom Search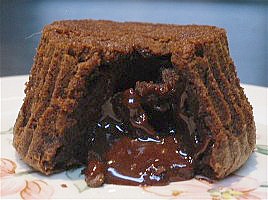 Mmmmm, molten lava cake oozing warm chocolate. My simple chocolate lava cake recipe will show you how to make this restaurant favorite at home. 
Have it when you crave it!
Don't own any ramekins or custard cups? No problem, make chocolate cupcakes or mini cupcakes.
Or any combination.
This large recipe makes about 15 regular-size cupcakes.
Leftovers will not go to waste! They're great cold too.
Cold lava cakes taste like fudge cake.
Bake some of these beauties today. This easy chocolate cake recipe is one decadent and delicious dessert.





Molten Lava Cakes

What chocolate lover doesn't crave this dessert? I sure do. And I know I'm not alone.
So why wait till you go out to dinner to indulge? Don't! Make them at home. That's what I do.
First I tried the lazy way. Bought a Betty Crocker Molten Lava Cake mix. It was very convenient. But tasted a little too sweet.
Thought maybe I could do better.
So I decided to experiment. Package mixes just can't compete with the taste of real butter.
Plus you can use your favorite chocolate! Bittersweet or semisweet.
My first attempt tasted good. But the batter was way too thick. So I threw in a few more eggs. Much better consistency.
Think I have a winner with this chocolate lava cake recipe.
Well, enough chatter about the batter!
Here are the ingredients you'll need..
Chocolate Lava Cake Recipe
How to make molten lava cakes...

8 ounces (227g) of chocolate (broken up) or 1 1/4 cups of chocolate chips, bittersweet or semisweet
8 ounces (227g) of butter, cut up
2 cups (260g) of powdered sugar
1/3 cup (33g) of all-purpose flour
6 large eggs
Preheat the oven to 350°F (180C/gas 4).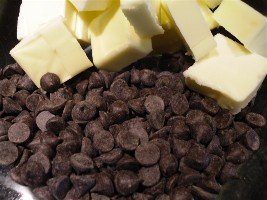 Combine chocolate and butter in a medium bowl. Cover and microwave on high for about 1 minute.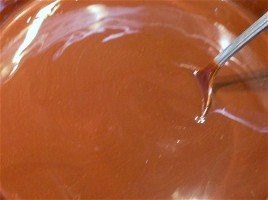 Stir. If needed, microwave 15 more seconds. Stir. Repeat as needed till chocolate melts completely and mixture is smooth.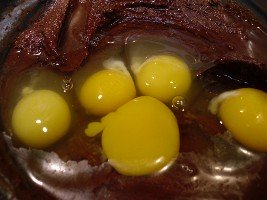 Add powdered sugar and flour. Stir well. Scrape the sides and bottom of the bowl.
Add eggs. Beat. Make sure the eggs are completely incorporated into the batter.
When properly mixed your batter should look like this.
Ramekins or custard cups-butter or spray, with Pam or a similar product, the bottom and sides. Fill about 3/4 full.
Cupcake pan-spray each cupcake paper well. For standard size use 1/4 cup of batter per cupcake, for minis use 1 tablespoon of batter per cupcake.
Bake till center of cake congeals. About 12 minutes or so. Do not over bake. Bake too long and no molten lava when you cut into the cake.
Under bake and your cake will probably collapse when you serve it. But the chocolate lava will flow freely! And it'll taste oh, so nice.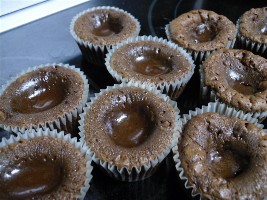 You may want to do a test bake of a single cake to help you judge.
Either way your cakes made with this chocolate lava cake recipe will be tasty.
Don't worry about how they look on top. You serve them upside down.
How to Serve Your Chocolate Cake
Warm is the best way. So serve immediately after baking or reheat later.
Carefully grab the ramekin with a potholder, run a table knife around the edge to loosen the cake. Put the serving plate, face down, on top the ramekin. Turn over the plate and ramekin. Carefully remove the ramekin and serve.
Chocolate cupcakes. Carefully grab the cupcake paper on one side. On the opposite side use the table knife to help lift the cupcake from the pan. Turn cupcake face down on the serving plate. Gently remove the paper cup. Serve.
Cold cakes. Reheat cakes in the microwave for about 10 seconds. Careful not to get the middle too hot. Might be best to run a test. Don't want to burn your mouth!
Personally, I think they need no garnish. But if you do, try topping with your favorite berries, crushed nuts, whipped cream, or powdered sugar.
Mini chocolate cupcakes are a big hit with children. The little lava cakes are great for adult parties too. They're a perfect finger food.
Store any leftovers in the refrigerator. They'll stay good for a few days. Or freeze them.
Portion Control
These cakes can be a bit hard to resist.  So here's a few ways to help you control yourself!

Make minis and limit yourself to one or two a day.
Or if all that baking is too time consuming, use ramekins, custard cups or a regular size cupcake pan.
Then cut the larger cakes into quarters or whatever size your diet can accommodate. Reward yourself with a little, you deserve it!




Mix up some molten cakes with this simple chocolate lava cake recipe. Why not delight in these delicious cakes at home? There's no better way to enjoy chocolate than eating a warm, gooey chocolate dessert.
Back to Chocolate Cake Recipe for an easy layer, pound, flourless or other delicious cake recipe.

Return to Health Benefits of Dark Chocolate Home Page