Easy Chocolate Muffins Recipe Made with Baking Chocolate
Use this search box to find the info you're looking for!
Custom Search
Make some mouthwatering muffins with this easy chocolate muffins recipe.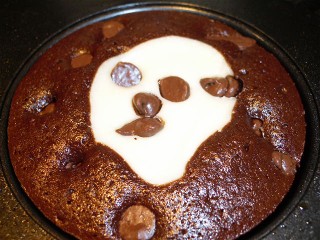 Rich and moist, made with lots of baking chocolate. Dense and fudgey!
Eat them plain or add chocolate chips or a cheesecake filling.
Buy a mini muffin pan, make a tray of mini's for your next party.
Prefer a muffin top? You'll need a special pan.
Chocolate muffins make a tasty breakfast you can eat on the go.
So how do you make chocolate muffins?
By following this easy recipe.
Try it, you're going to love it!
Delicious homemade pastries whenever you crave them.
Chocolate Muffins Recipe
6 squares/ounces (170g) unsweetened baking chocolate
1 3/4 cups (335g) granulated sugar
1 1/4 cups (124g) flour
2 teaspoons (7.5g) baking powder
1/2 teaspoon (2.5g) salt
1 1/4 cups (305g) of milk
1/2 cup (105g) vegetable oil
2 large eggs
Preheat oven to 350°F (180C/gas 4). Place chocolate squares in a medium size (2.5 quart or 2.5 liters) microwave-safe bowl.
Microwave on high for about 1 1/2 minutes. Stir, then microwave about 30 seconds more.
Stir till smooth, bowl should be warm enough to finish melting the squares.
If not, try 10 to 15 seconds more in the microwave. Set aside.
In another similar size bowl, mix all the dry ingredients together.
Lightly beat the eggs. Then add the eggs, milk and oil to the bowl of melted chocolate. Stir until well mixed.
Don't Panic Yes it does look ugly at first, just ask my son. Looking over my shoulder, he asked "Is that edible?"
I said yes, and asked why. He answered, "Because it looks like stagnant ditch water!"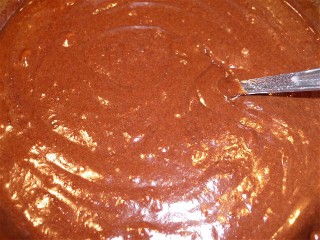 When properly mixed the ditch water should look like this!
Then gradually pour the bowl of liquid into the bowl of dry ingredients. Mix but don't over do it or muffins may be tough.
Grease muffin pan or use cupcake papers, fill 3/4's full.
Bake about 15 to 18 minutes or until just done. Don't over bake or they'll be dry!
This chocolate muffins recipe makes about 18 standard size muffins.
These are tasty but not low fat, about 12g each, plain. Add cream cheese or chocolate chips and add even more fat and calories!
Love cheesecake? How about a cream cheese filling for your muffin? Here's how you make it...
1  8 ounce package (227g) cream cheese, softened
4 tablespoons (48g) sugar
1 large egg
1/4 teaspoon (1g) vanilla extract
In a small mixing bowl beat the cream cheese and sugar till creamy. Add the egg and extract.  Mix well.
To each 3/4 full muffin cup, add 1 tablespoon of the cheesecake filling. Bake as directed above.
Chocolate Chocolate Chip Muffins
To make chocolate chocolate chip muffins simply add 1/2 cup (90g) of semisweet chocolate chips to the muffin batter. Bake as above.
Personally, 3/4 cup (135g) of chips would be better, but adjust to your taste.
Or you could make chocolate chocolate chip muffins with cheesecake filling. They're awesome but the calorie count is off the charts!
Make Just a Muffin Top or Mini's
The muffin top is the best part, isn't it? But you have to have a special pan. They can be kind of hard to find.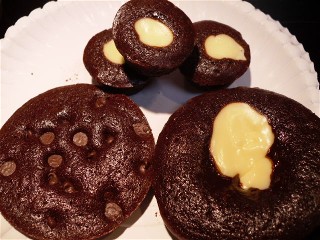 Make some two bite mini muffins. They're delicious little fudgey treats you can pop into your mouth.
Kids love them. They're a great finger food for your next party.
Find yourself a mini muffin pan. They're more time consuming to make but worth the effort!
This easy chocolate muffins recipe can be used to make muffins, mini's or just the muffin top. Make them with or without chocolate chips, cheesecake filling or both. Great for breakfast, snacks or party trays!




Return to Dark Chocolate Recipes

Return to Health Benefits of Dark Chocolate Home Page