Easy, Delicious Chocolate Pudding Recipe
Use this search box to find the info you're looking for!
Custom Search
Don't bet on the box or cup. Use this chocolate pudding recipe and enjoy fresh and tasty homemade pudding.

It's not hard to do and the flavor is far better than the box.
Dark but not too dark. Taste the pudding. Not all the preservatives and chemicals.
With a little patience and a lot of stirring you'll create a treat. One that's perfect for sharing.
Pop the pudding in a baked pie shell. Top it with whipped cream.  Makes a nice chocolate pie.

Just follow the recipe and you'll do fine. No need to worry, I'll walk you through the process. C'mon let's get cooking!
Chocolate Pudding Recipe
3/4 cup (144g) of granulated sugar
1/2 cup (56g) of natural cocoa powder or 1/3 cup (37g) for a lighter chocolate flavor
1/4 teaspoon (1g) of salt
3 tablespoons (28g) of cornstarch
2 1/2 cups (609g) of milk
2 tablespoons (29g) of butter
1 1/2 teaspoons (6g) of vanilla extract
2 egg yolks, beaten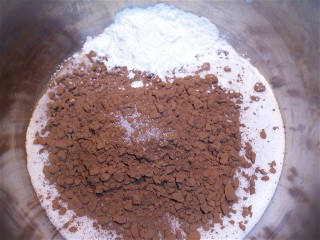 In a large saucepan, combine sugar, cocoa, salt, cornstarch and milk.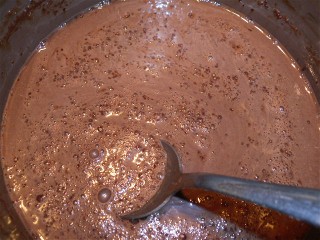 Stir frequently, with a wire whip or slotted spoon, over medium heat.
Be sure to repeatedly scrape the entire bottom of the pan.
It's important to do so to prevent sticking and burning.
At first your mixture will be very thin and lumpy. Be patient.
It will take time for the cold milk to warm up.
As it does the lumps will disappear and the mixture will start to thicken, slowly, coating the spoon.
Keep stirring. Bring the mixture to a boil for about a minute or so. Be very careful not to let it burn.
Now it should be quite thick. Remove from heat add butter, vanilla, and egg yolks.
Beat vigorously, till well mixed.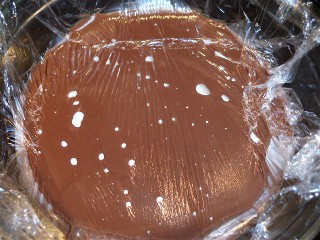 Pour into a bowl and cover with plastic wrap. Make sure the plastic wrap is in contact with the entire surface of the pudding.
The "skin" that forms on top the pudding will adhere to the wrap.

Refrigerate until cold. Remove and discard plastic wrap. Serve.
The pudding will be very soft, maybe even runny, if not cooked long enough. But it will still taste good!
You may find yourself making this dessert often, I do.  It's my sister's favorite.
I hate pudding! But I graciously make it for her, cause I'm so sweet.  Or do I do it because she won't visit if I don't?

Hint
Think there may be lumps lurking in your pot of pudding?

Place a mesh strainer over the bowl then pour the warm pudding through it. That will remove any lumps ensuring a nice smooth pudding.
Nobody likes lumps in their pudding, do they?





See, making this chocolate pudding recipe wasn't so hard. Once you taste the delicious homemade flavor, you'll be hooked. Don't get discouraged if it doesn't turn out perfect the first time!
Try again now that you know what to do. You'll get this chocolate dessert right.

Return to Cocoa Powder Recipes

Have Chocolate Questions?

Return to Health Benefits of Dark Chocolate Home Page