Dark Chocolate Truffles in Minutes
Use this search box to find the info you're looking for!
Custom Search
Now you can make delicious homemade chocolate truffles in minutes. Usually making chocolate candy is difficult.
Lots of stirring, cooking to the soft ball stage so it hardens properly, etc.
Forget all that!
Can you take five ingredients and mix them together?
Refrigerate, form into small balls and roll in the coating of your choice.
Then you can make this homemade chocolate recipe.
Simple, tasty, and cheap, you can't beat that.
Enjoy them yourself. Give them when you need a cheap chocolate gift.
These chocolate sweets are a treat. Try them today.
What are Truffles?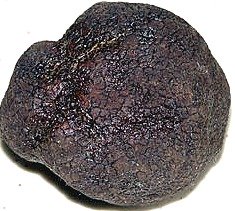 Chocolate candy named after a gross looking edible fungi (truffle-see photo) that grows underground.
Usually found on or close to the roots of trees by hogs or dogs.
Who wouldn't want to eat something dug up by a hog or dog?
Not to worry, no expensive fungi are used in this recipe, just lots of delicious, healthy cocoa.
What could be tastier than a candy named after a fungi? For realism it's rolled in cocoa powder to simulate dirt.
The only thing missing is the hog or dog saliva.
Yum.
Bet you can't wait to try them now!
Dark Chocolate Truffles Recipe
1/2 cup (115g) of butter
1 cup (111g) of natural cocoa powder
2 teaspoons (8g) of vanilla
1/4 cup (118g) of heavy cream
2 1/2 cups (325g) of powdered (confectioner's) sugar


Cream butter in a large mixing bowl.
Slowly add cocoa.
Add vanilla and heavy cream, mix well.
Thoroughly scrape the bowl. Then slowly add powdered sugar, mix well.
Refrigerate about 30 minutes or until firm.
Roll into a small ball, about an inch (2.5cm) or so. Then roll in cocoa powder or the coating of your choice.
Truffle Coatings
Here are a few ideas to get you started.

Try rolling them in mini-chocolate chips, toasted nuts, sprinkles, powdered sugar, cinnamon, coconut, or whatever grabs you.
Watch the kids, if you use sprinkles. I had to fight them off. They didn't want to wait long enough for me to snap a picture.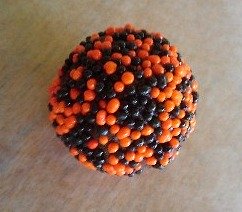 I almost lost a couple of fingers!
Dark chocolate truffles have been know to disappear fast.
Get creative with your homemade chocolate candy. Roll the truffles in the colors of the holiday.
Like this Halloween truffle with orange and black sprinkles!
Refrigerate and enjoy.




No-trouble truffles are easy to whip up and quite tasty. Fulfill your homemade chocolate fantasy with this easy recipe. Not as fancy as Godiva but not as pricey either.



Return to Chocolate Candy Recipes

Prefer non-dairy Vegan Truffles. Try this recipe. It's lower in fat, too!

Return to Health Benefits of Dark Chocolate Home Page