Speedy Chocolate Turtles
Use this search box to find the info you're looking for!
Custom Search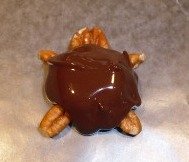 Make homemade candy with this easy chocolate turtles recipe with pictures.
Demonstrate your dessert skills.
Turn pecans, caramel squares and chocolate into a tasty treat. Almost no effort needed.
The tiny turtles are big on flavor. And cute.
They only look hard to make.
Let your family and friends be amazed by your talent.
No need to tell them otherwise. Keep the secret and accept the praise.
Or go for the health benefits and take the easy way out!
How to Make Chocolate Turtles
Here's what you'll need to make this homemade candy...
pecan halves-for turtle head and legs
caramel squares-for the body
chocolate-your favorite smooth melting dark, semi-sweet or white chocolate for the shell. 1 ounce covers about 6 turtles.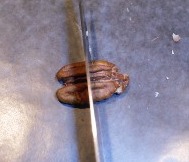 First prepare the turtle's head and legs. For the head, cut pecan halves width-wise into two pieces.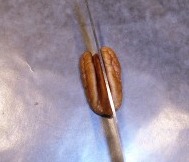 For the legs cut the pecan halves length-wise into two pieces.
Then you can cut each leg in half width wise to make your expensive pecans go further.
Or not. Decide then set aside.
For the body, place caramel squares on a piece of wax paper. Microwave for approximately 15 to 20 seconds. Just long enough to soften.
Gently insert the cut end of the head into the caramel. Place it in the center of the leading edge. Carefully insert a leg into each corner.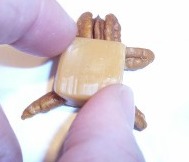 While still soft, round the corners of the caramel to look more like a turtle.
With your thumb and forefinger, very gently squeeze the opposing corners on the diagonal.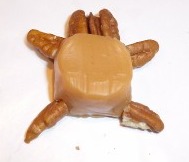 Your turtle is now ready for the chocolate coating.
Melt chocolate. Place 1 ounce (28g) of chocolate in a small microwave-safe bowl.
Heat on high for about 40 seconds. Stir. Heat another 10 to 15 seconds, if needed. Stir till melted.
Careful not to overdo it.
Slowly spoon some chocolate, about a half a teaspoon (3g) , onto the caramel.
Cover just the top and sides (see photo at top of page). Put on too much chocolate and it'll form a puddle around your turtle.
Let the chocolate set. Then enjoy your handiwork.
You can eat them before the chocolate sets. But they're very messy.
In a hurry? Refrigerate!
Healthier and Easier Option
Leave out the caramel! Save calories and effort.
Make chocolate covered pecans instead.
Place a few pieces in the chocolate. Stir till coated. Then, with a slotted spoon, remove from chocolate.
Let excess drip over cup. Put the pecans on wax paper and let dry. Repeat.
Or chocolate fondue. Dip your pecans pieces into the melted chocolate and eat while warm.
Just make sure you use dark chocolate. That way you get both the health benefits of dark chocolate and pecans.

Less work and more benefits!
Road Kill!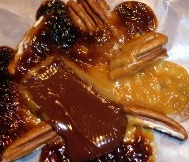 Don't let this happen!  
Thought I would save time.  Tried melting the chocolate directly onto the turtle. 
Opened the microwave to find this horror lurking inside.  Poor tortured terrapin, forgive me!
Lesson learned. Don't save time, save turtles.

Chocolate turtles are a delicious homemade candy. They're so easy anyone can make them. Try and see. Or choose the healthier, easier option. Make chocolate covered pecans. Don't like nuts? Make chocolate covered caramels instead.




Return to Easy Chocolate Recipes

Return to Health Benefits of Dark Chocolate Home Page