Dark Chocolate Candy from Omaha's Old Market
by Choclady
(TX)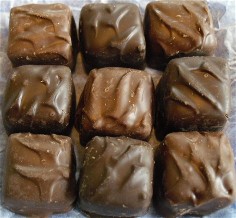 Dark chocolate and milk chocolate covered caramels from the Old Market Candy Shop
Just got back from a trip to Omaha, Nebraska with some dark chocolate candy souvenirs!! Let me tell you where I found some good candy so you can get some too. Should you find yourself in Omaha, of course.


My friend took me to Omaha's Old Market. We did the tourist thing, took a look through the shops. Had a nice lunch and enjoyed the area.

Knowing my extreme love of dark chocolate, my friend took me to the Old Market Candy Shop, located at 1005 Howard St.

What a great place. They had a large selection of candy, something for everyone.

But I, of course, was drawn to the displays containing their homemade dark chocolate. When you go take your time and look around. There are lots of chocolates in those display cases!

Fudge lovers don't worry. You can't miss the fudge. It's the first item in the display cases as you walk in.

They make many flavors of it. Most are chocolate based. You can choose from plain, with nuts or flavored with mint, etc.

Luckily they do make a few for those who don't do chocolate. Like vanilla and peanut butter fudge, plus a few others.

So many chocolate choices (drooling)! They make cordials, sugar free, molded chocolates and more.

Need a souvenir? Buy some molded chocolate shaped like the state of Nebraska! You'll find some proudly displayed.

I recommend the smooth, creamy caramels covered in dark chocolate. Delicious. The milk chocolate version was good too.

And the Irish cream cordials weren't bad either.

Ok, probably not the healthiest choices. So maybe you shouldn't follow my advice. But do consider this...

Don't be dumb like me. I didn't buy very much candy and now I wish I had. Oh, if only I hadn't prejudged the candy!

But now I'm 1,000 miles away from all that deliciousness!! It's too late for me but not for you.

So if you go to Omaha, Nebraska and you want some tasty chocolate candy, stop by the Old Market Candy Shop!!