Death by Chocolate Recipe: Palate Paradise!
Use this search box to find the info you're looking for!
Custom Search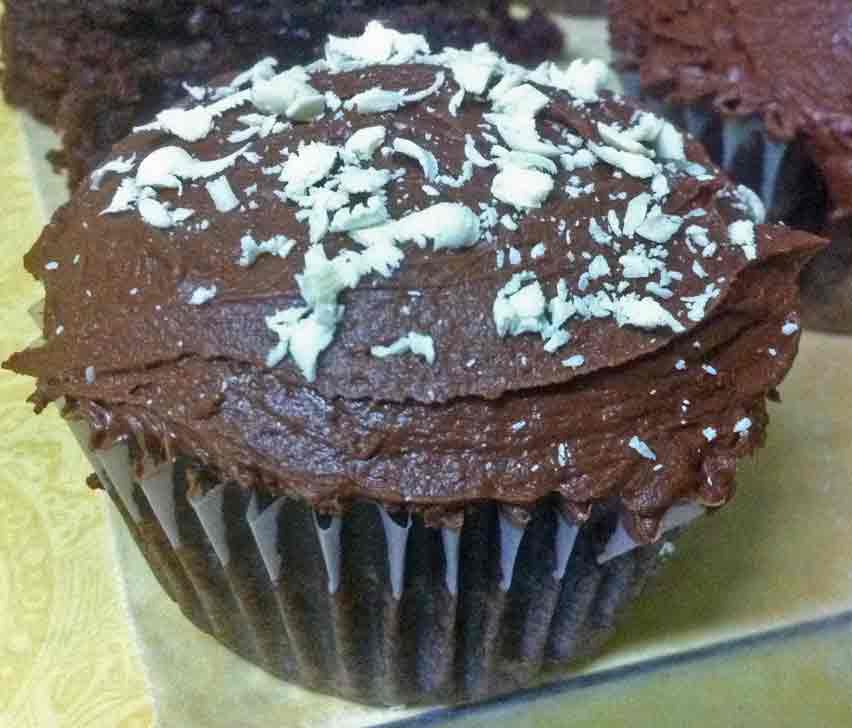 Death by chocolate cupcake.
What does lots of cocoa, some milk chocolate and a bit of white chocolate add up to?  
A death by chocolate recipe!

Homemade fudge cupcakes filled with gooey milk chocolate cream cheese topped with cocoa frosting with a sprinkle of grated white chocolate.
Cupcake bakery quality made affordable by you.

There's a tsunami of semisweet in each tiny cake!  One bite and your taste buds will be up to their eyeballs in a current of cacao.
If you're a dark chocoholic you gotta give this a try.  But if you're not consume with caution.  One cupcake could cause a cocoa coma.  Just ask my son!  ;)

Time to get makin' and bakin'! 

Chocolate Cupcakes Recipe
1 cup margarine
8 tablespoons of cocoa (natural not dutch)
1 cup water
2 eggs
1/2 cup of milk
1 teaspoon of baking soda
1 teaspoon of vanilla extract
Melt margarine in a  3 quart saucepan.  Add water, cocoa, eggs, milk, baking soda and vanilla.  Stir well.

Continue to stir.  Bring just to a boil (a few small bubble will break the surface).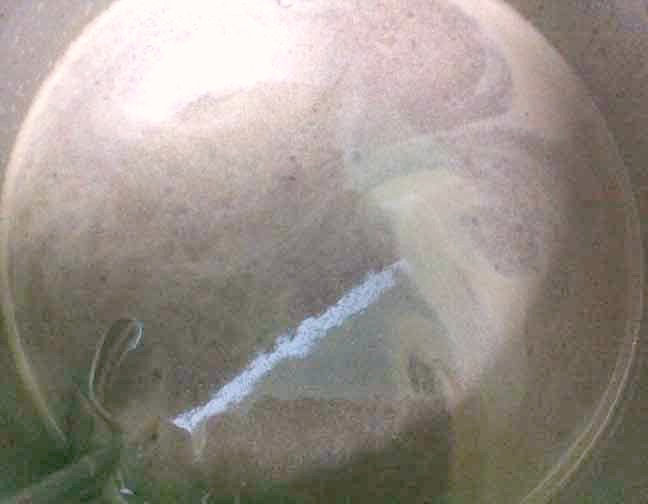 Remove the saucepan from the heat.  Stir in sugar and flour.  Mix well using a wire whip.  The whip does a much better job than a spoon.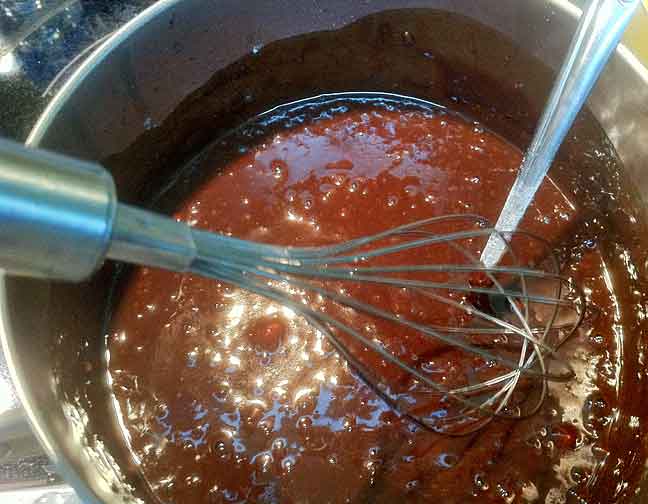 Thoroughly scrape the sides and bottom of the pan.  You want to make sure all your ingredients are getting mixed in.
Whip for about 30 seconds more.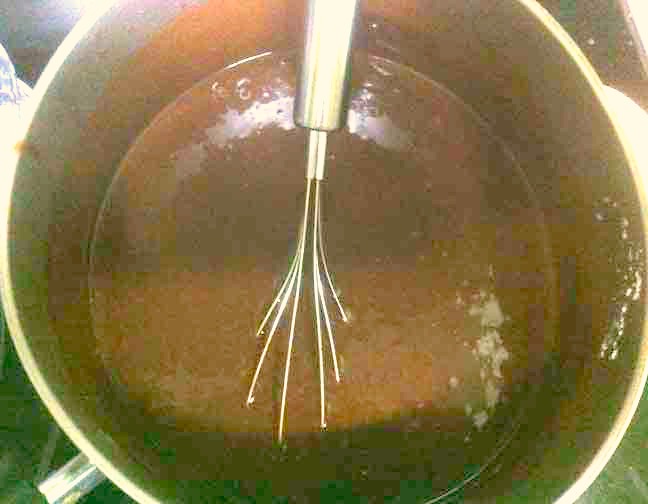 Most of the lumps should be gone.  Don't worry about the rest, baking will take care of them.
Time to bake! 
Grab your cupcake pan.  Put a cupcake baking liner into each cup.
Then fill each cup about 2/3 full.  This step is a bit messy.  So don't cry over spilt batter.  It happens.  ;)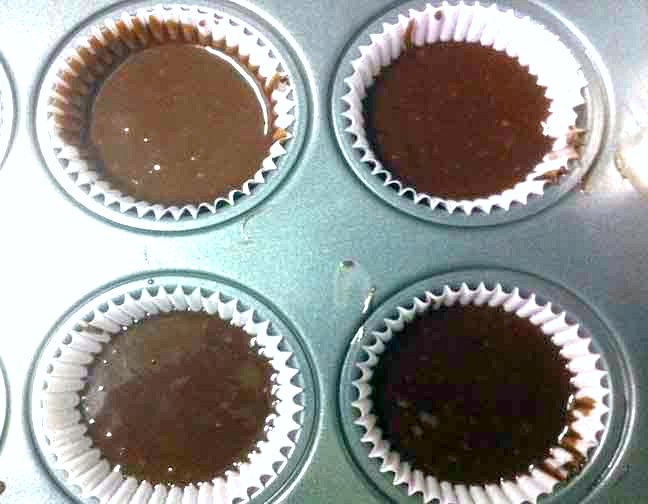 50,000 cupcakes later and I still make a mess! ;)
Tip: Wipe up that spilt batter with a clean damp cloth or paper towel before baking the cakes. Baked on batter is harder to remove.
Bake at 350 F for about 15 to 20 minutes. 
Let cool for 5 minutes or so.  Remove from pan and repeat till batter is all used up.
Now that the chocolate cupcakes are baking, it's time to make the milk chocolate filling!
Milk Chocolate Cream Cheese Filling Recipe
1 1/2 cups of milk chocolate chips
8 ounces of cream cheese
1 cup of powdered sugar
1 teaspoon of vanilla extract
Pour your milk chocolate chips into a 1-quart microwave safe bowl.  Heat on high for about 15 seconds.  Stir.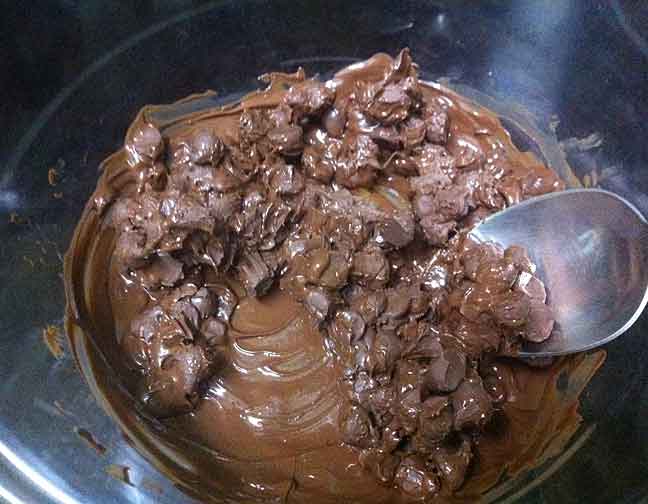 Heat for an additional 15 seconds, if not completely melted. 
Stir.  The warmth of the bowl should be enough to finish melting them. 
Set aside to cool.

Now place cream cheese in a large mixing bowl.  Whip till creamy.  Scrape bowl with a silicone spatula.
Then add powdered sugar and vanilla.  Mix well.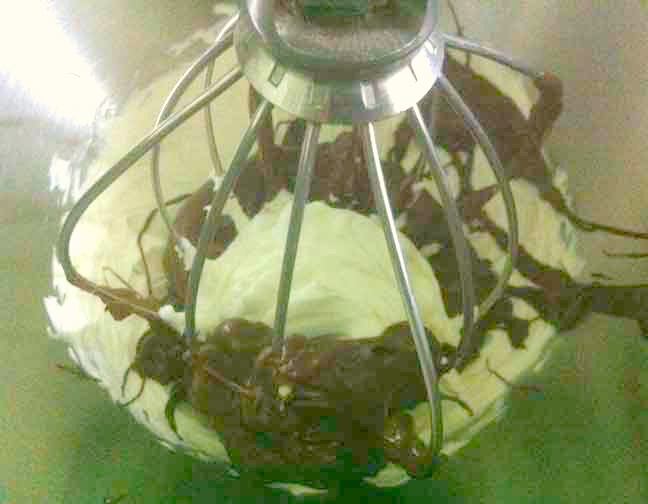 Finally, add your cooled milk chocolate. 
Be sure to use your spatula to get all the milk chocolate outta the bowl and into the mixer!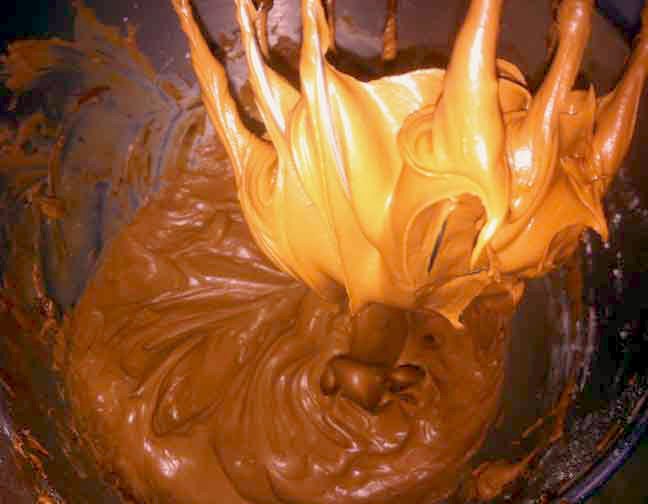 Whip till smooth. 
When it looks like the pic it's ready!
Put the finished filling aside. 
Cause it's time to make some chocolate frosting!
Chocolate Frosting Recipe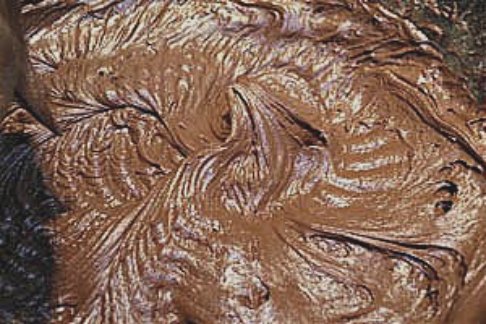 4 ounces of margarine, softened
1 teaspoon of vanilla extract

2/3 of a cup of cocoa powder (natural not dutch)
1 pound of powdered sugar
5 tablespoons of milk
In a large (preferably deep) mixing bowl whip margarine and vanilla extract til creamy.
Add the cocoa and 1 tablespoon of milk.  Mix on low speed.
Then slowly add powdered sugar and milk alternately.
Scrape bowl well.  Mix on medium speed about 30 seconds or until blended.
If not creamy enough to spread easily, add a few drops of milk.  Be careful not too make it too thin (runny).
Grate Some White Chocolate
Use the side of your grater with the small holes.  Finely grate a square/ounce of white chocolate.
How much you use is up to you.  You can always grate more!
Death by Chocolate Recipe: Cupcake Assembly
Now that the cupcakes have cooled and everything else is ready it's...

Time to core, fill, frost and sprinkle.
Whip out your cupcake corer.
Grab a cake.
Plunge the corer in about an inch and twist.
Pull out the corer and push out the cake core (save it!)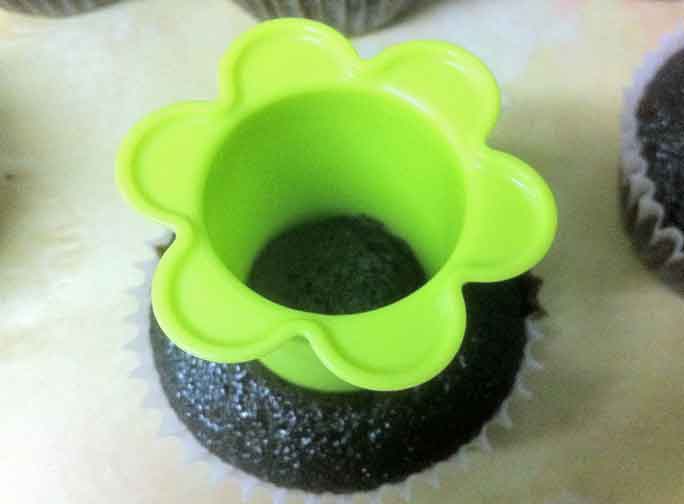 Fill the hole with milk chocolate cream cheese.  You might need to stir the filling before you use it in case it's a little stiff.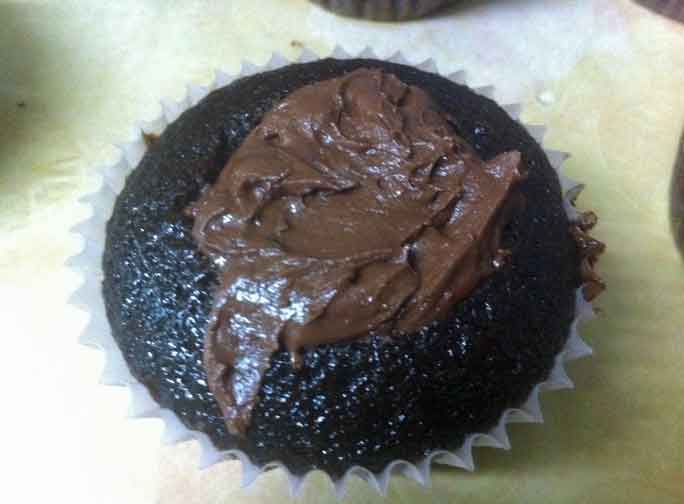 Next cover the top of the cupcake with your delicious chocolate frosting.  It might also need a quick stirring before spreading.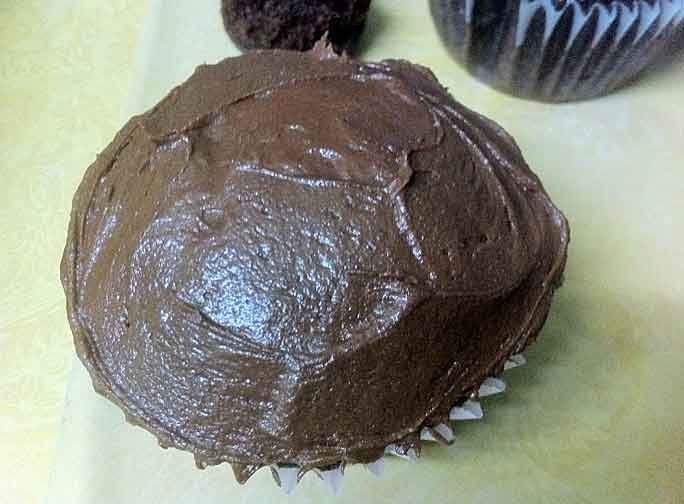 Immediately sprinkle your cake with white chocolate.  Don't want that frosting to firm up before you sprinkle!  The white chocolate might not stick if it does.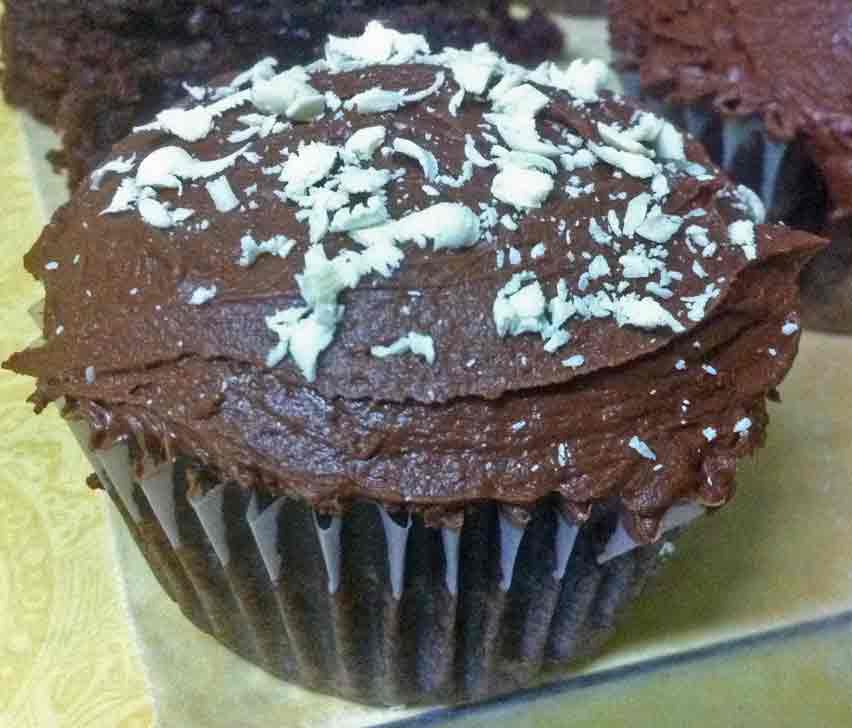 Then repeat until you've finished (assembled not eaten;) them all. 
Store your little awesome cupcake creations in the fridge.
Cupcake Cores
Don't forget about those little cake cores you saved!  You did save them, didn't you?  Good.
If you have leftover filling or frosting you can put it on them.  Or eat them plain.  They're sort of like the filet mignon of the cupcake!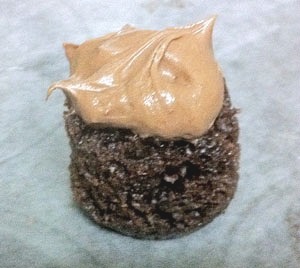 A tasty little tidbit!  Mmmm.
Your finished!     
I know you're dieing to sink your teeth into those cups of chocolate heaven.  Now go eat some!
This death by chocolate recipe is a little labor intensive.  But once you sample your creation you'll forget.  The effort is worth the bakery quality product you produced.  Rich and dreamy!
Back to the Chocolate Cake Recipes!