Easy Chocolate Cake Recipe
Use this search box to find the info you're looking for!
Custom Search
Looking for an easy chocolate cake recipe? Try this one. It's the best moist chocolate cake recipe out there.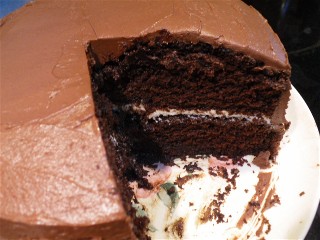 Ok, that's just my opinion. But it is darn good and moist.
And easy to make.
With lots of healthy cocoa powder, home of the dark chocolate health benefits.
Make a layer cake.
Put butter cream frosting in the middle, top and sides.
Or take the easy route, use a 13" x 9" pan. Make a single layer with frosting on top.
Or make a few dozen cupcakes or dozens of cake balls or cake pops.
Ok I'll stop. You get the point.








Chocolate Layer Cake or Sheet Cake?

Time to decide whether to make a layer cake or a lazy cake.
Layer cakes are more elegant looking. But they require a little more skill.
You have to remove and stack the layers with out damaging them. Not too difficult but you might drop a layer.
The most difficult part is frosting the cake. The sides can be tricky. It takes practice.
If you're ready for a little bit of a challenge, make the layer cake.
But if your a newbie, go with the single layer.
Much easier. Leave it in the pan. Spread some frosting on top and your done.
Now on to the easy chocolate cake recipe!
Easy Chocolate Cake Recipe
Here are the ingredients for the best moist easy chocolate cake recipe. Followed by the easy to follow instructions.
2 cups (198g) all-purpose flour
1 2/3 cups (334g) brown sugar, packed
2/3 cup (73g) natural cocoa
1 teaspoon (4g) baking powder
1 teaspoon (4g) baking soda
2 eggs
1 teaspoon (4g) of vanilla extract
2/3 cup (139g) of vegetable oil
1 1/2 cups (355g) of water
First: Preheat your oven to 350°F or 180°C/gas 4. Use margarine or cooking spray to grease two 8-inch round cake pans (20 x 4-centimeter cake pan) or a 13" x 9" pan (32.5 x 23-centimeter baking pan).
Set pan(s) aside.
Second: To a large mixing bowl add flour, brown sugar, cocoa, baking soda and baking powder. Stir till well blended.
Third: Add eggs, vanilla, oil, and water to the dry ingredients. Stir, scraping the sides and bottom of the bowl. Mix thoroughly.
Fourth: Beat the batter. Do fifty strokes by hand or about a minute on low speed.
Fifth: Grab your prepared pan(s). Pour the chocolate cake batter into the 8-inch pans, dividing it evenly. Or pour all of it into the oblong pan.
Sixth: Carefully place pan(s) in the oven. Bake for about 25 to 30 minutes till done. Or poke them in the center with a toothpick. When it comes out clean they're done.
Seventh: Let cool. Enjoy without icing, to save calories and fat or...
Eighth: Prepare frosting. Oh, look there's a butter cream frosting recipe below. How handy!
Butter Cream Frosting Recipe
What's the perfect companion for an easy chocolate cake recipe? An easy butter cream frosting recipe, of course!
This recipe is for vanilla icing. But you can easily convert it to chocolate butter cream frosting or divide it.
1 stick (113g) of butter or margarine, softened
1 pound (454g) of powdered sugar or confectioners
1 teaspoon (4g) of vanilla extract
4 to 5 tablespoons (61 to 76g) of milk or water
To your mixing bowl add butter, half of the powdered sugar, vanilla and 2 tablespoons (30g) of milk. Mix on low.
Then add the remaining powdered sugar and two tablespoons (30g) of milk. Mix on low.
Scrape the bowl with a plastic spatula. Make sure no powdered sugar or butter is stuck to the bottom.
Then beat until creamy and spreadable. If too stiff, add the last tablespoon of milk. Beat.
Frost. Or...
Divided Use: Use 1/3 of the vanilla icing between the layers. Then add cocoa (about 1/4 cup or 28g) and frost the rest of the cake.
Or to 1/3 of the recipe add cocoa (about 3 tablespoons). Spread in between the layers.
Use the rest to cover the cake in vanilla frosting.
Chocolate cake with vanilla frosting makes a fantastic flavor contrast!
Especially recommended for those that only like chocolate.

Chocolate Butter Cream Frosting
Or cover the entire cake in chocolate butter cream frosting!
To make the vanilla recipe chocolate simply add, 1/2 cup (56g) of cocoa powder. Mix well.
Add milk a few drops at a time, if needed for easier spreading.
Use less (1/4 cup or 28g) for a lighter chocolate flavor.
Or add more for dark chocolate lovers.




This is guaranteed to be the best moist chocolate cake recipe on this page! It's very easy to make, too. Cover it in chocolate butter cream frosting for chocoholics. Or use the vanilla butter cream frosting, if you're crowd includes milk chocolate fans. Totally homemade by you, take a bow!





Return to Chocolate Cake Recipe Page

Return to Health Benefits of Dark Chocolate Home Page