Fast, Fabulous, Flourless Chocolate Cake Recipe
Use this search box to find the info you're looking for!
Custom Search
Very easy flourless chocolate cake recipe makes a delicious and decadent dessert.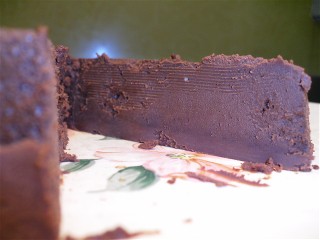 Fudge-like and fantastic. It's like eating a wedge of homemade candy.
Contains no flour so it should be ok for gluten-free diets.
Great for low carb diets too.
This rich flourless cake made with dark chocolate is dark but not too dark.
So it should appeal to almost every chocolate lover.
A small wedge of this fudgie favorite should satisfy!













Flourless Chocolate Cake Recipe with Pictures

1/2 cup (118g) of water
1/4 cup (48g) of granulated sugar
5 tablespoons (72g) of butter
9 ounces (255g) of 60% cocoa baking chocolate*, broken up
3 large eggs
Preheat oven to 350°F (180°C/gas 4).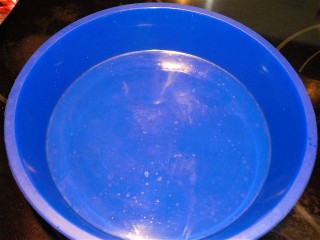 A 9-inch silicone pan is perfect for this recipe.
Or grease a 9-inch (23 x 5 cm) round cake pan with non-stick spray.
Set aside.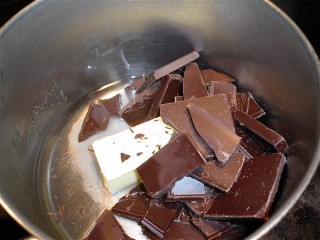 Combine the water, sugar, butter and chocolate in a large saucepan over low heat.
Stir constantly making sure to scrape the bottom of the pan to prevent burning.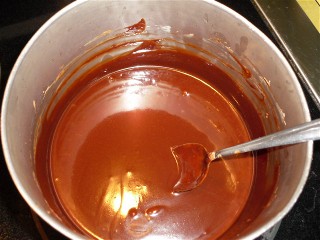 Stir till smooth.
When all the chocolate has melted remove from heat.
Let cool.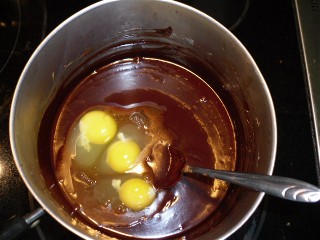 Then add the eggs to the chocolate mixture, stirring vigorously, till well blended.
Now you need to give the cake a bath! 
Well, not exactly a bath. You have to prepare a large pan of water.  The bath gives the cake a creamy texture.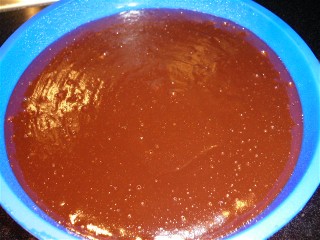 Place the cake pan inside a 13x9-inch (33 x 23 x 5 cm) baking pan. Pour the batter into the 9-inch (23 x 5 cm) pan. If necessary, gently shake the pan to level the batter.
Then to the large pan add water till the water level reaches halfway up the side of the cake pan.
Bake for about 40 minutes. Or until the center of the cake doesn't jiggle when the pan is gently shaken.
Carefully remove the cake pan from the water.
Let cool.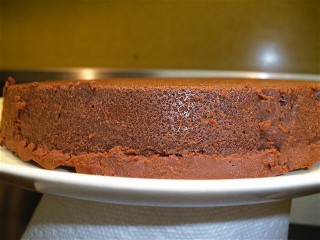 Then you can top it with a ganache while still in the pan. Or remove it to a serving plate and then add ganache.
Or leave it plain and before serving top each slice with whipped cream.
Refrigerate several hours before serving.
*I used Ghirardelli 60% cocoa, baking chocolate. You can use a dark baking chocolate with a higher or lower cocoa percentage to suit your taste.
The recipe can be doubled.




Give this flourless chocolate cake recipe a try, it's truly a treat. It's so dense and fudgie and not cake like at all. But it's really rich with a super chocolate taste. It's a small cake that delivers big flavor from a tiny serving. You will have plenty to share.

Return to Chocolate Cake Recipe Page

Return to Health Benefits of Dark Chocolate Home Page