The Best Healthy Chocolate Chip Cookies?
Use this search box to find the info you're looking for!
Custom Search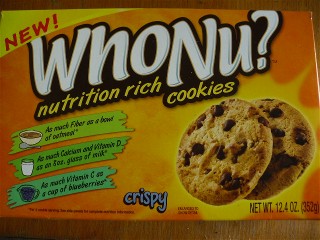 The best healthy chocolate chip cookies? WhoNu's healthy cookies are packed with vitamins, minerals and fiber.
Crispy cookies with health benefits.
Can healthy and tasty coexist in a cookie?
Would you sacrifice a little flavor for a lot of nutritious vitamins and minerals?
Do you have to?
Could WhoNu take Nabisco's Chips Ahoy in the Cookie Confrontation of the Century?
Which cookie will crumble?
WhoNu nutrition facts are impressive. But how do they taste?
The answers await you below!

Healthy Chocolate Chip Cookie Taste Test
Skeptical? I was too.
A healthy chocolate chip cookie? Sure, but would it taste healthy?
Or would it be delicious?
Well, WhoNu crispy chocolate chip cookies do have lots of chips. And they look appetizing.
The taste? Not bad, average store bought cookie taste. A lot like Chips Ahoy! cookies.
Not nearly as delicious as homemade cookies but not nearly as fattening either.
What they are is ridiculously rich in vitamins, minerals and iron for a cookie.  Homemade cookies just can't compete.
Check out these impressive nutrition facts!
WhoNu Nutrition Facts
A serving (3 cookies) of these healthy chocolate chip cookies, according to the box, contains...
Calories-150
Fat Total-7g, 2g of saturated fat
Cholesterol-none
Sodium-100mg
Total Carbohydrates-22g
Dietary Fiber 3g Sugars-9g
Protein-2g
Vitamin A-20%
Calcium-30%
Vitamin D-25%
Vitamin K-10%
Riboflavin-10%
Vitamin B6-10%
Vitamin B12-20%
Pantothentic Acid-10%
Zinc-10%
Manganese-10%
Vitamin C-25%
Iron-20%
Vitamin E-20%
Thiamin-10%
Niacin-10%
Folate-10%
Biotin-10%
Iodine-10%
Copper-10%
Chromium-10%
(Percents are based on a 2,000 calorie diet.)
Wow, that's a lot of nutrition packed into 3 cookies.
Beneficial nutrients and fiber that your body needs. What an appetizing way to ingest all those vitamins and minerals.
Impressive numbers. But how do the Chip Ahoy! cookies stack up nutritionally?

Chips Ahoy! Nutrition Facts
Well, at first glance the two brands of cookies appear very similar. The serving sizes are the same, 3 cookies or 33g.
The Nabisco Chips Ahoy Cookie nutrition facts, from the bag, are comparable...
Chips Ahoy's calories-160, only 10 more than the healthy cookies!
Total Fat-7g same. But .5g more saturated fat.
Sodium-110mg, 10mg more
Total Carbohydrates-23g, 1g more
Sugars-11g, 2g more

until you get to the fiber, protein, vitamins and minerals!

Dietary Fiber-less than 1g, much less
Protein-1g, 1g less
Vitamin A-0%
Vitamin C-0%
Calcium-0%
Iron-6%, much less
(Percents are based on a 2,000 calorie diet.)
OK, long story short. Chips Ahoy! cookies and WhoNU healthy chocolate chip cookies are similar in taste.
They're also akin in calories, fat, sodium, and carbohydrates.  But...

The Winner Is...
But when it comes to the healthy stuff like fiber, protein, vitamins and minerals...you might just say WhoNu blew Chips Ahoy! outta the water!
Ok, you might not but I just did.
WhoNu is the winner of the cookie confrontation! Nabisco's entry held up well for awhile but hit the wall when it came to healthy.
WhoNu comes out on top.
Are WhoNu Cookies Expensive?
No. They cost about as much as a bag of...you guessed it, Chips Ahoy!
Store Locator
In case you want to try them and can't find them at your favorite store.
Click on Where to Buy and fill in the blanks. Gone but not forgotten!
This cookie brand crumbled under the pressure of the highly competitive cookie market. 
Keep reading there's a link below to Praeventia chocolate cholate chip cookies that still exist!  You might want to give them a try!

Check out the soft and chewy chocolate chip cookie and the chocolate sandwich cookie too.
There are also vanilla wafers and vanilla sandwich cookies for those weird (but nice) people who don't love chocolate!

So if you're looking to buy slightly healthier cookies, definitely give WhoNu a try. These chocolate chip cookies are tasty. Just as good as Chips Ahoy! So you can sneak some into your kid's lunches.
Flavorful cookies with health benefits, who knew? Now you do!
You might be interested in these healthy chocolate chip cookies by Praeventia.






Return to Dark Chocolate Reviews

Return to Health Benefits of Dark Chocolate Home Page