Hot Chocolate Bliss Hot Chocolate Made with Organic Chocolate and All Natural
by Donna Richardson
(Wyoming, Michigan, USA)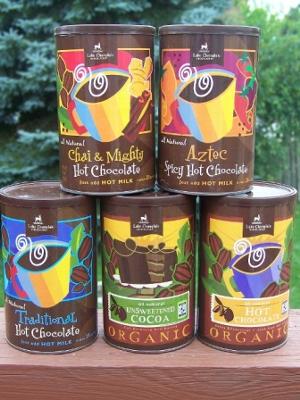 www.hotchocolatebliss.com
At hotchocolatebliss.com we have a delicious line of all natural, high quality Lake Champlain Hot Chocolate from Vermont.


Our Organic Hot Chocolate has a 34% cocoa content. It's made with organic alkalized cocoa and organic sugar. Certified Fair Trade.
Try our versatile Organic Unsweetened Cocoa it's 100% cocoa. Add your favorite sweetener for homemade hot cocoa. Or use it for baking. Certified Fair Trade.
Or take a sip of our All Natural Aztec Hot Chocolate. It's 34% cocoa with a touch of cayenne, cinnamon and vanilla. Delicious.
All Natural Traditional Hot Chocolate is 34% cocoa with organic sugar and a dash of vanilla.
In the mood for something different? All Natural Chai & Mighty Hot Chocolate is 34% cocoa flavored with an enticing blend of cardamom, ginger, cinnamon and vanilla.
Dark chocolate lovers this one is for you
! All Natural Old World Drinking Chocolate is shredded
dark chocolate
with a 54% cocoa content. Mix it in a hot cup of your favorite type of milk for a dark and delcious drink.
Preservative-free and Kosher-certified.
Our chocolate contains no additives or shelf extenders. As chocolate has over 500 flavor components, anything extra is bound to compromise the flavor.
All of our products are certified Star-D Kosher by the National Council of Young Israel in affiliation with Star-K Kosher Certification. Our hot chocolate and unsweetened cocoa are certified by the Orthodox Union.
Give it a try!
Hot Chocolate Bliss
www.hotchocolatebliss.com
616-422-5477