Scrumptious Buttery Meltaway Cookies
Use this search box to find the info you're looking for!
Custom Search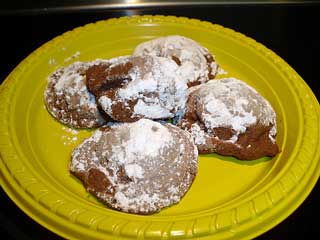 Break out the butter for a batch of chocolate meltaway cookies. That's right, margarine just won't do!
It's the rich, creamy, flavor of butter combined with decadent chocolate that makes this a marvelous treat.

Take that combination and add powdered sugar and cake flour. Now you have a light textured cookie that seems to melt in your mouth!

Guaranteed to test your resolve. If you can eat just one, you're a better person than I.
Chocolate Meltaways Recipe
8 oz (226.8g) semisweet chocolate, melted

1 cup (229.5g) butter, softened

1 1/2 teaspoons (6g) vanilla extract

1/4 teaspoon (1.257g) salt

3/4 cup (97.59g) powdered sugar

2 1/2 cups (224.8g) cake flour
additional powdered sugar for coating the finished cookies

Preheat oven to 400° F (200C/gas 6).

Melt chocolate in the microwave. Heat for about 30 seconds at a time then stir. Repeat until chocolate is smooth. Let cool.



When cool beat chocolate, butter, vanilla, salt and confectioner's sugar on low speed til mixed well.

Slowly add the cake flour. After all the flour is added, scrape the bowl well. Then mix till all ingredients are blended into the dough.
Time to scoop!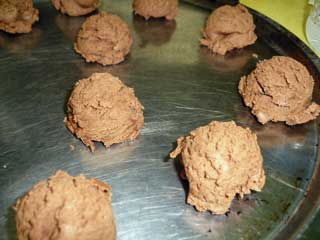 For uniformity and ease, a small cookie scoop is best.
Looks like a small ice cream scoop.

Place scoops of cookie dough about an inch apart on an ungreased cookie sheet.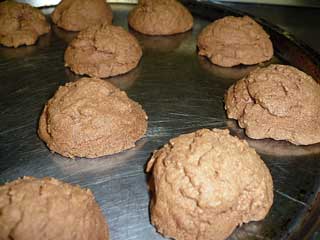 Bake at 400° F for about 8 to 9 minutes or until meltaway cookies are set.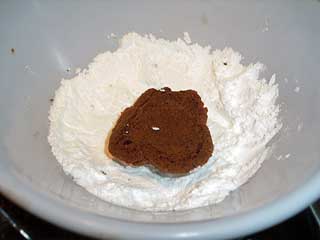 Let cool.
Cookies are delicate while still warm.

When cooled, remove from pan and dip in powdered sugar.
Recipe makes about thirty 2-inch cookies.

Store in a tightly sealed container.
Attempt to resist eating them all right away. This will be quite difficult! Good Luck.
Why Cake Flour?
Why spend extra for this special flour?

Because cake flour is an essential ingredient in this recipe.

It's responsible for the light texture of the cookies.

Cake flour is made from soft wheat that's ground to a much finer consistency than regular flour. It makes more tender cookies and cakes.
Yes it costs a little more.

But give it a try. I think you'll appreciate the results.
Now that's a simple recipe for a rich and dreamy cookie. Meltaway cookies really do live up to their name. Chocolate and butter, who can resist such decadence? Why not make some magnificent meltaways today? Don't be surprised if your self-control melts away.
Return to Dark Chocolate Cookie Recipes
Return to Health Benefits of Dark Chocolate Home Page