Easy Mexican Hot Chocolate
Use this search box to find the info you're looking for!
Custom Search
Sample some authentic Mexican hot chocolate. Make it quick with Ibarra chocolate imported from Mexico. Just dissolve it in hot milk. No need to add sugar or cinnamon flavor, it's in there.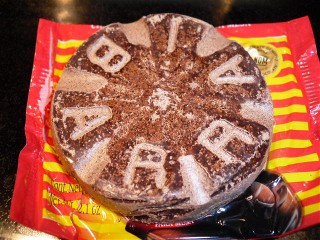 Make a mug of dark, not so dark or milk chocolate. Too gritty or sweet?
Add some natural cocoa powder or baking chocolate to your drink. Mix it up.
For the real Mexican deal, use only Ibarra.
If that's a little too real, add the other stuff.
Want to turn up the heat? Go for the ground red pepper!
How to Make Hot Chocolate with Ibarra Mexican Chocolate
6 ounces (165ml) of milk (low fat 1%)
2 wedges of Ibarra chocolate (or more?)

Use a large coffee cup so you can stir without spilling it on your skin.
Place chocolate in cup, add milk.
Microwave on high for about 1 1/2 minutes.
It'll be hot! Carefully stir until chocolate completely melts.
Sip and savor.
That's the easy part. Now for the tough decision. How much chocolate do you desire?
An entire cake or just a few wedges?
How Much Chocolate Should You Use?
How dark can you go?
Milk Chocolate-Use two wedges, as per the instructions on the box. That makes a cup suitable for milk chocolate lovers. About 200 calories per serving.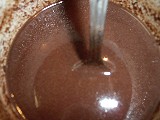 Dark Chocolate-if you like your hot chocolate dark and intense, try adding two cakes (12 wedges) per serving. That makes an awesome cup, if you like it candy sweet with a strong cinnamon flavor.
Unfortunately, the calorie count jumps to almost 700 per serving. It's more like a meal replacement than a cup of chocolate. Very filling.
Less Dark-if two cakes of Ibarra are too much for you, use 1 cake (6 wedges). Your drink will still be dark but not so intense. That reduces the calorie count to around 400 per helping.
Less Sweet, Fewer Calories -combine 4 wedges of chocolate with 1 teaspoon of natural cocoa powder. The cocoa will cut the sweetness and cinnamon flavor while upping the antioxidants. Calories? About 290.
My personal favorite-use 1 cake of Ibarra Mexican chocolate and 1 square of semi-sweet baking chocolate. The addition of the semi-sweet square dilutes the sweetness.
Makes a nice cup of dark, sweet chocolate with a nice cinnamon aftertaste. But it'll cost you over 500 calories!
Spicy Hot Chocolate
Want your Mexican hot chocolate to be hot and spicy? Add some ground red pepper.
Cayenne pepper gives it a little kick. Makes it more authentic and interesting.
But be careful. It doesn't take much unless you're used to really spicy food.
Start with a pinch or two. Taste. Then add more, if needed.
You can find the ground cayenne pepper in the spice section.
Where to Buy Ibarra Chocolate?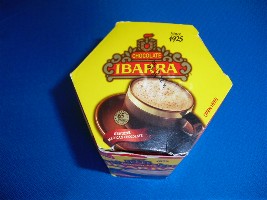 You can find it in the Hispanic food section.
It comes in a yellow, hexagon-shaped container, with red stripes.  It's hard to miss.

Or you can order Ibarra off the internet.
Sip a little Mexican hot chocolate. Add a little chili and time travel. Taste a drink more like the Maya and Aztecs enjoyed.  Spicy and invigorating!




Return to Hot Chocolate Recipes

Return to Health Benefits of Dark Chocolate Home Page