Pocky Chocolate Dipped Cookies
by Cindi
(TX)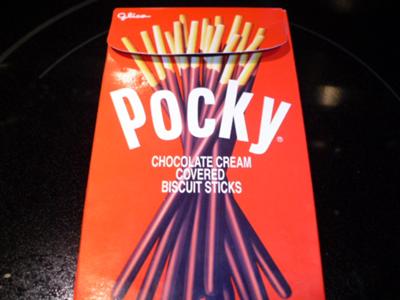 Box of Pocky Chocolate Dipped Cookies
Hi,


Just wanted to tell everyone about these wonderful Japanese chocolate dipped cookie sticks.
I found them in the Asian food section of my supermarket. I had never tasted any chocolate made in Japan.
They are really good. The cookie is very crispy and the chocolate is dark but not too strong.
I especially like to dunk them in my coffee. The chocolate melts and makes them extra yummy!
__________________________________________________
Thanks again Cindi! Keep us informed about any other interesting chocolate products you find.
I agree with you. The Pocky chocolate dipped cookies are pretty tasty. They're different too.
Cookie stick is an apt description. The cookies are about 5 1/2 inches long and only a 1/4 of an inch across. They do resemble sticks. But taste much better!
You're exactly right about the chocolate too. It has a nice mild dark chocolate taste. Even milk chocolate lovers like it to, at least those in my family.
Let's take a look at the nutrition facts. About 10 cookies sticks equals a serving.
Each serving has 200
calories
(80 from fat), 9g of
fat
(5g sat.), 26g total carbohydrate, 2g dietary fiber, 10g sugar, 4g protein, 2% calcium and 2% iron, according to the package.
Pocky chocolate dipped cookies are another dark chocolate snack option. Obviously not a health food. But if you nibble on 3 or 4 cookies a day, not soooo bad. You know what to do.
They come in a handy double pack or single pack. The single flip-top box is maybe just a little too convenient. It's easier to fit into your desk, purse, backpack, etc.
But it holds fewer cookies so it poses less of a threat to your willpower!
Thanks again, Cindi. Choclady