Pumpkin Cookies with Chocolate Chips for a Healthier Cookie
Use this search box to find the info you're looking for!
Custom Search
Like pumpkin recipes and chocolate chips? Then you'll love pumpkin cookies made with cocoa and chocolate chips.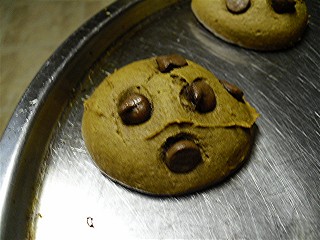 Why? Because the cookies are healthier. Less fat and more nutrients.
Combine the health benefits of dark chocolate with pumpkin.
The result? A delicious cookie with antioxidants, fiber, iron, calcium, and Vitamins A and C.
No, not a health food but a healthier food compared to a traditional chocolate chip cookie.
So grab a can and start chunkin punkin cookies into the oven.
Chocolate Chip Pumpkin Cookies Recipe
Pumpkin fans in my family love these cocoa cookies maybe yours will too!
1/2 cup (96g) granulated sugar
3/4 cup (151g) brown sugar, packed
1/2 cup (110g) margarine or butter, softened
2 eggs
1 1/4 cups (225g) canned pumpkin
1 1/2 teaspoons (6g) of vanilla extract
1/2 cup (118ml) milk
1/4 cup (28g) natural cocoa powder
3 1/2 cups of (348g) flour, all-purpose
1 3/4 teaspoons pumpkin pie spice
1 3/4 teaspoons (8g) baking soda
chocolate chips (to taste)


Preheat your oven to 350°F (180°C/gas 4).
In a large bowl beat the sugars and margarine or butter together until creamy.
Add eggs, mix about 30 seconds.
Carefully stir in the pumpkin, vanilla and milk. Use slow speed or it will splatter. Mix well.
Next mix the cocoa, flour, pie spice and baking soda together in a separate bowl. If you use a stand mixer it's easier to add them to the cookie dough this way.
I like to slowly and very carefully pour or spoon the dry ingredients into the mixer while its running. Try this at your own risk! Don't get anything caught in the beaters.
If you're mixing by hand or hand-held mixer, you can forgo the mixing in a separate bowl. You can add each dry ingredient separately and then stir. Or you can add them all at once and then stir.
Whatever works best for you. Mix thoroughly.
Lastly add the chocolate chips. I used an entire bag for my pumpkin cookie recipe. But you can use less if you want to cut back on the fat.
Or you can leave them out like in the photo!  The cocoa will give them a mild chocolate flavor.
Onto a greased cookie sheet, drop by rounded teaspoonfuls or cookie scoop.
Space them about an inch apart.
Bake about 15 minutes.



Healthier Cookies

Just how are these pumpkin cookies better for you? Less fat and fewer calories.
This recipe uses only half as much margarine as a standard chocolate chip cookie recipe. The pumpkin replaces some of the fat.
And it adds valuable nutrients. The pumpkin packs a healthy dose of fiber and Vitamin A. Also some Vitamin C, calcium and iron.
Plus it's low in fat!
The 1 1/4 cups of pumpkin (information from label of Libby's canned pumpkin) contains about 1.5g of fat and about 100 calories.
By replacing half the margarine with pumpkin you get some hefty savings! This recipe for pumpkin chocolate chip cookies cuts out about 60g of fat and 500 calories!
Remember...less calories and fat means better fitting jeans.




Combine chocolate and pumpkin. Recipes with both healthy ingredients can really boost your intake of antioxidants. This pumpkin cookie recipe makes your cookies do double duty. Taste great and pack a nutritional punch!




Return to Chocolate Cookie Recipe Page

Return to Health Benefits of Dark Chocolate Home Page