Sainsbury's Dark Chocolate - Halal or Haram?
by Sahar
(Pakistan)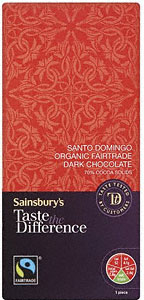 Sainsbury's Dark Chocolate
Is Sainsbury's 'Santo Domingo Organic Fairtrade Dark Chocolate' 70% cocoa solids halal?


Good question Shara. Since the candy bar contains only cocoa mass, cane sugar, cocoa butter and the emulsifier soya lecithin it could be considered halal.
The candy bar label does not list any animal derived products. All of the above listed ingredients are plant based.
I did exhaustive research, visiting many websites
that cover Islamic dietary concerns, and found nothing about this specific brand of chocolate.
But since I found no haram ingredients listed it appears to be safe to eat.
You would have to consult with the manufacturer to be certain. Or you could try asking the people at the
Muslim Consumer Group
web site.
Hope this answer was helpful.
Thanks again for the question.