Skinny Cow Chocolate Candy 120 Calorie Pack
Use this search box to find the info you're looking for!
Custom Search
Nestle's Skinny Cow makes a mooove on the dark chocolate candy market. Produces portion-controlled packets of little crunchy candy pieces. Only 120 calories per graze (serving).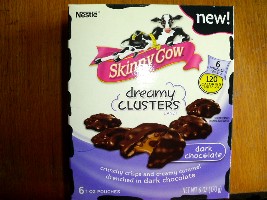 Great way to fit a little chocolate in everyday? And help you lose weight?

Dark chocolate covered caramel and crispy rice. That's a tempting combination.
But should you spend your discretionary calories on this candy?
Or is it an udder waste of money?
Here's the Skinny on the Cow Candy
Ok I promise, no more corny cow references!
Let's talk taste. Is Nestle's candy creation a decent dark chocolate confection?
Well, the first ingredient is dark chocolate. Made with sugar, chocolate, cocoa butter, soy lecithin and vanilla extract listed in that order.
So it's made with real chocolate. Good start!
Not to worry, it's not too dark. More like a semi-sweet chocolate since sugar is the primary ingredient.
There's also a milk chocolate version.
The crackling rice and caramel center provide a few seconds of satisfying chewiness.
Each bite is full of crispy, crunchy, chewy, chocolate goodness with a slightly salty aftertaste.
Be careful not to bite your fingers though!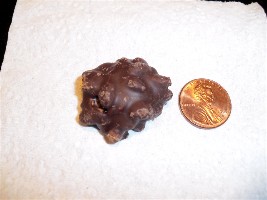 These tasty candies are tiny. Bite-sized bits that go down quick.
Only five bites per pouch unless you're a dainty eater.
Not a bad way to spend your 120 calories. Kudos to the Nestle company.
Now, if only Nestle could maintain the taste, reduce the calories and double the number of candies per pouch!
Until they achieve that miracle, these tasty dark chocolate candies, in a portion controlled packet, can help you fight the paunch.
They just might satisfy your urge with fewer calories.

Time to take a look at the nutrition facts.
Skinny Cow Nutrition
So, do the nutrition facts reveal any good news?
Here's the information off the box. Each 1 ounce (28g) serving contains...
Calories-120 total, 50 of those from fat
Total Fat-6g, 3.5g are sat. fat
Cholesterol-5mg
Sodium-105mg
Total Carbohydrate-20g, dietary fiber-3g, Sugars-9g
Protein-1g
Calcium-2%
Well, not exactly a low fat candy. But it's relatively low in fat, cholesterol, sodium and carbs.
Health benefits? Fiber, lots of people don't get enough. Each serving provides a little more than 10% of the recommended daily intake.
And the chocolate can brighten your day, reduce your stress, etc.
Want to try these? Check the candy aisle of your favorite store.




Yes, Skinny Cow dark chocolate is an appetizing way to bring a little chocolate into your day. The portion-controlled servings can help you manage your craving. Just don't oppose the pouch and you'll be ok.
Use this cow candy crutch to help you graze your way to a slimmer you.

Why not order some Skinny Cow Dark Chocolate Dreamy Clusters Net Wt 6 Oz. now?
Now the Trim Bovine makes ice cream, ice cream bars, cones and sandwiches.  Check out the chocolate ones!




Return to Dark Chocolate Reviews

Return to Health Benefits of Dark Chocolate Home Page