Slaton, Texas
The Slaton Bakery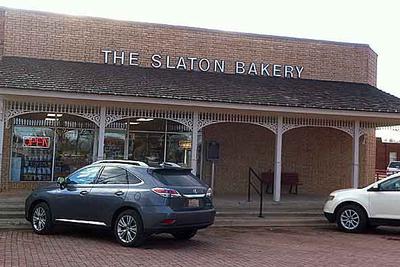 The Slaton Bakery is located at 109 South 9th Street in Slaton Texas.


Owners
: Sherrell and Robin Wilson
Hours of Operation
: Tuesday-Saturday 6a-6p
Closed: Sunday-Monday
Donuts and pastries for breakfast, soup and sandwiches, pies, cakes, cookies and assorted breads can be purchased Tuesday through Saturday.
Wedding and Groom's
are available by special order.
Fudge and candy
is for sale during the holiday season.
--------------------------
Chocolate Desserts Menu
:
Breakfast
-chocolate donuts, brownies and rocky road brownies
Pies
-chocolate meringue or chiffon
Cakes
-red velvet, german chocolate, mocha, cupcakes
Cookies
-thumbprint(chocolate on chocolate or vanilla with chocolate), chocolate chip, white chocolate chip and M&M
--------------------------
Other Desserts
Cookies
-vanilla wafers, wedding cookies, pecan sandies, snickerdoodle, cherry delight, butter cookie, sugar cookie, sugar-free sandies and many more
Pies
-key lime, apple, pecan, buttermilk chess and more
Cakes
-pina-colada, white, strawberry, coconut, angel food, king cake and more
Pound cakes and cheesecakes
--------------------------
Bread Menu
Tortillas, hamburger or hot dog buns,
pumpkin, cheese rolls, dinner rolls, tomato bread and others
Go to
http://www.theslatonbakery.com
for a complete list of products plus ordering information.
Or Call
:806-828-3253