Sweet Moments by Pillsbury My Best Dark Chocolate Suggestion
by Cindi
(TX)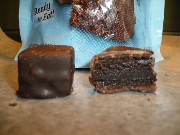 Insides of chocolate fudge brownie bites
I guess you could call these things candy. They're little brownie pieces coated in chocolate. Whatever.


These things are really good. Try the chocolate fudge one it's better than the other flavor. Very moist and it's all chocolate.
Made by Pillsbury and are ready to eat. No baking!!
Thanks Cindi for letting me post my pictures on your submission. I wrote so much I had no space left for them! LOL
Join in and write your own page! It's easy to do. How? Simply click here to return to Best Dark Chocolate or Worst.