Tuscon, Arizona
Prayerfully Popped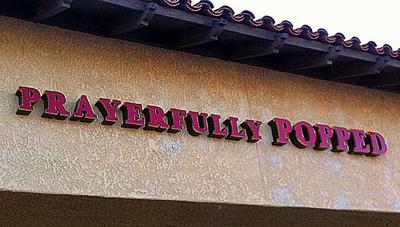 Prayerfully Popped, Corn from the Cloister, is located at 1101 North Wilmot, Suite 117, Tuscon, Arizona.


Open
: Tuesday-Friday 10a-6p
Saturday-Sunday 10a-4p
Closed: Monday
Owner
: NunBetter, Inc.
Gourmet popcorn and fudge. Order online or drop by
.
Sweet Popcorn
:
Dark Chocolate Covered Cherry
Chocolate Peanut Butter Cup
Butterfinger
Heath Bar Toffee Crunch
Peppermint Patty
Puppy Chow
St. Columba's Sea Salt & Caramel
--------------------------
Savory Popcorn
:
St. Scholastica's Cheddar Popcorn
Olive Oil & Garlic Popcorn
Kansas City Barbecue Flavored Popcorn
Chile Relleno
Whitby White Cheddar Jalapeno
--------------------------
Classic Popcorn
:
St. Notburga's White Salted Popcorn
St. Notburga's White No Salt Popcorn
St. Benedict's Buttery Best Popcorn
--------------------------
Fudge
:
Chocolate
Chocolate Pecan
Peanut Butter Chocolate
Mint Chocolate Swirl
Rocky Road
Sucrose Free-Chocolate or Chocolate Nut
Chewy Praline
Maple Nut
Visit
http://www.prayerfullypopped.com
for a complete list of flavors and ordering information.
Or
phone toll free
: 800-939-8323
Or
fax toll free
: 800-939-8323
The Prayerfully Popped enterprise supports the Congregation of Benedictine Sisters of Perpetual adoration, as well as their monastic communities. Proceeds are also shared with several charitable organizations (see website for list).