Cake Balls...Decorated Cake Anyone Can Make?
Use this search box to find the info you're looking for!
Custom Search
Contemplating making cake balls? It looks easy, doesn't it? You buy a special maker or pan. Pop in some batter and bake.
Easy enough, right?
Until it comes time to decorate.
You've seen pictures of divinely decorated balls of cake and pops. How hard can it be? Harder than you think.
Well, harder than I thought.
Learn about the pitfalls from my experience. Know what to expect before you spend your money. Head off buyer's remorse!
Patience
Do you have a lot of it?
Why? Because there are no short cuts. Making cake balls is time consuming. A box of cake mix can make three dozen balls or more.
Baking them is the easy part.
But they're just boring bits of cake till you decorate. Each one, one at a time, 30 plus times!
Are you easily frustrated? The devil's in the decorating. These spheres of cake can be demanding.
Give it serious thought. Decide now before you spend twenty dollars or more on a cake pop maker or pan. Not to mention money for supplies.
Supplies
Just what will you need to make balls of cake? Besides patience you'll need...
cake ball maker or pan
vegetable oil and brush or spray
cake mix-eggs, oil and water

or

ingredients for cake recipe-eggs, flour, butter, etc.
lollipop sticks-for cake pops
frosting-canned or homemade

or

chocolate chips or your favorite flavor, melted to coat

or

Wilton candy melts for coating
Optional Items for Decorating
After you frost you can roll them in...
sprinkles
coconut
mini chocolate chips
cookie crumbs
crushed nuts etc.
Items for more intricate decorating should you care to go there!
gel food coloring-for tinting frosting
decorating bag(s)-for piping stripes, dots, etc
Your time is not the only thing that'll be consumed. Your cash will be too.
The pan will be your single biggest expense. But repeated supply purchases will really add up. Once you have the cake ball maker won't you feel obligated to use it?
Do you really want to spend your time and cash like this? Sure you will if you enjoy it. But...

Decorating Your Cake Balls

Here's where the frosting hits the fan. You now have three dozen nude balls of cake. Can you cover them? Are you up to the challenge? Believe me it's a pain.
You have to decorate each little sphere. Those three dozen or so now sit cooling. Waiting, watching, ready to thwart your attempt to frost them.
Ok, so you've decided which frosting or coating to use. But how do you get it on the ball? You've got nothing to hold on to.
Well, you can roll it around in the frosting. This ends up coating your fingers, too. But wherever you touch it, the frosting comes off!
It's like they're surrounded by an anti-frosting force field.
Desperate, I grabbed the cake ball in my hand and frosted the top, using a butter knife. Then laid it on a piece of wax paper to dry. When nearly dry, I gently held it by the frosted end and covered the other end.
That's the only way I could do it. Arrrgh.
Talk about tedious and messy! Painfully slow progress. Frustration growing.
Then I rolled it in chocolate vermicelli (sprinkles). Had to press them into the frosting gently. A few was all I could stand to do.
Caketastrophe!
Buyer's remorse reared it's ugly head. Part of me wanted to pitch those balls! The other part didn't want to admit defeat.
Drastic measures had to be taken! Time to consult the manual. Surely, there had to be an easier way to do this.
There was another way to handle those devil's food demons. But it involved one more time consuming step.
Turn the balls of cake into cake pops.
Decorating Cake Pops
Stick a stick in them! Eureeka! That took some of the fight out of them.
That little stick works wonders. But there's a little trick to make them stay on the stick. Otherwise it just pushes through the cake ball as you decorate.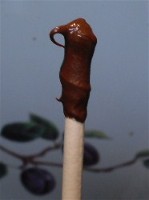 The Bella Cake Pop Maker manual taught me that trick. Here's what you do.
Dip about 3/4 of an inch of the lollipop stick into melted chocolate or other candy. Twirl it around till the end is nicely coated.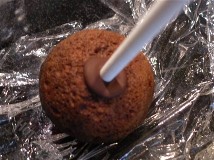 Then plunge it into the cake ball. It creates a tiny platform, gluing the ball to the stick. Now you have cake pops.
Refrigerate or let the candy dry. Then you can easily dip and twirl the pops in the frosting or coating. Much less messy.
But still time consuming. Or fun.
The final pitfall. The consistency of your frosting. Too thick and it may tear the cake or cause the stick to pull loose. Too thin and it will drip off, run down the stick and pool.
So take your time when adjusting the texture of your topping. Don't hurry. You'll have less mess.
Stick Trick Not So Slick
I tried the stick trick with a toothpick in a cake ball. Thought that might be the key to decorating them.
Don't bother. The toothpick pulled out when I dipped the ball of cake. Drat.
They are just too darn much trouble, in my humble opinion. But that's just me.
Do you still want to make them? No? Then you saved your sanity and cash.
Yes? Great! You're prepared to deal with the hellish confection. Best of luck. Send me a photo.
As for me, I'll be making brownie balls or testing a muffin mix in my pop maker. Anything that doesn't require frosting!
Return to Chocolate Cake Recipe Page

Return to Health Benefits of Dark Chocolate Home Page