Velvety Chocolate Buttercream Frosting
Recipe
Use this search box to find the info you're looking for!
Custom Search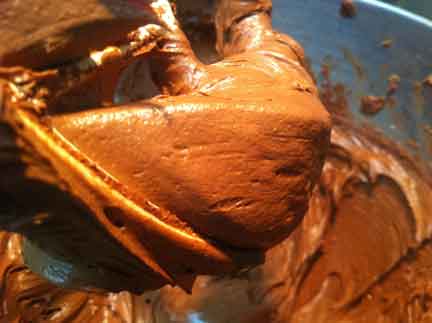 Addicted to canned icing?  Break free!
This simple chocolate buttercream frosting recipe delivers real flavor.
Now you can spread on some decadent deliciousness instead of canned chemicals.

Its quick and easy.  With 5 ingredients you can create a rich, creamy covering for your cake in minutes.

Decision time...artificial or awesome flavor?  Which will it be?

Good choice!



Chocolate Frosting Recipe

1/2 cup (115g) of butter softened (not melted)

3 1/2 cups (455g) of powdered sugar
3/4 cup (83g) of natural cocoa powder
8 to 10 tablespoons (118 to 148ml) of heavy cream 

1 1/2 teaspoons (6g) of vanilla extract
Put the butter and vanilla extract in a large, preferably deep, mixing bowl.  Beat on medium speed until creamy.
Reduce the mixer speed to low. Then slowly add the powdered sugar.  Low and slow are necessary to prevent/reduce the cloud that will erupt and cover everything nearby!

Stop the mixer,  scrape the bowl thoroughly. 
Add 2 tablespoons (30ml) of cream.  Resume mixing on low speed.
Slowly add the cocoa powder and cream in turns.

Stop the mixer.  Scrape the bowl well.

Then beat till smooth and spreadable.
This chocolate buttercream frosting recipe makes about 2 1/2 cups.  That's enough to frost two 8 or 9-inch (20x4cm or 23x4cm) layers.
Or one 13 x 9-inch (33x23x5cm) cake or about 30 cupcakes.
Instructions clear as mud?   Then you may need some...



Video Help

Prefer to see how my chocolate buttercream frosting recipe is made?
Then take a look at this very short video.  Yes, it's a little rough.  But I think it will help.




Forgiving Frosting

Problems?  No problem!  You can easily correct the consistency of your buttercream frosting.

Is your frosting too thick?  Add more cream.  Try a teaspoon or two (5 to 10ml) at a time.
Frosting too thin?  Add more powdered sugar. Or a combination of powdered sugar and cocoa powder.

Add then beat till your satisfied.  Next you can spread it on or do some...



Cake Decorating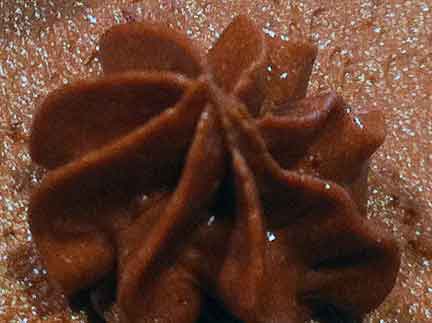 Don't just ice with it.  Pipe it!  This rich frosting can be used to make tasty cake decorations.
But you may want to use a little less liquid so the frosting holds its shape.   Like that awesome star there in the picture!
With a decorator bag, a few tips and practice you can really dress up your dessert!

Remember you're working with butter.  Once you put your hot little hands on a decorator bag full of frosting it can liquify quick!
So watch for that.   Don't get so involved in creating your work of art that you don't realize your frosting is failing. 
What to do if it does?  Put the bag in the refrigerator for a few minutes to firm it up again.
Then finish your showpiece!

This chocolate buttercream frosting recipe is easy, delicious and adaptable.  And fattening!   This is best for those very special times when you say calories be damned full flavor ahead!