Chocolate Cheesecake Recipe:
Rich, Creamy, and Easy
Use this search box to find the info you're looking for!
Custom Search
This chocolate cheesecake recipe really is easy to make. But it's so rich and creamy that everyone will think you slaved over it.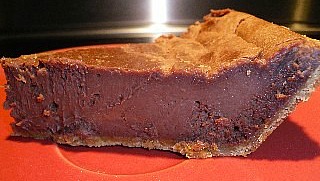 But you won't.
Heck, you don't even have to make the crust, unless you want too! Use one of the graham crusts from the baking aisle.
They're tasty and come with a cover for the pan. Talk about convenient.
Baking skills? You won't need any. It's child's play. Waiting for it to be ready is the hardest part.
But that rich and creamy dark chocolate taste is worth the wait.
So stop waiting and start making, already!
Easy Chocolate Cheesecake Recipe
(2) 8 oz. packages (454g) of cream cheese, softened
1 cup (180g) semisweet chocolate chips or 6 oz.  semisweet baking chocolate
3/4 cup (144g) granulated sugar
2 large eggs
1 teaspoon (4g) vanilla extract
1 prepared graham cracker crust


Preheat the oven to 350°F (180C/gas 4). Pour the cup of chips into a 2.5 quart (2.5 liters) or larger microwave safe bowl. Microwave them on high for 30 seconds.
Stir. Chips hold their shape and maybe softer than they look. Be very careful not to burn them or yourself. Then repeat as necessary until they're completely melted.
Next add sugar and vanilla, mixing well on medium speed. Add the softened cream cheese* and mix on slow speed until blended. Thoroughly scrape the sides of the bowl.
Then add the eggs and mix on medium until incorporated. Scrape the batter off the beaters and stir by hand until well mixed.
Place pie pan on a baking sheet before filling. Pour the chocolate cheesecake batter into the crust. Level the batter with a spatula or spoon. Or very gently shake the pie pan till batter is level.
*To soften cream cheese remove the wrapper, microwave about 10 seconds. Repeat if necessary.
How Long Do You Bake It?
How Long Do You Bake It?
Bake it for about 50 minutes or until done. How do you know when it's done?
Well, that's the tough part. The batter will not jiggle when you move the pan.
The top will be cracked, ugly and look like it's bursting out of the pie tin. Don't panic. After it cools it looks better and tastes great.
Refrigerate a couple of hours before serving.
Need some help? How about a chocolate cheesecake video?


This chocolate cheesecake recipe makes a small dark, delicious cake. But it's so rich a tiny serving should satisfy. It's so easy to make you can enjoy it anytime. And enjoy it you will. No need to wait for a special occasion.
Return to Chocolate Cake Recipe Page

Return to Health Benefits of Dark Chocolate Home Page